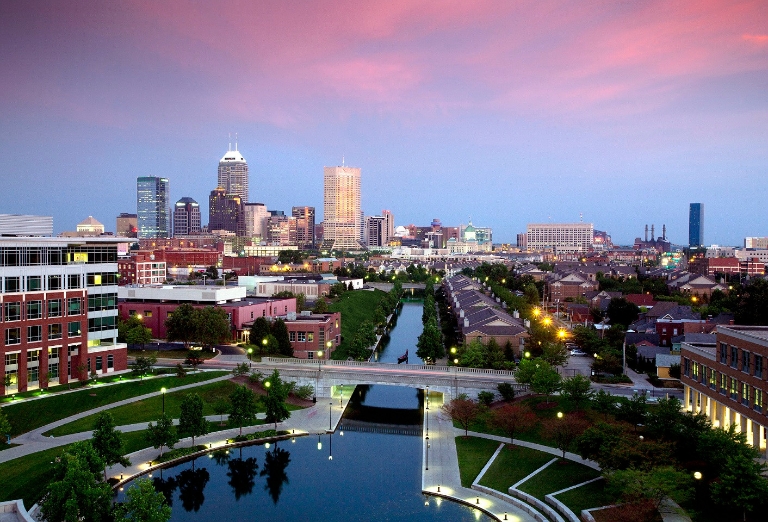 BLOOMINGTON, Ind. – Twelve of the 15 fastest-growing cities and towns in Indiana with a population of at least 5,000 residents are in the Indianapolis metro area, according to estimates released by the U.S. Census Bureau and analyzed by the Indiana Business Research Center at Indiana University's Kelley School of Business.
For the seventh consecutive year, Whitestown in Boone County was the state's fastest-growing locale, with a growth rate of 7.6 percent in 2017. Whitestown's population has more than doubled in the last seven years, from 3,151 in 2010 to 8,179 in 2017.
Westfield in Hamilton County was the state's second fastest-growing place in 2017 with an increase of 5.3 percent, followed by the Hancock County communities of McCordsville (4.9 percent growth) and Plainfield (4.6 percent).
The only cities or towns outside of the Indianapolis metro area to rank among the state's 15 fastest-growing places were Lake County's St. John (2.7 percent), Winfield (2.2 percent) and Cedar Lake (2.1 percent).
Looking beyond the Indianapolis area and Lake County, five communities had strong growth in 2017. Columbia City grew by 1.8 percent; Warsaw and Valparaiso, each by 1.3 percent; and Lawrenceburg and Auburn, each by 1.2 percent.
In terms of numeric change, Indiana's two largest cities posted the state's largest gains. Indianapolis added 5,549 residents in 2017, while Fort Wayne's population grew by 2,011 people. A trio of Hamilton County communities – Westfield (2,002 increase) Fishers (1,929) and Noblesville (1,667) – round out the state's top five largest gains in terms of numerical increases.
Indiana's largest cities
With a population of 863,002 residents, Indianapolis was the nation's 16th-largest city in 2017, ranking just behind Fort Worth, Texas (874,168), and ahead of Charlotte, North Carolina (859,035).
Fort Wayne's population reached a total of 265,904 in 2017, and it ranks as the 78th-largest city in the country. Evansville (population 118,930) and South Bend (102,245) are the only other Indiana cities with a population above 100,000. Evansville had an estimated decline of 427 residents last year, while South Bend added 223 people.
Carmel remained the state's fifth-largest city, as the addition of 1,337 new residents in 2017 brought its population total to 92,198. Fishers ranked just behind its neighbor as an uptick of 1,929 residents raised its population to 91,832.
The remainder of Indiana's 10 largest cities are Bloomington (85,071), Hammond (76,618), Gary (76,008) and Lafayette (72,390).
Fourteen of Indiana's 20 largest cities posted a population gain in 2017. Among the cities that lost population, Hammond had the largest decline with a loss of an estimated 612 residents. Other cities with relatively large drops include Gary (decline of 587 residents), Evansville (decline of 427) and Muncie (decline of 282).
Around the state
In 2017, 648 of Indiana's 1,010 townships, or other sub-county divisions, either held steady or added population. Of this group, 14 townships – all in Indianapolis-area suburban counties with the exception of Logan Township in Fountain County – had a growth rate above 2 percent. Another 80 townships grew at a pace between 1 percent and 2 percent in 2017.
Looking at differences between urban and rural communities, the data show that most Hoosiers live in cities or towns. Two-thirds of Indiana's 6.67 million residents in 2017 lived in incorporated places. Indiana's cities and towns as a group accounted for 76 percent of the state's total population growth in 2017.
For more information about these estimates, visit the Population topic page at STATS Indiana.
The IBRC is the official state representative to the U.S. Census Bureau on matters relating to the census and population estimates and serves as a state partner in the national network of State Data Centers. It receives support from the Indiana Department of Workforce Development for this work, including the websites Hoosiers by the Numbers and the award-winning STATS Indiana.
Note: The Census Bureau adjusts its population estimates for sub-county areas each year to account for city and town boundary changes (e.g., annexations). Therefore, boundary changes do not contribute to any population changes reported in this release.