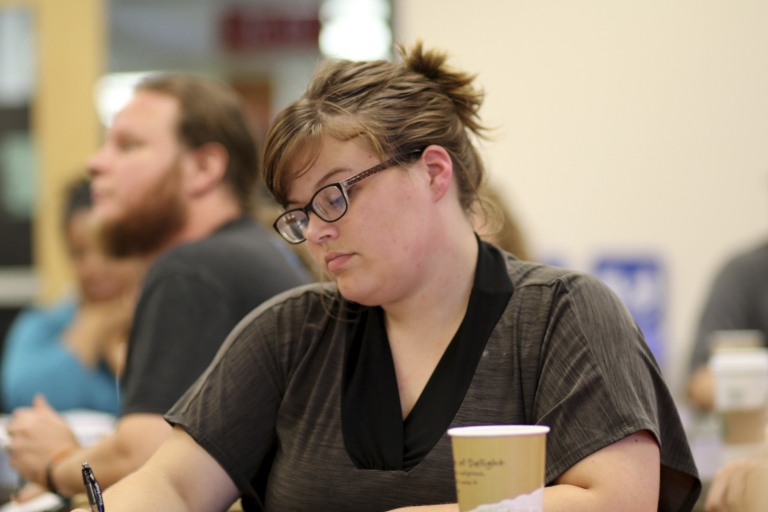 Josette Robinson and Trinaty Hobson come from very different backgrounds. Yet their arrivals at IUPUI – and the extreme challenges they faced to get here – have created a bond between them in a way that not many on campus experience.
Robinson and Hobson are both part of the Nina Mason Pulliam Legacy Scholars program at IUPUI. It's an opportunity bestowed on promising students from disadvantaged backgrounds that provides them with the resources and financial support needed to complete their college education.
Robinson, now 45 years old, was a single mother returning to school after an unsuccessful first attempt as a teenager. Hobson, 20, is a product of the foster care system. Both had the college dream, but neither had the confidence or the background to make it come true alone. That's where the Nina Scholars program comes in.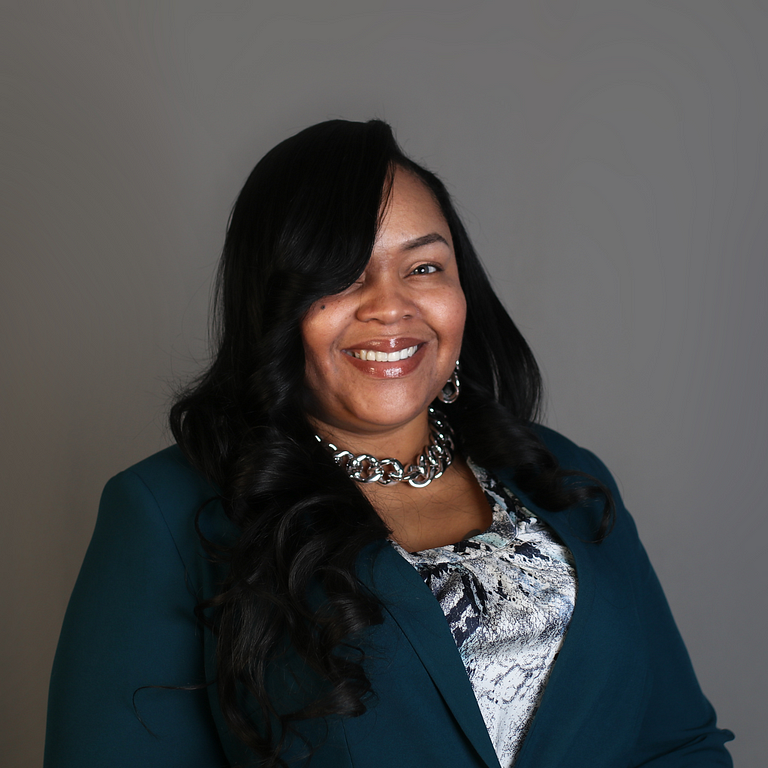 Meet Josette
Q: So many students in the Nina Scholars program come from nontraditional backgrounds. Can you tell us about yours?
JOSETTE ROBINSON: I actually came to IUPUI at 17 years old, fresh out of high school. I had a lot of family issues at that time, so I didn't do well at all. I didn't have much of a support system, so I failed out. Then life happened. I got married, I had a child, and things were OK for a while. Then life got a little tumultuous. I went through a divorce, and now I'm a single mom.
I had a good job with no degree. I was working for a telephone company as an operator, and they went through a workforce reduction. At that point, I knew I had to return to school to become marketable in the workforce.
Someone told me about the Nina Scholars program at Ivy Tech. That was the start of the change of my life. It's not just the financial support. More importantly, it's the support of this network of students and staff and faculty that really encourages you and helps you believe in yourself and realize your own potential. When I first enrolled at Ivy Tech, my goal was to get an associate degree and then go back to work. But the Nina Scholars program raised my bar. I never considered getting a bachelor's because I was intimidated. I had failed the first time. It wasn't on my radar. But they put it back on my radar. Now my goal is to not only get a bachelor's. It's to get a master's and possibly beyond.
At Ivy Tech, I had a 4.0 GPA the whole time. I graduated summa cum laude, and then I transferred back to IUPUI. I was happy because I got the Nina scholarship again, but I was devastated that my old GPA was waiting on me. It was horrible. I told Charlie Johnson, who is the director of the Nina Scholars program, that I didn't know what to do. He told me, 'Don't let that GPA tell you who you are. You show them who you are.' Since I've been here, I've gotten all A's. My GPA through the Lilly Family School is a 3.91. Every semester, I see it rising and rising. That feels good.
Q: Tell me about your daughter and how you've influenced her.
JR: I have a 19-year-old daughter, and she's a sophomore in Bloomington. When I started the program, she was in high school. She sees the change in me, and that's motivated her to be a better student. I just don't have enough words to express how powerful this program has been in my life. It gave me so much power and efficacy to go out and be great. It's also had a strong impact in my daughter's life.
She's always made good grades, but I told her, 'If you would just try. If you do this without effort, imagine what you could accomplish if you really applied yourself.' She accepted the challenge and applied herself even more. She got a full-ride scholarship to IU in Bloomington just because she started applying herself more and taking her education more seriously.
Q: What advice do you have for other students who are considering college or coming back to school?
JR: It's never too late. I waited 25 years. Decide to go back, and believe that you can do it. There's a quote, 'If you believe you can or believe you can't, either way, you're right.' My advice would be just to lean into the opportunity and take advantage of all the opportunities that are placed before you.
Meet Trinaty
Q: Tell us about your background.
TRINATY HOBSON: I was placed into foster care when I was 9 with my younger brother and sister and later adopted around 11 or 12. At 17, I applied to IUPUI and got accepted here, but I thought, 'No, I'm not moving to Indy.' But then I got the Nina scholarship application. I read through it and was like, 'Wow, I could actually go to college if I use this.' I was kind of leery. I applied to colleges, but I didn't know if going to school was really an option because I didn't have a lot of financial support. I didn't have a lot of support from family, so when I saw this, I thought, 'Oh, I can actually go.'
I grew up in a really small town in Jennings County, so college wasn't super-pushed in my family. You were "smart" if you graduated from high school.
Q: Talk about your commitment to education. Why did you want to come to college?
TH: I originally came to college because, first, it was something that was almost discouraged by my guardian. She was like, 'You're not going to go college. You are indecisive. You can't commit to things. You're not going to go. You shouldn't apply.' I was like, 'You wait. You watch.' So I applied more out of rebellion to prove her wrong. Also, I knew that if I wanted any type of life other than what I had been exposed to, college was my step forward. I know college isn't for everybody. I don't think everybody needs to go because there are vocational options, but I felt like for me, college was my path that I needed to pick. Now that I'm here, it's more about my future family and the life that I want to give them.
Q: What has the Nina Scholars program provided to help you find success?
TH: Nina has been involved in every facet of my education, growing and moving forward. I think the most foundational thing they've given me is the support. Having that support was very different for me, and it's something that has really impacted how involved I've gotten on campus, how comfortable I felt on campus. Especially coming from a really small town, I was like, "Indy has more than two lanes, and there are escalators. I need some help to feel like I can get out and feel comfortable here."
Also, Nina played a large part in finding out what my major was. Charlie Johnson had us really think about what our strengths and values were and if we were going toward those. I realized that art education wasn't matching up with what my values were. My dad and my mom were both artists, my grandma was an artist, so as a young child, that was super-pushed on me, and I thought, "All I can do is be an artist." I was good at it, so it made sense, but then Charlie helped me realize that I really value equity education, access to health care, and things that really benefit populations that are under-resourced and go unnoticed.
Q: What advice do you have for students who might be in a situation similar to yours?
TH: Don't let what society says you are – or have to become – hold you back. I heard a lot as a child about how foster kids are going to end up in jail, are doomed to have the same exact life as their parents had, aren't going to be good kids, are going to be in and out of the system. How they're not smart, they're damaged. All these really negative things. Especially for a younger population, that is really detrimental. You come into college having this fixed mindset, thinking that you can't do these things because you've never been told that you can do them. Now, coming in and knowing that you can do it, is the biggest thing that I preach to all my students I mentor. Just have this growth mindset, that "I can do this, and I'm going to try, and it's okay if it doesn't work out. I can try something else, and it doesn't mean that everything else is true as well."