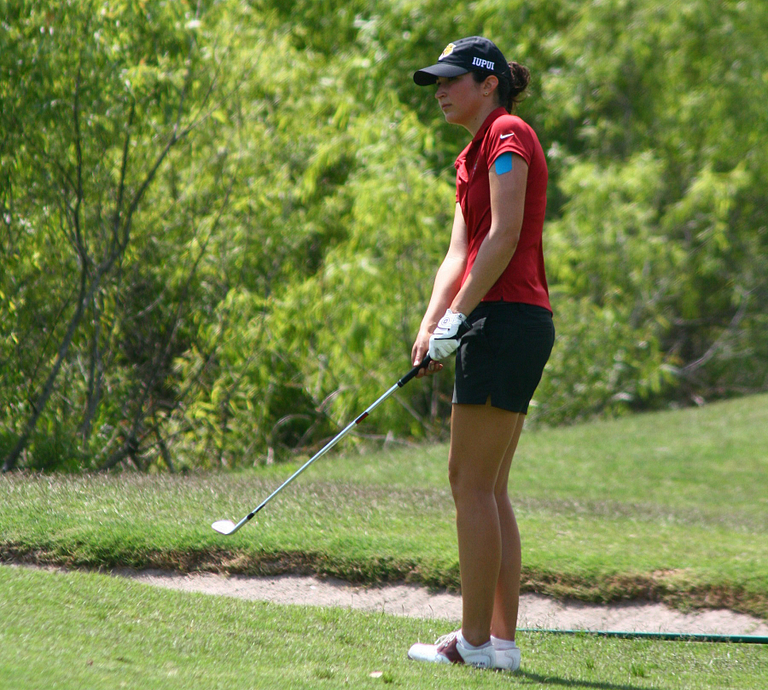 The IUPUI women's golf team begins NCAA regional play for the first time in school history, led by a senior from Slovakia. Aneta Abrahamova speaks four languages, is an Honors College student in the Kelley School of Business, was named among IUPUI's Top 100 students this year and is the Horizon League Player of the Year. Before leaving for the regional in Madison, Wisconsin, Abrahamova talked to IU Communications about being the team leader, how another sport led to success in golf and the road from Slovakia to Indianapolis.
Q: You're about to play in the school's first NCAA regional. Pretty good way to cap a college career, right?
Aneta Abrahamova: It's been one of my goals to play in regionals, either as an individual or as a team. Each year I felt being really close to playing in the NCAA tournament, so I'm very happy it has worked out my senior year. We had a young team competing at the conference championships – two freshmen, one transfer and one girl who is a junior but was in her first conference championship this year. I'm very happy we won the first conference title of the program's history. I'm really proud of how they coped with situations to get here.
Q: So did you feel like the old person on the team?
AA: (Laughs) A lot of people ask me that. Yeah, I'm the senior, but I feel like I get along so well with the other girls that I don't see such an age difference. Maybe a difference in experience and classes. And we play with guys in tournaments as well, and there's a senior on the men's team, so I wasn't alone.
Q: And Player of the Year in the school's first year in the Horizon League. How proud of that are you?
AA: That's really nice. I have been working very hard to achieve this; I spent countless hours of practice the last couple of years. I had a really good season – I won two tournaments and had a couple of runner-up finishes. Just a consistent season where I finished top 10 in nine out of 10 tournaments. I'm looking to play professionally, so having a consistent swing and scores around par – that's something that will help me in the future.
Q: How have you been able to balance playing at such a high level with being an Honors College student?
AA: Since my freshman year, I've always had the best scoring average. My sophomore year, I got into the Kelley honors program. I decided to take on the challenge, and that really helped me learn how to balance school and golf. Even though it takes more time to complete those classes, in the long term it will help me with my future.
I feel like the Kelley School of Business does such a good job with student-athletes. Just random stuff – I'd get an email from a professor congratulating me on the Top 100 or a tournament or being Player of the Year. I really appreciate it because they really care about me as a student-athlete. I really enjoyed working with the Kelley honors professors David Steele, Judith Wright and Peggy Lee. In those honors classes, I was able to develop more as a student and share my opinions or ask more questions about a topic. The way those professors would lead their classes was really interesting to me.
Q: You're majoring in management and international business with a certificate in events management. What do you want to do with all of that?
AA: If I don't play professionally, golf has been such a big part of my life that I would like to stay within the industry. If there was a way I could grow the game of golf back home in Slovakia, I would like to give back.
Q: Tell me about golf back home.
AA: The golf community there isn't as developed as in the Czech Republic or Austria or neighboring countries. My home course in Slovakia was an hour away. I'd practice in Austria, which was an hour and 10 minutes away, and practice in the Czech Republic, an hour away. It's really spread out. It takes a daily commute to go practice – and that's without traffic.
We have maybe eight 18-hole golf courses in the whole country. Around Indy, we have much more. Here, if I go 10 minutes away, I can play a really nice golf course. It's awesome.
Q: And as I understand it, you were late to golf?
AA: I played tennis for 10 years, from age 4 to 14. But I felt like I wasn't going to go to college to play tennis and that I should get more oriented to school. So I started playing golf, and I really liked it. I got onto the national team after maybe two years.
Q: Top golfers nowadays seem like they're swinging clubs as soon as they can walk. How were you able to use tennis as a springboard to great golf?
AA: In tennis, I practiced so many hours. I think it helped me with work ethic and discipline on the golf course later on. I'm 23 now and still feel like I'm still able to take something from the time I played tennis.
Q: Is there a lot of crossover in the mental part of the game?
AA: There is. Both sports take a lot of focus and are mentally exhausting. Tennis is more of a fast-paced sport where you sometimes end up reacting to different situations without thinking. In golf, every shot counts. You don't get to have a second serve/chance, and therefore it might be little bit more challenging.
Golf is such an individual sport in how no one else is influencing your results. In tennis, you're still playing a match against someone. In golf, if you have a really good round and someone ends up beating you by a shot, good for them.
I still miss tennis. Both of my roommates are tennis players, and I play with them sometimes. It's such a nice way to relax after you play golf. It's been a big part of my life, and it still is.
Q: How did you end up at IUPUI?
AA: As part of the national team, I would play European team and individual championships. Other college coaches would see me over there or see the results. I came to Miami when I was in my junior and senior year of high school for two or three weeks to play in tournaments, and that's when one of the coaches from here contacted me. I wanted to study business, so I went online and read about the Kelley School of Business' high undergraduate rankings.
At that time, I wasn't sure how the team was doing, but I knew that the golf coach, Colby Huffman, had been a PGA Teacher of the Year and had worked in academies, so I felt like he would be able to help me. Having a good coach who cares about you and your game was really helpful to me.
Q: Did you visit the campus first?
AA: I came for an unofficial visit for two days and met the coaches. They showed me a little of the campus and Kelley. I like the city. I'm from a city; I will always want to live in a city. I can't imagine going to a campus that's, like, 40 minutes away in the middle of nowhere. You have golf and school, but it's important to have some time off and go shopping, see a movie.
Q: What are your favorite spots in the city?
AA: I really like Mass Ave. It's just a cool street to hang out, shop, go eat. I like the canal. And there's a bunch of coffee shops I like to go to.
Q: What's the one club in your golf bag that you love the most?
AA: My 8-iron. There are just so many shots I can hit. Also, it was the first club I ever hit when I started playing. I went to my first golf tournament after two weeks, not even knowing everything about it, and I couldn't understand how you could hit a 6-iron longer than an 8-iron. I was just hitting 8-irons all over the golf course. I didn't do very well.
Q: What are your favorite courses?
AA: We just got Broadmoor as our home course. I really like it. It's close to campus and has really good practice facilities. Unfortunately, it's my senior year, but I'm excited for my teammates to be able to keep practicing there. I liked Wolf Run in Zionsville, but it recently closed.
My favorite collegiate tournament was the Kiawah Island Spring Classic. I played well there and broke my school record. Probably my favorite course was the home course of Yale University, I played there my sophomore year, and it was amazing. I really enjoy playing tree-lined golf courses. The more difficult the course is, the better I play.