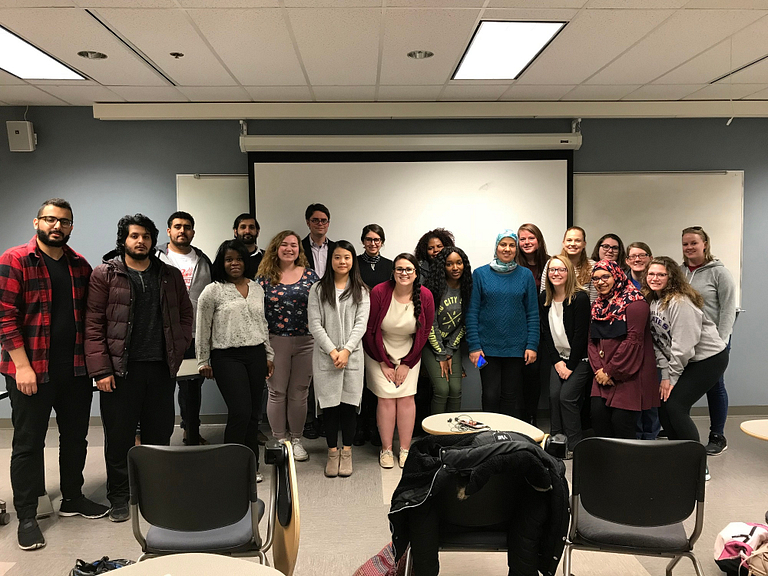 Students in a global health class in the Richard M. Fairbanks School of Public Health joined with Moroccan students this spring to address public issues in that North African country.
And they did it without ever leaving IUPUI.
The IUPUI students engaged with graduate students in the master's in public health program at Hassan 1st University in Settat, Morocco, to develop community health strategic plans addressing five key Moroccan public health issues.
Those issues were diabetes, tuberculosis, family planning, palliative care and providing access to people with disabilities.
The plans included a written document, an oral presentation and storyboards that could be taken into communities to facilitate discussion around the health issues.
The Moroccan students are now working to implement the completed health plans on a local or even national level.
"The students' work will lead to real action," said Jack Turman, a professor in the school's Department of Social and Behavioral Sciences who taught the class.
The class, Community Capacity Building in a Global Health Context, teaches global health through the lens of community development. It explores working in communities in other nations to build those communities' capacity to deal with health and social issues.
Turman chose Morocco as the country the IUPUI students would focus on due to his extensive work in that country, which includes helping develop Hassan 1st University's master's in public health program, the first in Morocco and in that region of the world.
"One thing that I wanted to do was mentor and encourage the students at Hassan 1st University and at IUPUI as they worked together to develop a strategic plan for public health issues in Morocco, so that both groups of students would have a genuine global health experience," Turman said.
Turman and a faculty member at Hassan 1st University taught the students how to develop a community health strategic plan, but they left it to the students to figure out how they would work together to prepare the detailed plans addressing Morocco's health issues.
The first challenge was how to bridge the 4,300 miles that separated the two groups of students. "I told them they had to figure that out," Turman said. "If you're doing global health, one of the things you have to do is figure out the technology."
Using the WhatsApp, Skype, Facebook, Google documents and other forms of technology, students were able to work together extensively.
"Our students had to learn about developing these kinds of plans for another country, taking into consideration all of the different cultural issues and working with people in that country," he said. "It was a transformative experience."
The faculty member from Hassan 1st University came to IUPUI for the students' presentations on the strategic health plans. "She said they totally grasped and addressed everything in a perfect Moroccan context," Turman said. "I was really proud of them."
The course also provided a unique experience for several Saudi Arabian students in the class, who said it was the first time they had taken a course at IUPUI that addressed a culture similar to their own. It was a novel experience for them to use their native Arabic language as part of their classwork and have American students talking to them about their country and culture, Turman said.
The experience was special for Turman as well: "It's the best course I've taught in my whole career."