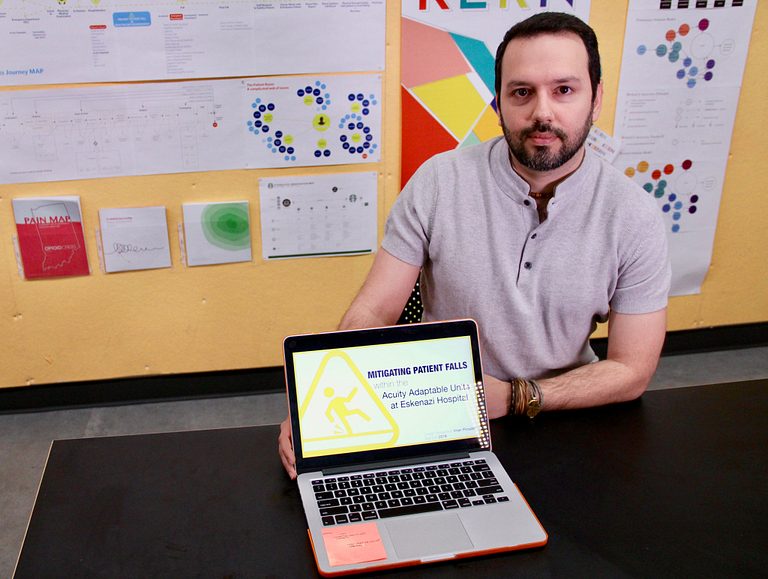 Herron School of Art and Design's final student exhibition of the academic year, "Look/See," will showcase the talents of more than 20 graduating M.A. and MFA students.
Among the artworks on display will be a video of Iman Pirzadeh showing his design process and methods during his research at Eskenazi Health. This is not an experimental, conceptual art piece. It's documentation of the design process Pirzadeh used to create his Visual Communication Design thesis project aimed at mitigating patient falls within the Acuity Adaptable Units at Eskenazi Hospital.
Nicely edited and featuring slick graphics from Pirzadeh's prowess with Adobe Illustrator, the video, clocking in at just 2 minutes 4 seconds, is a glimpse at the new ways designers are earning jobs: They are researchers and problem-solvers. While still visualizers, they must properly and effectively present their findings for their clients or a general audience. 
"It's our job as design researchers," said Pirzadeh, who will start an internship with the user experience design team at the Center for Health Innovation and Implementation Science in Indianapolis. 
"Look/See" runs from 5:30 to 9 p.m. tonight, May 3, in both Herron buildings. The artwork will hang through May 19. 
Pirzadeh's yearlong project culminated in a smartphone application called Escorazi for patients and nurses to help assist or monitor patients with risk of falling as well as those suffering from dementia.
Escorazi
"We want to motivate the patients to ask for help when they want to get out of bed," Pirzadeh said. "If they keep forgetting to ask for help, it will remind them to ask for help."
From architecture to health care
Born and raised in Iran, Pirzadeh studied interior architecture at Limkokwing University of Creative Technology in Malaysia. After graduation, he started his own design and advertising company – IP Studio, using his initials – in Cyberjaya, the country's version of Silicon Valley just outside of Kuala Lumpur. 
After a few years, Pirzadeh was lured to IUPUI by his sister, Afarin Pirzadeh, who was studying human and computer interaction in the School of Informatics and Computing. He found a new country, a new city, a new university, new people and a new potential career. 
Does this make my data look big?
Pirzadeh approached the problem of patient falls using participatory design. His research estimates patient falls will cost $32.5 million nationally by 2020 and increase a patient's stay by an average of six days. He considered different types of falls – accidental and anticipated physiological – and the many factors that cause falls: bed's height, lighting, effects of medication and obstacles in the form of medical equipment, just to name a few.
Pirzadeh analyzed patient falls from 2015 to 2017 that occurred between the times of 8 a.m. and 6 p.m. Most happened in the hospital room, while 20 percent were in the bathroom of the hospital room. Fifteen percent of the falls occurred when the patient tried to get up from the bed. 
Pirzadeh's work has many stakeholders, from the patients themselves and their families to nurses and health care providers.
A new field for designers
Youngbok Hong, associate professor and director of visual communication design programs, believes there is a need to make research cases like Pirzadeh's – who is one of her students – more comprehensive to every stakeholder due to the complexity of the issue. There are real-world effects from the work, and it can save money and lives. 
"As the patient experience has become a metric to measure payment systems for quality," Hong said, "there has been a lot of emphasis on patient experience and satisfaction in health care. It's not just 'Did the doctors fix my disease?' The concept of patient experience is complex and holistic. Design can assist in that – to bring patient voices to help health care providers make decisions. It's an interesting kind of movement. They're reframing health from a cultural perspective."
Hong is delighted at Pirzadeh's success as a design researcher, and she believes his two-minute video will illustrate the scope and nature of the Herron design program.
"This program focuses on thought process," Hong explained. "We approach design as a verb, a purposeful course of thinking and action. We believe everybody does design. 
"We have positioned visual language as a tool to enhance communication in a collaborative thought process and expanded the use of visual languages beyond creating a product. By focusing on the thought process of designing, we've found design can contribute to various issues in society, from health care to education. The yearlong graduate thesis has been a platform to experiment with the capacity of design thinking."