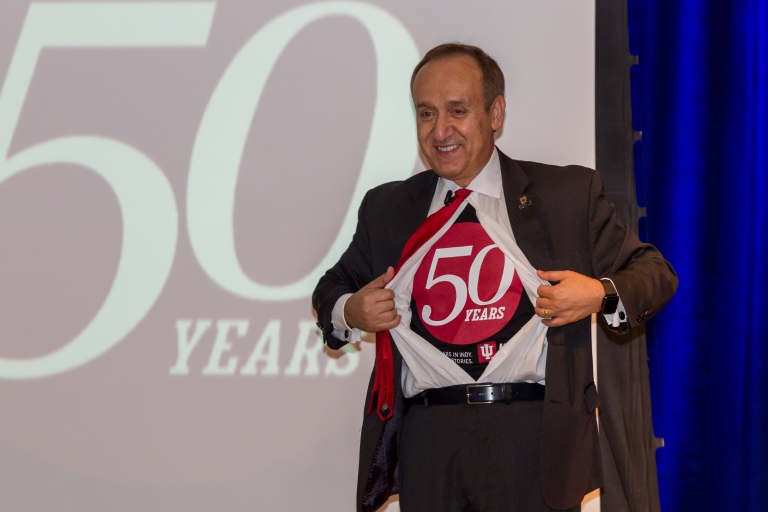 IUPUI will celebrate its 50th anniversary as a campus from July 1, 2018, through June 30, 2019.
As part of the celebration, a series of campuswide signature anniversary events is planned, each designed to help IUPUI honor its past, celebrate its present and envision its future. Academic and support units also have numerous events planned throughout the year, including both recurring annual traditions and specific events designed to focus on this milestone in IUPUI's development.
The 50th Anniversary Event Fund has been established to assist units with their plans to showcase the contributions and progress of the campus over the last 50 years, as well as highlight the goals and aspirations that will lead IUPUI into the future. 
"What better way for people to become aware of IUPUI's past, present potential and future promise than through direct experience, and events are a great way to accomplish this," said Christine Fitzpatrick, chief of staff for the Office of the Chancellor. "The event fund encourages units to find meaningful ways to connect their events to our campus's golden anniversary."
To be considered for funding, an event must support the themes and goals of IUPUI's 50th anniversary, adhere to university policies and guidelines for events and activities, and meet at least one of the following qualifications:
Strive to foster a "wow factor," including innovative, memory-making and visionary activities.
Be designed to, whenever possible, make a big impact.
Include some or all of the 50th Anniversary target audiences: current faculty, staff and students; retired and former faculty and staff; alumni; community members; business, government and nonprofit stakeholders or partners; donors; and institutional partners and peers.
Showcase one or more projects from either round of IUPUI's Welcoming Campus Innovation Fund.
Funding guidelines are as follows: 
Eligible organizations include IUPUI divisions, schools, departments and centers.
The event must take place during the 50th Anniversary year, from July 1, 2018, to June 30, 2019.
Funding requests are due on the first of each month, and notification(s) will be made on or before the 30th of each month. The application process offers a rolling deadline.
The funding request cannot exceed $2,500.
The funds must reflect the 50th Anniversary or showcase projects from the Welcoming Campus Innovation Fund and cannot be used to fund honoraria to staff, faculty or students presenting a program or event.
Find out more about the 50th Anniversary Event Fund, or apply for funding.