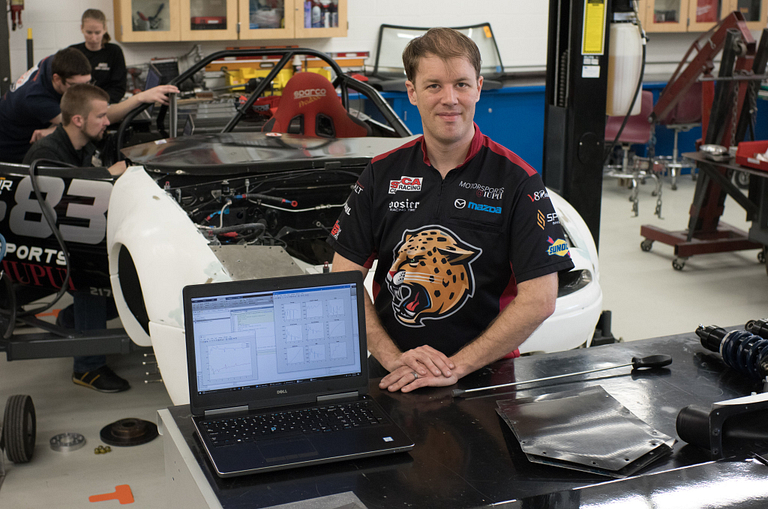 Locking down a tee time during the summer might be a hassle, but obtaining track time whenever they want it is almost impossible for IUPUI motorsports engineering students.
The expense, the low number of tracks and this little thing called the Indy 500 make it difficult to practice and to refine and improve car performance.
The department is relying more on simulation software to give students more experience and to test their cars without having to leave campus. New faculty member Tyler Stover is helping lead the charge with his expertise in Dymola software.
"It's a tool we can have our students use to practice their skills and ideas for the track before we get there," said Stover, who earned an IUPUI motorsports engineering technology master's degree in 2017. "Then we can validate it on-track." 
During a May 8 preparation of the program's Mazda Miata race car, two laptops were used to measure diagnostics and test and calibrate new data sensors of the car while the seat and belt were reinstalled and other structural improvements were made. Drills, wrenches and welding torches are still a necessity, but digital tools are of equal value.
For example, wheel speed is measured through a data sensor and then analyzed via laptop.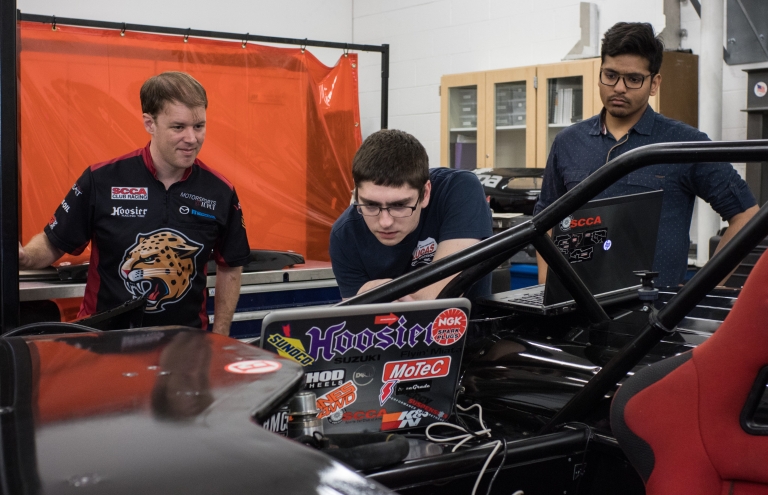 Stover is in the midst of writing more dynamic simulation software using the Modelica programming language in Dymola.
"It can be anything from basic kinematic models all the way up to full lap time simulations," he said. "We can simulate and test some design ideas or some setup parameters before we get onto the racetrack."
Computer lab: the new garage?
The motorsports engineering program is already unique, but the digital side to helping a car fly more than 100 mph down the track was recognized by program director Andrew Borme, lecturer Chris Finch and other established faculty members. Stover's position was created to emphasize new software in simulation to go along with the program's pre-established digital prowess of MATLAB analysis and computer-aided design drawing.
"Based on industry feedback, we needed to up our game on vehicle simulation," Finch said. "Dymola is an applied-physics solver. We purchased a very high-end package used by Formula One, NASCAR and the three major car manufacturers. In order to advance and promote our students, we need to give them an education in current, industry-accepted simulation software to make them more employable." 
Stover teaches first-year students and sophomores MATLAB programming as well as every office worker's favorite spreadsheet maker, Excel. Stover says work in computer labs makes for better aerodynamic modeling, data analysis and vehicle dynamic simulations – with the ultimate goal of shaving precious seconds off of their drivers' times. 
"We can run computational fluid dynamics tests. We can simulate wind tunnel work," Stover continued.
Recent results
In the fall, Stover will implement his Dymola expertise in a graduate-level class that will concentrate on vehicle simulations using only that software. The class will focus on how best to use simulations in the motorsports industry to maximize performance.
Wrenches and data processors unite
Stover emphasized that motorsports engineering students will still get plenty of opportunities to turn some wrenches and get their hands dirty working on the cars. It's just that the digital side of motorsports will continue to grow, not only in simulations but in computer-aided design modeling software as well. The program can meet the students' varied interests within the motorsports realm.
"A student could split their time or choose to focus on one or the other," Stover said. "We want them to follow their passions for their careers after IUPUI." 
While five students are currently interning for IndyCar, they will be looking for jobs in the summer. The Miata is getting prepped for races Aug. 11 and 12 at the Grattan Raceway in Belding, Michigan, while Stover looks to give his students a competitive edge via software simulations. The marriage between hands-on and digital work will continue to drive the program to the checkered flag.
"You can't be on the track as much as you want to be," Stover said. "Having software simulations allows you to maximize the use of your time."