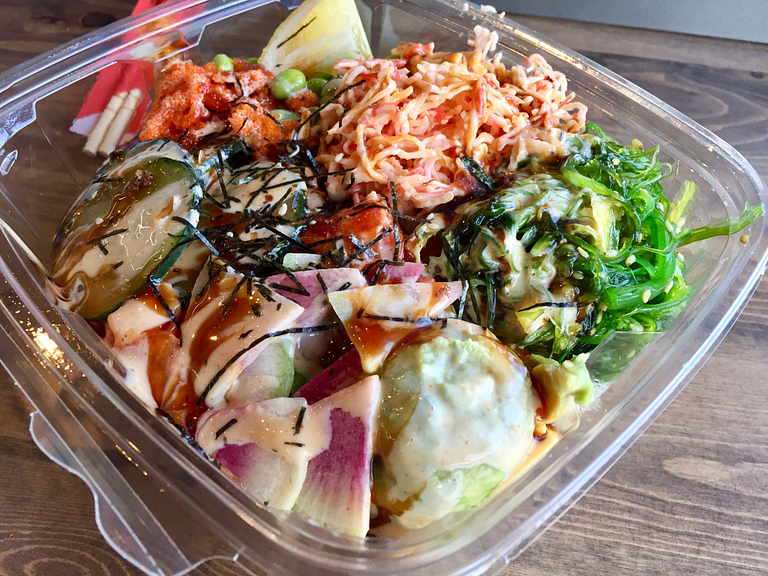 Facebook's "poke" feature has always been polarizing, but poke cuisine has become a new favorite in Indianapolis.
This poke – pronounced "poh-kay" – has been more than OK with its Hawaiian raw seafood salads. Nontraditional poke usually has some Japanese influence – think a deconstructed sushi roll. Ali'i Poke, a new restaurant at 910 W. 10th St., has been gaining lunch business from IUPUI staff, faculty and students since its late-February opening.
The basis of Ali'i's menu consists of four styles of bowls: tropical Maui, spicy Pele and Ali'i. The latter features watermelon radish, avocado, cucumber and edamame, among other ingredients. The traditional Hawaiian version is simply marinated raw fish – tuna, salmon or octopus – over rice. Of course, numerous add-ons are available, from pineapple, jalapeño and wasabi to spicy mayonnaise, unagi sauce and shredded cooked crab.
A typical Ali'i visit feels like a build-your-own burrito restaurant but with more tropical and exotic ingredients. Customers start with their choice of rice (sushi or brown), lettuce spring mix or tortilla chips. Pro tip: The saltiness of the chips combines nicely with the sweet marinades of the seafood. 
Next is the protein choice: raw fish, cooked shrimp or tofu. Customers can choose from the signature bowls or build their own. 
A regular poke bowl, which is quite filling, runs $9.50, while the large is $12.50.