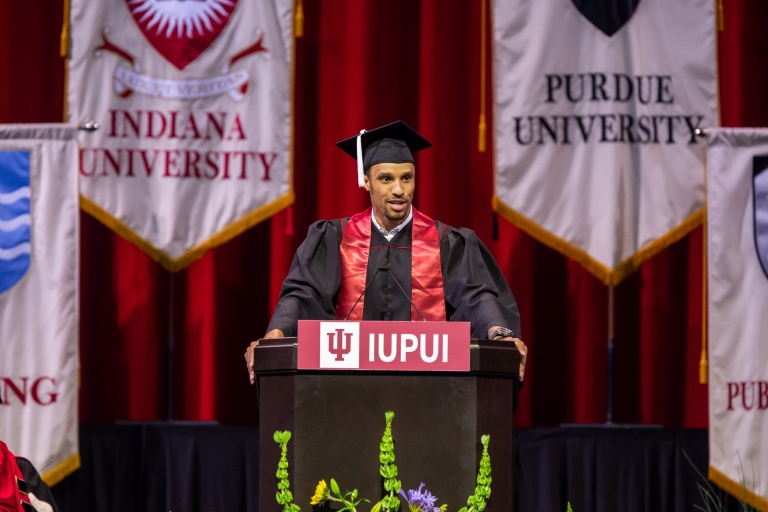 Nearly 15 years after he began his educational journey, Indianapolis native and NBA star George Hill is an IUPUI college graduate. The starting point guard for the Cleveland Cavaliers took time out of his playoff schedule to travel to his hometown and participate in commencement ceremonies.
In his commencement address, Hill honored all of his fellow graduates, recognizing that everyone had their own unique journey to get to this moment.
"I have been under the arena lights in some big moments in my life, but none has been bigger than this," Hill said. "For a lot of us, it wasn't easy to get here. It required much sacrifice and an incredible level of commitment, and there is no doubt we are so deserving of this recognition in this building."
Description of the following video:
[Chancellor Paydar speaks: A graduate of IUPUI this year…number three…George Hill!] 
[Video: IUPUI Chancellor Nasser Paydar introduces NBA star George Hill at IUPUI's commencement.]
[Hill speaks: I started this year in Sacramento, things weren't going well as far as playing and things like that, so I thought, why not finish my degree when I have the extra time.] 
[Video: Hill takes selfies with students. Hill appears on camera.]
[Hill speaks: I didn't know I was going to get traded to Cleveland, and have a busier schedule, but it was kind of the gut inside me saying I need to get this thing done, not just for me, but for my family and for my AU program, where I'm mentoring kids, night in, night out.]
[Video: Hill appears on stage with IUPUI Chancellor Paydar. Hill appears on camera. Hill takes photos with IUPUI students at commencement.]
[Hill speaks: I'm big on education. I tell my AU kids all the time how big education is. Get good grades, go to college, get your degrees and diplomas, things like that. Make your life easier.]
[Video: Hill appears on camera.] 
[Hill speaks: I was kind of contradicting myself, me telling them to do those things, and I hadn't accomplished mine.]
[Video: Hill speaking at the IUPUI commencement ceremony.]
[Hill speaks: For me, it was to go back and finish, so I can tell my AU kids that I did it, that nothing can get in their way, that anything is possible.]
[Video: Hill talks on camera.]
[Video: Closing outro appears on screen. An IU trident appears at the top of the screen. Underneath the trident is the words IUPUI, Fulfilling the Promise, iu.edu.]
Last fall, Hill decided to finish the School of Liberal Arts degree he started 14 years ago, writing papers and taking tests while balancing his NBA schedule. But once he made up his mind to return to school, nothing was going to stop him from finishing.
"It's not about how long it took me; it's about finishing the job," Hill said.
Hill was among a record number of 6,940 IUPUI graduates. The ceremony at Lucas Oil Stadium in downtown Indianapolis included five honorary degree recipients and keynote commencement speaker A'Lelia Bundles, great-great-granddaughter of Madam C.J. Walker.
Here are some other scenes from Saturday's momentous occasion: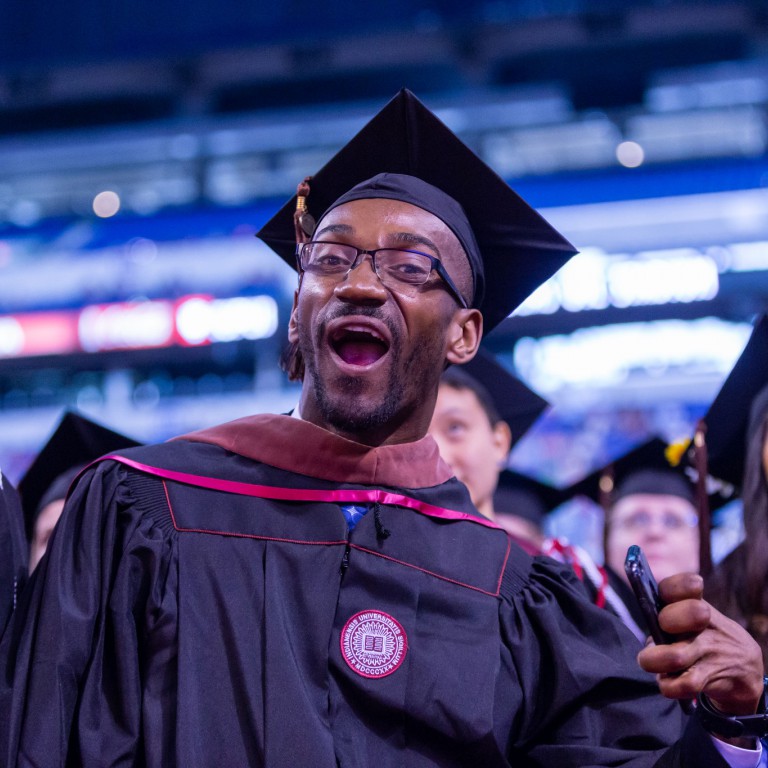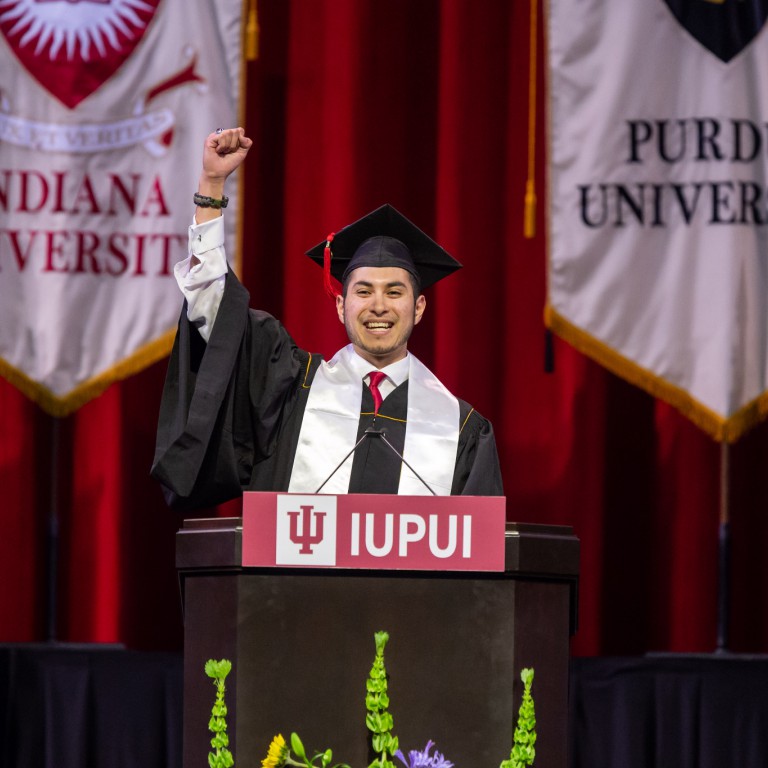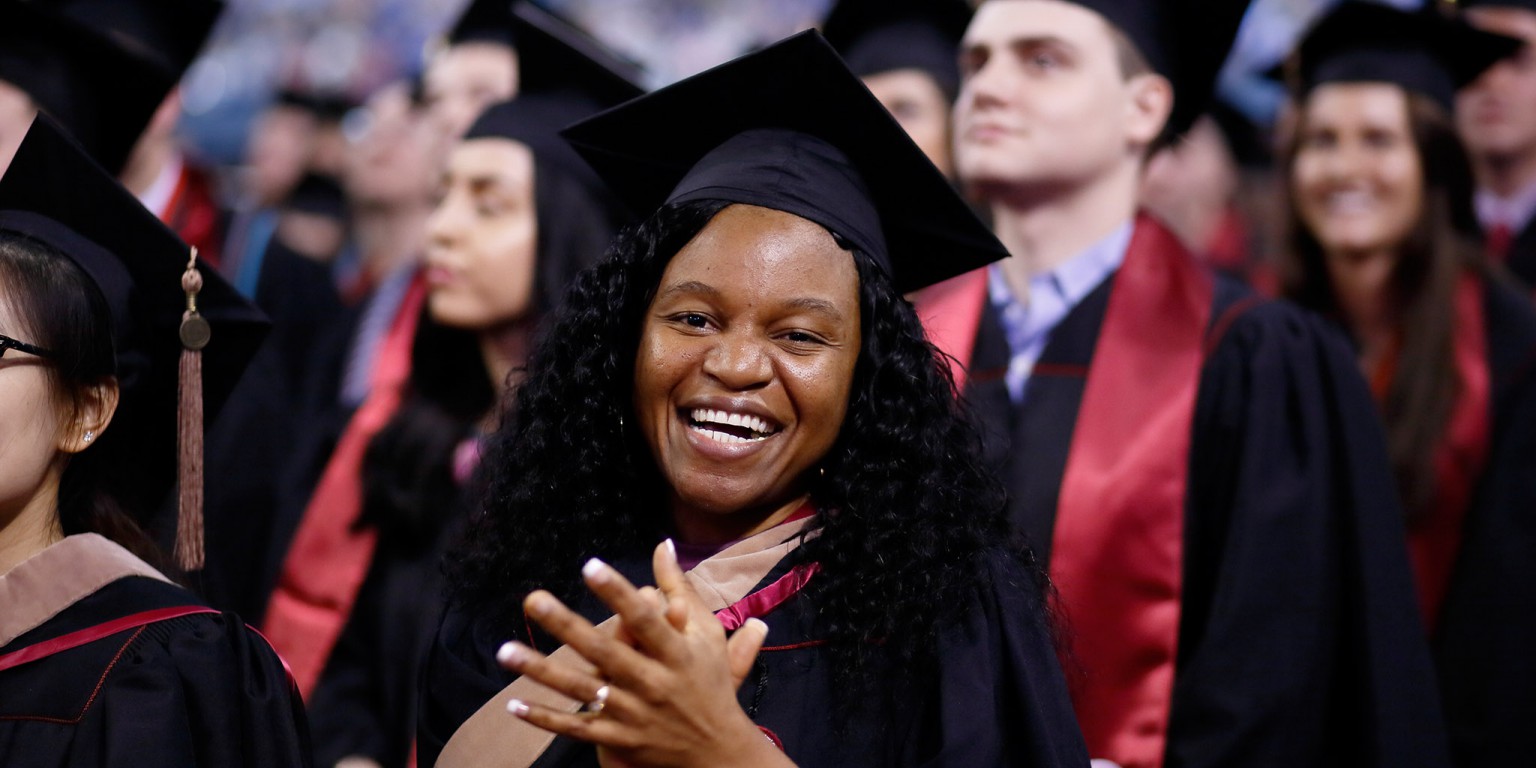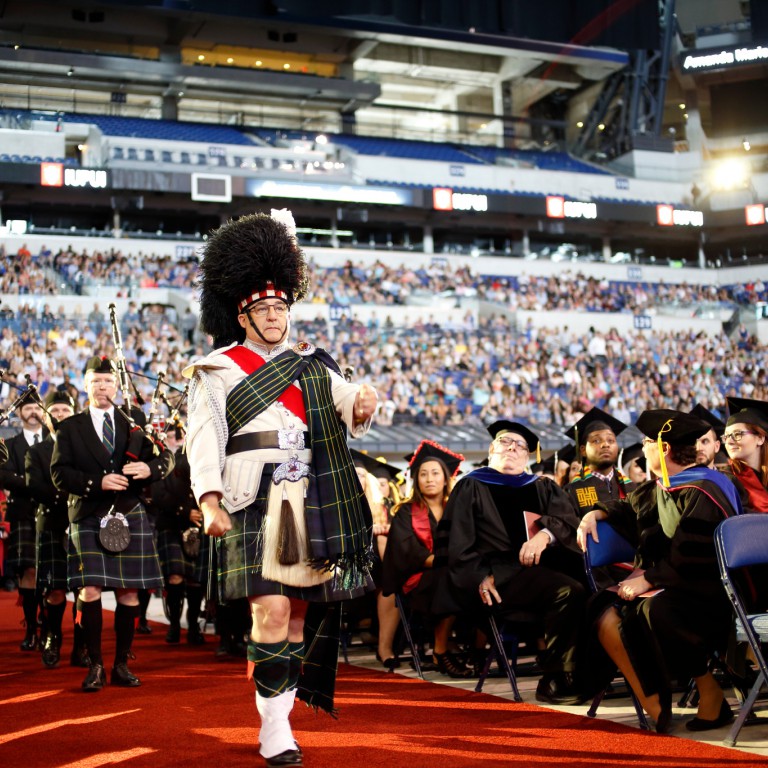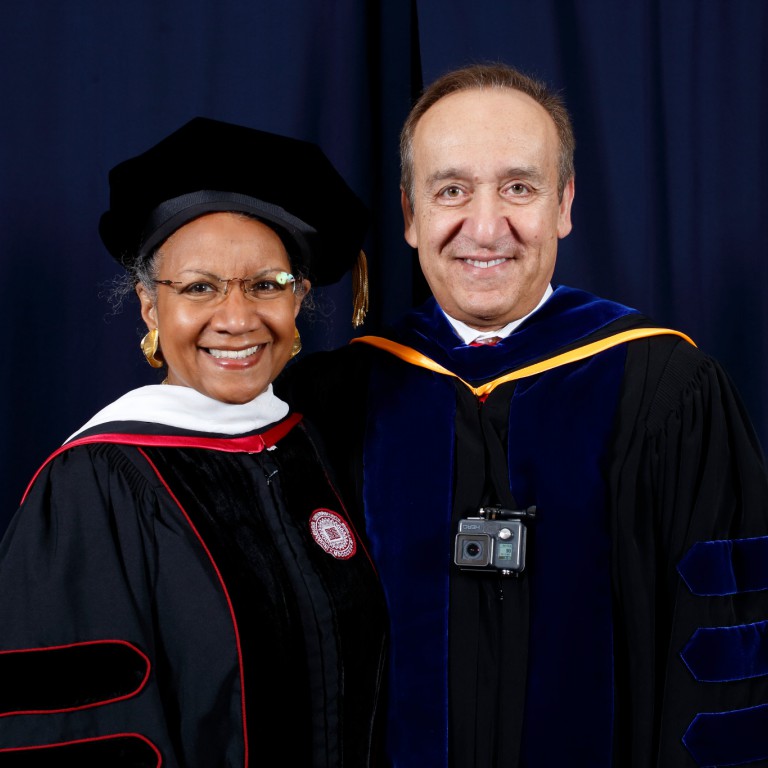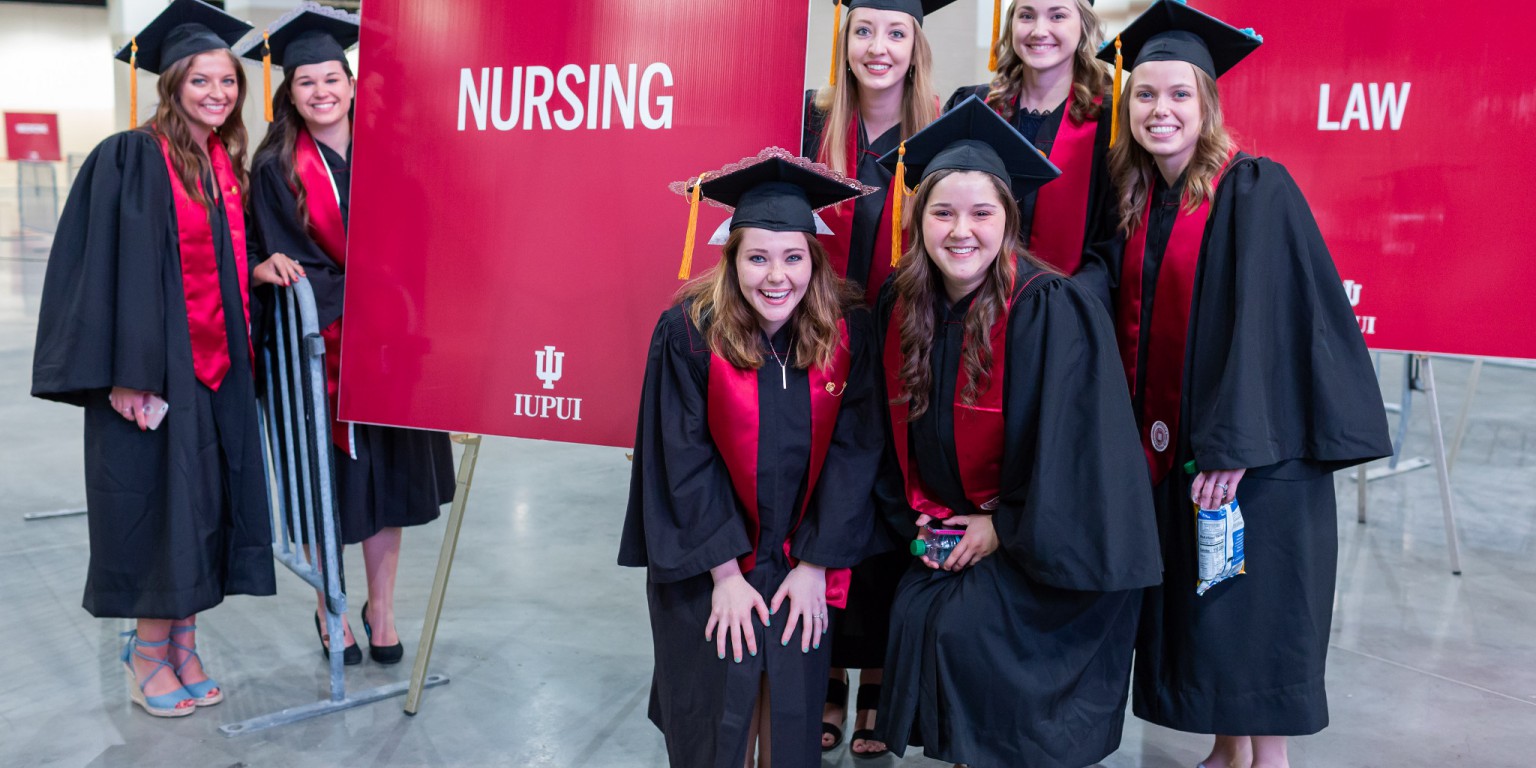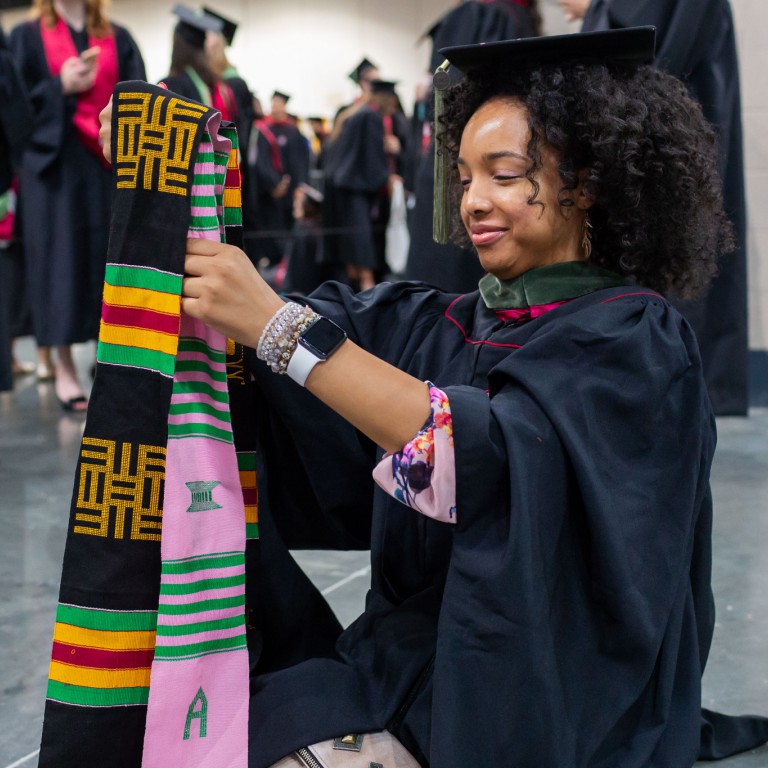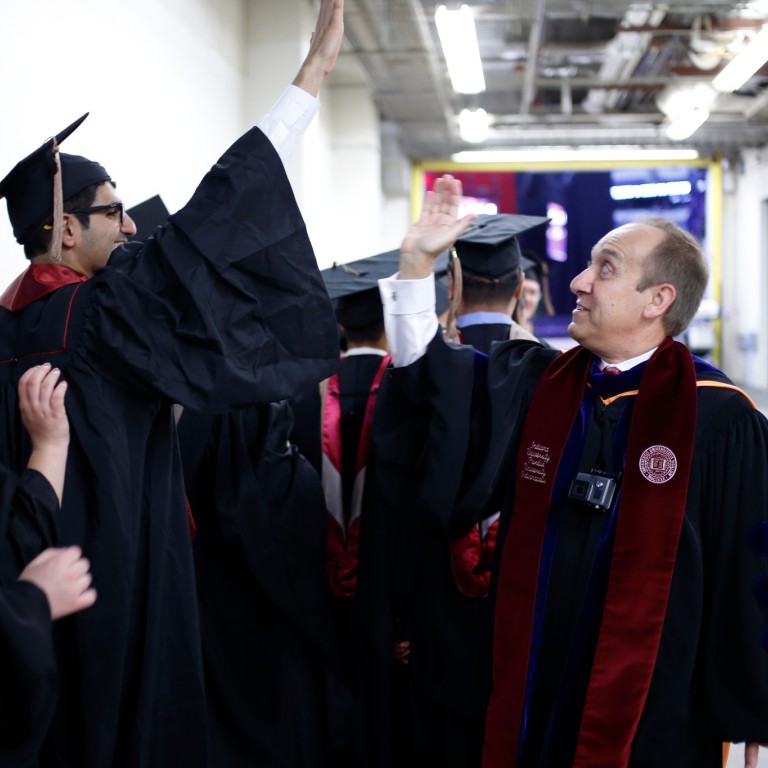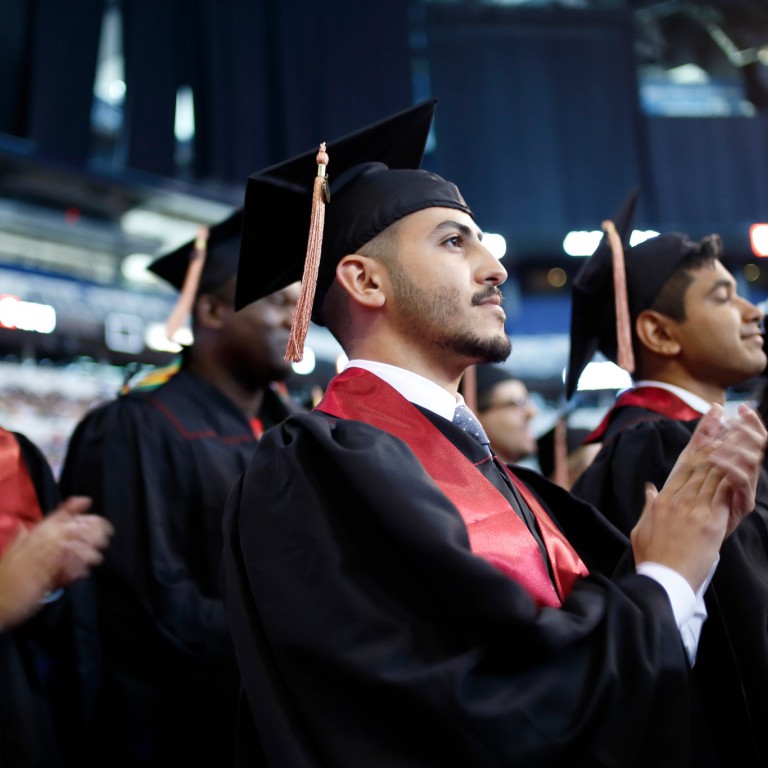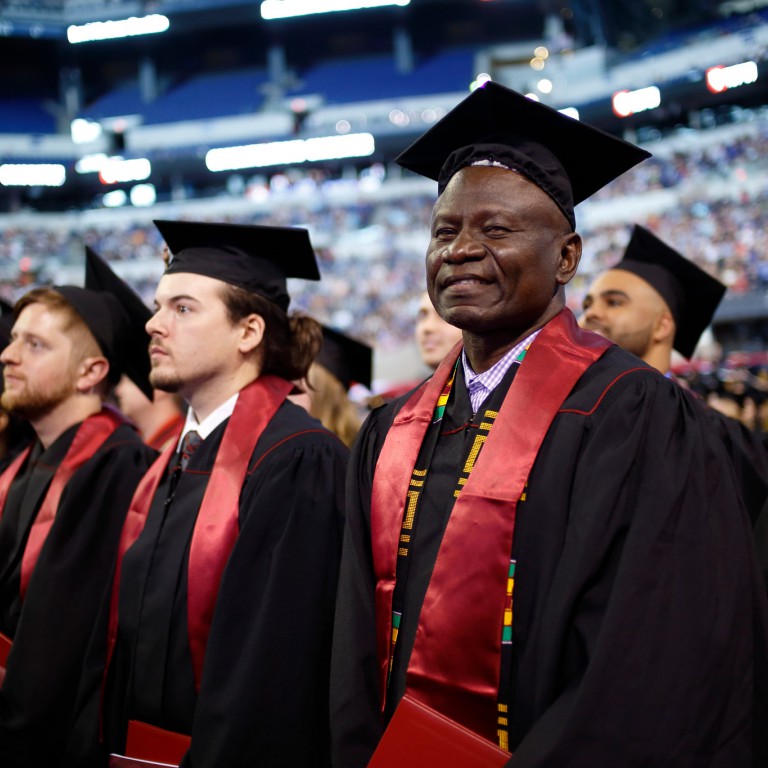 All photos by Liz Kaye, IU Communications