Indiana University East celebrated the class of 2018 last month with the conferral of 831 baccalaureate and master's degrees. The years of hard work and determination these graduates have gone through culminated into one evening of celebration with family, friends, faculty and staff at the commencement ceremony. Many will join the more than 80 percent of IU East alumni who continue to live and work in our region.
As chancellor, I'm reminded that each student crossing the stage to receive their diploma has made sacrifices to get to where they are today.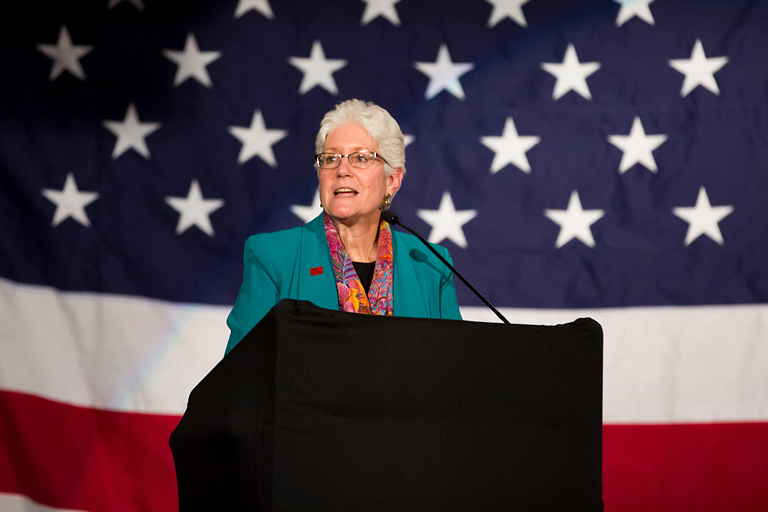 Lucas Huffman is an example of one of this year's graduates who met obstacles on the way to earning his degree in biochemistry. Lucas was captain of the men's basketball team, leading the Red Wolves to their second trip to the Fab Four at the NAIA Division II Men's Basketball National Championship. He had to come back from a severe knee injury suffered last year to be able to play this year. Lucas was determined to finish his degree on time and return to basketball, and he succeeded at both. This year, he was the Naomi Osborne Scholar, the IU East graduate with the highest GPA, and he was named as first-team, NAIA Academic All-American.
Lucas demonstrates the determination and drive many of our graduates have to succeed.
Student success could be defined in many different ways. At IU East, we focus on different aspects of our academic programs and campus life opportunities for students as part of our strategic plan and to provide the best higher education experience possible for all of our students.
When a student enrolls at IU East, we want them to know that the education they receive here is of the highest quality, yet offers diverse options for hands-on learning, research and creative projects. To help students meet their goals, we offer academic support and career preparation for life after college. And, there is always more to college life than academics. We provide our students with vibrant campus life opportunities so that there are several options to be involved on campus – whether through involvement with student government, clubs, athletics, or academic honors societies – or within the community.
Many people – including faculty, staff and, most importantly, students – have told me that IU East is like a family, and we are rightly very proud of that. The personal attention and support we give our students is one of our greatest assets.
Recognizing that, the campus has pinpointed certain areas in which we are making strides toward improvement, all with the end goal of helping our students be as successful as possible in their pursuit of higher education.
Enrollment has doubled since 2007. As a campus of choice, we attract top students from local high schools such as Richmond, Seton Catholic and Centerville.
Over the past few years, we have made tremendous gains in retention and graduation rates. During our commencement ceremony in 2017, we celebrated a record-breaking graduating class, and this year's class of 831 was almost as large.
Campuses across the country work diligently to improve student retention. At IU East, we have provided more support and engagement for students in their first year through University College. We have hired more online student success coaches. We are a leader in online education, and about 50 percent of our credit hours each semester are online.
First-year students receive individual counseling, academic advising, career planning and student success workshops on topics such as financial literacy. We hope to see many of our freshmen returning for classes this fall. Currently, we are above our enrollment for freshmen at this same point last year. We are cautiously optimistic that this figure points toward a greater retention of our freshman class compared to last year.
Student success is also found in the many research and creative projects our students are involved in through their academic pursuits.
During Student Research Day in April, students shared the projects they have been working on. The presentations included scholarship from courses, independent studies, travel opportunities, summer research programs, Honors Program projects and creative endeavors such as writing for the student newspaper, The Howler, or Tributaries, the journal of student writing and creative work. It was wonderful to see and hear about the variety of work our students have accomplished.
As chancellor, I have the pleasure of working with our Student Government Association. These students are deeply committed to IU East and have been productive in improving the campus based on student feedback, including input on the installation of a new sidewalk leading from the main entrance of campus to the Student Events and Activities Center, providing a safe route for students attending campus athletics and events.
Our online students bring a unique perspective to success as well. Enrollment in online programs continues to increase at IU East. I had the pleasure of meeting with our online students during a special luncheon hosted for distance education students on commencement day. The luncheon provides online graduates with the opportunity to meet their peers, faculty and staff in person, to tour the campus and to take part in the traditions of commencement.
IU East alumnus James Strong Jr. spoke at the luncheon. James received his B.S. in business administration as an online student in 2013. An acclaimed musician and producer, he is the director of IU Soul Revue at IU Bloomington.
The class of 2018 certainly has many accomplishments to celebrate. As a campus, we look forward in celebrating their success as alumni.
Kathryn Cruz-Uribe is chancellor of Indiana University East. This From the Desk column is part of a series featuring regional Indiana University leaders.