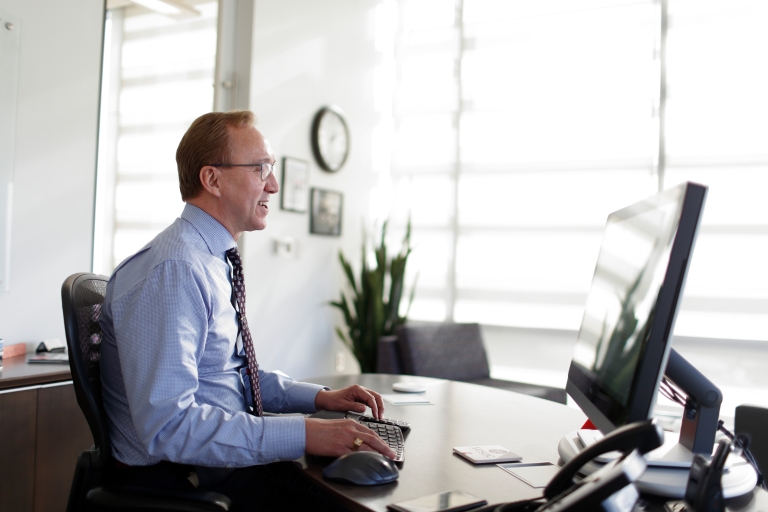 Indiana University is accelerating its broad use of Salesforce among several departments across all campuses as they take advantage of the new constituent relationship management system. Thursday at the IU Northwest campus in Gary, information technology leadership updated the IU trustees on the IU CRM initiative, which began with a new enterprise licensing agreement with Salesforce in late January.
Salesforce is a cloud computing company with more than 150,000 customers worldwide. It is headquartered in San Francisco, but its second-largest base of employees is in Indianapolis.
Nearly 200 IU units already used the Salesforce CRM platform when the expansion initiative began early this year. The goal of implementing Salesforce across IU is to improve communications with many overlapping and changing audiences.
"Our constituents have many interactions with IU as their roles evolve from student to alumnus," said Brad Wheeler, vice president for IT and CIO of Indiana University. "This may include having kids attend a camp, as a prospective student, as an enrolled student, as the parent of a student, an alum, a graduate student, a donor or just a friend of the university."
Given that diversity of roles and the variety of systems used by multiple departments, IU couldn't easily navigate the relationship across those touchpoints. The full Salesforce implementation will enable effective communication with constituents through a single platform, allowing IU to focus on their needs and be more responsive. Once the implementation is complete, IU will have a 360-degree view of an individual's relationship with the university and how to communicate more effectively with respect to constituents' preferences.
The progress IU has made in implementation has already won awards. In March, the Salesforce user community honored IU with its Excellence in Innovation Award for its work.
"The breadth of the use of Salesforce, from recruiting to communications, is very large in scale and reminiscent of IU's pioneering enterprise license agreement with Microsoft 20 years ago," Wheeler said. In 1998, IU signed a first-of-its-kind agreement with Microsoft to provide IU students, faculty and staff access to the latest versions of Microsoft software.
Wheeler is co-chairing the multiyear implementation of the Salesforce initiative with Vice President and Chief Financial Officer John Sejdinaj. He will help coordinate the continuing efforts through his additional role as vice president for communications and marketing starting July 1.