Four project requests, including the university's annual Repair and Rehabilitation Plan for all campuses, were approved by the Indiana University Board of Trustees at today's Facilities and Auxiliaries Committee meeting on the Gary campus. Vice President for Capital Planning and Facilities Thomas A. Morrison presented the requests.
The board approved proceeding with the university's 2019 Repair and Rehabilitation Plan for all campuses. Funded by state appropriations and student fees, the plan focuses on reduction of deferred maintenance on all campuses. Projects will include repairs and replacement of roofing; building facades; electrical, mechanical and plumbing systems; and steam, utilities and chilled water distribution systems. Also planned are site improvements and renovations of restrooms, elevators and classrooms.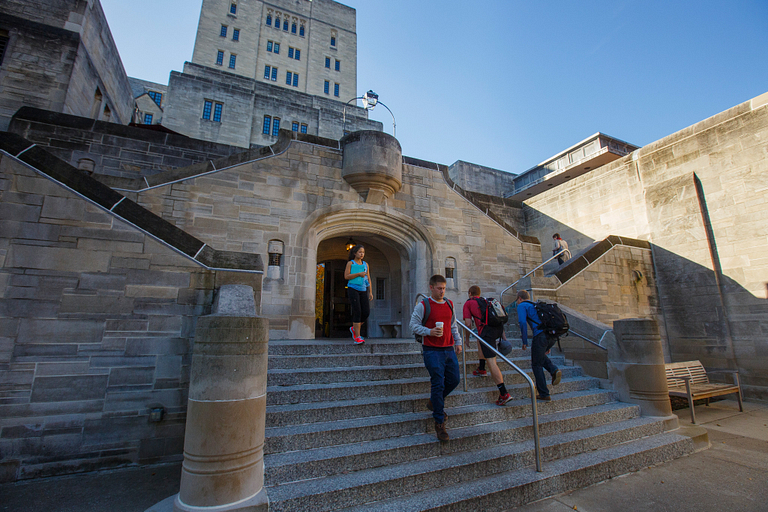 The Repair and Rehabilitation Plan, instituted more than eight years ago, has been successful in addressing the university's goal to eliminate its deferred maintenance backlog by 2020 as well as perform continued repairs and renovations as they arise.
Construction of a new International Center on the Bloomington campus will co-locate offices and student spaces currently housed in different buildings across campus into one dedicated facility near the Global and International Studies Building. The $17.5 million facility will centralize programs and services devoted to strengthening IU's global presence for students. Included in the center will be student-oriented seminar rooms, computer labs, conference rooms, administrative offices and facilities for international student organizations and events, including dining and conference functions.
"By bringing the units of the Office of the Vice President for International Affairs close to each other and to the School of Global and International Studies, the new building will create a critical mass for achieving IU's ambitious international goals," said Vice President for International Affairs David Zaret. "It will provide more room and more ways to serve international students and scholars and IU's vastly increased study abroad population."
Plans for renovation of selected dining facilities at the Indiana Memorial Union on the Bloomington campus also were approved. The $10.2 million renovation will transform dated facilities into micro-restaurant, themed dining spaces with some food preparation areas open to view. Restaurant entrances, décor, seating, point-of-service and beverage stations will coordinate with each restaurant's theme, providing unique dining experiences while blending with the historic character of the IMU. Areas to be renovated include the Circle Café, Food Court, Sugar and Spice, Dunn Meadow Café and the Commons.
"The IMU has been the heart of student life on the Bloomington campus for generations," said IU Bloomington Provost and Executive Vice President Lauren Robel. "The proposed renovations to the dining areas will ensure that the Union remains a vibrant space for community, friendship and healthy living for generations of students to come."
On the IUPUI campus, a renovation of the east wing of the Informatics and Communications Technology Complex will consolidate current University Information Technology Services departments into three floors to improve efficiencies and collaborative opportunities while opening up space for use by the School of Informatics and Computing. The $5.2 million project also will include enhancements to mechanical and electrical support systems and creation of a "Technology Showcase." This showcase – located on the first floor to improve visibility and accessibility by prospective and current students, alumni and the community – will feature the Global Network Operations Center, Advanced Visualization Lab and Help Desk functions.
Beth Feickert is a capital planning project specialist for the IU Office of the Vice President for Capital Planning and Facilities.