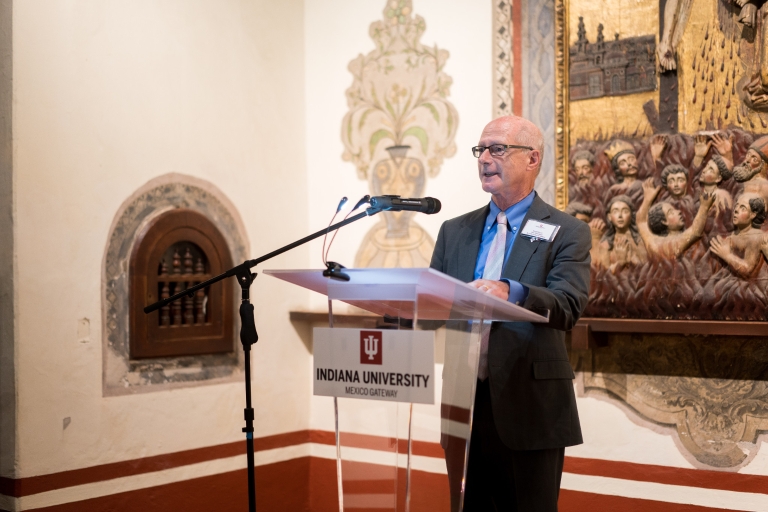 Indiana University has seen record growth in students' international engagement since 2010, moving the university closer to meeting its bicentennial goals of increasing global activity, IU Vice President for International Affairs David Zaret told the IU Board of Trustees at this week's meeting on the IU Northwest campus.
Zaret said the number of students studying abroad since 2010 has increased 74 percent. International students now number 8,530 for all IU campuses, an increase of 27 percent. From 2010 to 2016, IU conferred 23,738 degrees on international students, and IU's alumni population grew 66 percent to almost 50,000.
In addition, he said, the Office of the Vice President for International Affairs has consolidated its international partnerships. Through the newly branded Office of International Development, IU is hosting increasing numbers of rising professionals and VIPs from the around the world.
That includes hosting 25 of Africa's emerging civic leaders for the 2018 Mandela Washington Fellowship for Young African Leaders, a six-week academic and leadership institute sponsored by the U.S. Department of State. The fellows arrive on the IUPUI campus June 20 and will transition to the IU Bloomington campus after July 2.
Zaret also discussed the university's Global Gateway Network, an international network of IU offices that connect the university community with resources that make international programs, projects and other activities possible.
The office has overseen the opening of four such offices:
The IU Europe Gateway in Berlin.
The IU China Gateway in Beijing.
The IU India Gateway in New Delhi.
The university's newest gateway office in Mexico City. The IU Mexico Gateway is on the campus of the National Autonomous University of Mexico, the largest university in Latin America, the oldest in North America and a leading university of the Spanish-speaking world.
IU President Michael A. McRobbie and a university delegation recently traveled to Mexico City to formally open the new gateway office there, which will provide the university with a physical presence in a major Latin American economic and cultural center and a point of access to other countries within the region.
The gateway offices have facilitated collaborative research, international student recruitment, study abroad and alumni activities. Those events include a risk-assessment workshop conducted by Kan Shao, an assistant professor in the IU School of Public Health-Bloomington, that could result in the development of life-saving government regulations; and the international launch of the IU Lilly Family School of Philanthropy at IUPUI's widely consulted Global Philanthropy Environment Index.
Lynn Schoch is director of information resources for the Office of the Vice President for International Affairs.