BLOOMINGTON, Ind. – Indiana University and the IU Foundation honored five individuals and a family with three generations of connections to IU as the university's 2018 Partners in Philanthropy.
During a June 7 ceremony, IU President Michael A. McRobbie and IU Foundation President Daniel C. Smith recognized these outstanding leaders whose service and contributions have helped shape the university's future in lasting ways.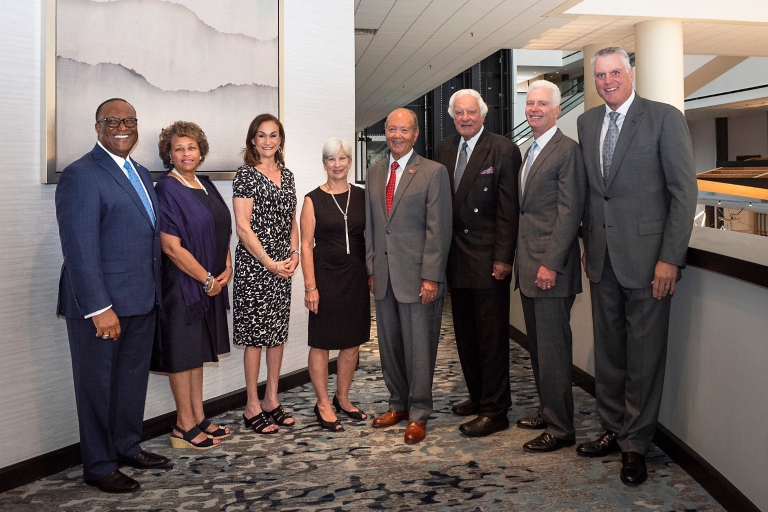 "These leaders and friends of Indiana University share a commitment to our mission that is truly transforming our campuses and communities," McRobbie said. "Their generosity is inspiring and encourages an enduring spirit of philanthropy that will benefit generations of students, faculty and staff. Our IU family is immensely grateful for their support."
Honorees received one of four awards: the Cornerstone Award, Keystone Award, Family Legacy Award and Herman B Wells Visionary Award. Each year, nominations are solicited from all IU campuses. A committee of representatives from IUPUI, IU Bloomington and regional campuses select the recipients.
"These special friends of Indiana University have set an example to which we hope all of our students aspire," Smith said. "Their leadership, service and generosity ensure that IU will remain at the forefront of world-changing research, innovation and progress. All of our honorees truly are partners with us in making IU the special place it is."
The Cornerstone Award
Lacy and Patricia Johnson were honored with the Cornerstone Award, which recognizes individuals whose partnership, volunteerism and generosity have been instrumental to the success of a single IU philanthropic initiative for a campus, program or school.
Lacy Johnson received his law degree from the IU Robert H. McKinney School of Law at IUPUI in 1981 and is a partner and co-chair of the Public Affairs and Gaming Group at Ice Miller LLP in Indianapolis. He has served on the boards of numerous local organizations and was formerly president of the Indianapolis Airport Authority during development of the $1.3 billion Indianapolis International Airport. Patricia Johnson is also active in the Indianapolis community and previously served as president of the Assistance League of Indianapolis.
The couple are longtime supporters of IU and have been particularly instrumental in bringing about a greater emphasis on diversity, equity and multicultural affairs. In 2017, the Johnsons established the Johnson Chair for Diversity and Leadership, a position that will lead diversity efforts to enhance the cultural climate on campus. They have also supported underrepresented populations through Johnson Family Scholars in the Lilly School of Philanthropy at IUPUI and the Lacy M. Johnson Scholarship in the McKinney School of Law at IUPUI.
Lacy Johnson is a supporting member of IU's Women's Philanthropy Leadership Council and is a founding member of IU's Black Philanthropy Circle. He is also active on the IU Foundation Board of Directors, the IUPUI Board of Advisors and the McKinney School of Law Board of Visitors. In 2014, he was awarded the Distinguished Alumni Service Award by the IU Alumni Association. In 2018, the Johnsons received IU's Laurel Pin distinction, honoring their lifetime giving to the university.
The Keystone Award
Gregg and Judy Summerville received the Keystone Award for their exemplary leadership through volunteerism and generosity for multiple Indiana University campaigns or fundraising initiatives. Both are graduates of Indiana University: Gregg received his B.A. in zoology in 1969 and MBA in finance in 1972, and Judy received her MBA in management information systems in 1980.
Together, they have been philanthropic leaders across multiple campuses and units at IU. As proud Kelley School of Business alumni, the Summervilles established the Gregg T. and Judith A. Summerville Endowed Chair in Finance in 1998. They are also valued supporters of 'Indiana University-Purdue University Columbus, where they established the Summerville IUPUC Program Support Fund and the Summerville Family Scholarship, which supports students from underrepresented populations.
Gregg Summerville has also been engaged with IUPUC as an advisory board member since 2011 and has been chairing the board since 2017. He has been a For All: The Indiana University Bicentennial Campaign co-chair since 2014 and a member of the IU Foundation Board of Directors since 2004.
Judy Summerville is a founding member of IU's Women's Philanthropy Leadership Council and has served on the IU Sidney and Lois Eskenazi Museum of Art National Advisory Board since 2013. Gregg joined the Eskenazi Museum's advisory board in 2015; together, the Summervilles have provided tremendous leadership, strategic guidance and support through the museum's ongoing remodel on the IU Bloomington campus.
The Family Legacy Award
Entrepreneurial spirit is a characteristic shared among three generations of the Elmore family, who were honored with the Family Legacy Award. Many family members also share the distinction of being graduates of Indiana University – and, in particular, the Maurer School of Law and Kelley School of Business.
David G. Elmore earned his law degree from the Maurer School of Law in 1958 and joined a Chicago-based law firm where he developed expertise in tax law, mergers and acquisitions. He soon purchase a small life insurance company, which led to other ventures in real estate, hospitality and travel, including investments in the small ski town of Vail, Colorado. In 1981, he purchased his first minor league baseball team; the Elmore Group now owns six minor league baseball teams, a hockey team and a soccer club.
David's son, DG, built upon the senior Elmore's entrepreneurial roots, earning a J.D./MBA from IU in 1984 and acquiring a struggling corporate travel agency that same year. Elmore Companies Inc. now owns 15 businesses, spanning industries as diverse as custom manufacturing, information technology for the travel industry, staffing, publishing, professional development and two Single-A baseball teams.
Two of DG's six children also completed J.D./MBAs at IU: Lauren in 2014 and David G. (Gant) in 2016. The two own three companies together spanning multiple industries, including logging, mining and drone solutions for stockpile measurement and inventory management.
To strengthen their family's IU legacy even further, the Elmores established the Elmore Family Scholarship in 2007, which has benefited 76 Maurer School of Law students. In recognition of their generous support, the school's Elmore Entrepreneurship Law Clinic was named in their honor.
The Herman B Wells Visionary Award
Cindy Simon Skjodt received the Herman B Wells Visionary Award, which honors outstanding individuals whose lifetime commitment of time, talent and treasure to Indiana University reveals a deep understanding of the power of philanthropy to shape the future of the institution, and a determination to see that future realized.
Simon Skjodt is a 1980 graduate of IU's College of Arts and Sciences, and all three of her children – Erik (2012 and 2016), Samantha (2012) and Ian (2017) – hold degrees from IU. As a philanthropic vehicle for the family's generosity, Cindy and her husband, Paul, founded the Samerian Foundation in 2003.
Through the foundation, which is named for their children, Simon Skjodt and her family have made an enduring impact across multiple IU schools and campuses, including the Herron School of Design and Lilly Family School of Philanthropy at IUPUI, the College of Arts and Sciences and Jacobs School of Music at IU Bloomington, and IU Athletics – most notably with the recent renovation of the iconic Simon Skjodt Assembly Hall.
Simon Skjodt is also an active civic leader and community volunteer in both the Indianapolis and Indiana University communities, where she has served on more than 70 boards, committees and councils to date. Currently she is an honorary co-chair for IU's ongoing For All: The Indiana University Bicentennial Campaign and a member of the Herron School of Art and Design Dean's Advisory Board, the Lilly Family School of Philanthropy Board of Visitors and the IU Foundation Board of Directors. She was a founding member of IU's Women's Philanthropy Leadership Council and co-chaired the 2014 Catching Excellence: The Campaign for IU Athletics capital steering committee. In 2014, she was awarded IUPUI's Spirit of Philanthropy Award for her service to the Herron School.
About For All: The Indiana University Bicentennial Campaign
For All: The Indiana University Bicentennial Campaign is taking place on all IU-administered campuses, including IU Bloomington, IUPUI, IU East, IU Kokomo, IU Northwest, IU South Bend and IU Southeast. The campaign will conclude in June 2020 to coincide with IU's bicentennial year celebration. To learn more about the campaign, its impact and how to participate, please visit forall.iu.edu.
About the IU Foundation
Founded in 1936, the Indiana University Foundation maximizes private support for Indiana University by fostering lifelong relationships with key stakeholders and providing advancement leadership and fundraising services for campuses and units across the university. Today, the IU Foundation oversees one of the largest public university endowments in the country, with a market value in excess of $2 billion. IU is consistently ranked among the top four of Big Ten universities in annual voluntary support.