BLOOMINGTON, Ind. – The Indiana University Women's Philanthropy Leadership Council, in its seventh grant cycle, awarded $150,138 to 20 programs affiliated with seven IU campuses on June 6. Grants ranged from $500 to $18,000.
The council prioritizes initiatives that develop women's leadership; provide global experiences for IU students; improve public health; increase career and educational opportunities in STEM, particularly for women and underserved youth; and foster inclusion among diverse populations. Since 2012, the Women's Philanthropy Leadership Council has awarded more than $820,000 in grant funds.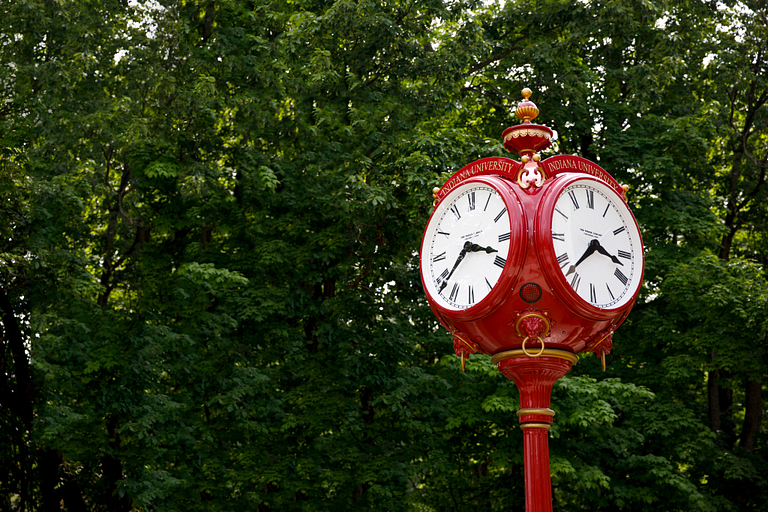 "Through WPLC grants, our donors are able to support a variety of programs that both improve the student experience and provide value to the community," said Penny Gaither, council grants chair. "As we hear from each grant finalist, we truly are in awe of the possibilities proposed and then accomplished each year – and it seems each year's group gets better than the one before. It is an honor to help guide them through the process."
The IU Foundation Board of Directors and the Well House Society – one of the foundation's donor recognition societies – continued to support the council's grant program, each pledging $25,000 in supplemental funding to grant applicants. Members of the Well House Society Advisory Board selected IU Bloomington's Career Development Center, Counseling and Psychological Services, and Office of Engaged Learning as grant recipients. The CAPS program will also receive funding from the IU Foundation Board, as will IU Bloomington's Kelley Institute for Social Impact, IU Bloomington and IU Kokomo libraries, and IUPUI's Maternal Recovery Program.
"The WPLC grant program provides essential funding for a wide range of student- and faculty-led initiatives that impact IU students, Indiana communities and citizens around the globe," said Dan Smith, president of the IU Foundation. "The continued support of the IU Foundation and Well House Society is a testament to the inspiring ideas and opportunities presented by WPLC grant applicants."
"The Well House Society supports the greatest needs of Indiana University, and this year's grants will benefit female, at-risk and rural students," said Todd M. Harper, chair of the Well House Society Grants Committee. "Specifically, our grants will ensure success by helping women gain the skills needed to break down barriers and advance their careers, providing minority and first-generation students access to counseling services and allowing rural high school students to explore science careers through hands-on summer experiences."
2018 IU Women's Philanthropy Leadership Council grant recipients:
The Women's Philanthropy Leadership Council awards grants on an annual cycle from the WPLC Fund, which is administered by the Indiana University Foundation. Council members, alumni and friends of IU support the fund with annual contributions. Applications for 2019 grants will be available in December 2018. For more information about grant criteria and applications, contact Charla Stonecipher, associate director of Women's Philanthropy at Indiana University, at ckstonec@iu.edu.
The IU Women's Philanthropy Leadership Council was convened by the Indiana University Foundation Board of Directors in 2010. The council's mission is to lead fundraising and engagement efforts that inspire women to give of their time, talent and resources to Indiana University and to develop women leaders in philanthropy.
Founded in 1936, the Indiana University Foundation maximizes private support for Indiana University by fostering lifelong relationships with key stakeholders and providing advancement leadership and fundraising services for campuses and units across the university.