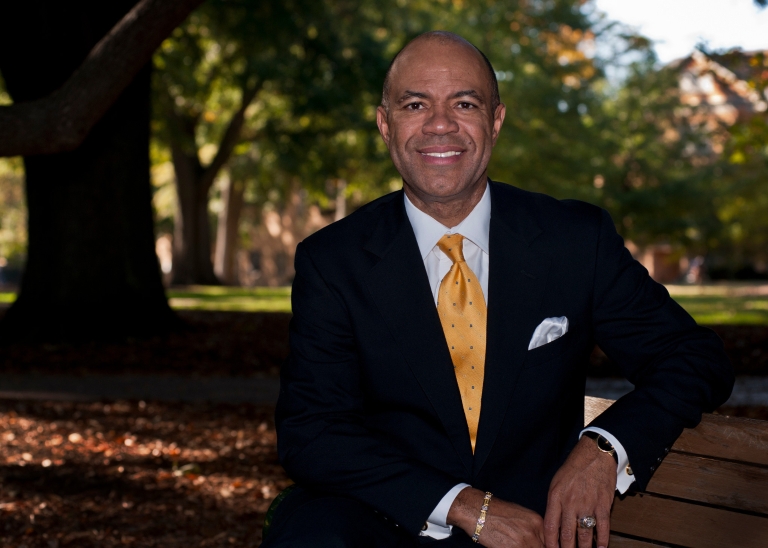 GARY, Ind. – When Lemuel W. Watson was a first-grader growing up in a rural area near the North Carolina-South Carolina state line, he was part of the area's first integrated school, in 1970.
"The messages we received in schools and homes at that time were that anything is possible, never give up, and know that there is a power much greater than you at play in the universe," Watson said, adding that his community was knitted together by supportive families and teachers from diverse backgrounds. "I'm proud to have lived in and been part of a community that valued each other as humans and knew the power of what passion and an education can bring forth into the world."
Watson, a widely published Fulbright Scholar and internationally known expert in higher education and policy, has been named dean of the Indiana University School of Education in Bloomington. The appointment was approved today by the IU Board of Trustees at its meeting at IU Northwest in Gary. Watson will begin his appointment Aug. 1.
"I'm thrilled to welcome Dr. Watson home to his alma mater as dean of the IU School of Education in Bloomington," said IU Bloomington Provost and Executive Vice President Lauren Robel. "His appointment is an important next step for our school after its restructuring.
"Dr. Watson is an excellent choice to lead the next chapter in the history of our excellent School of Education. He has an international and national reputation in education policy and is an active and thoughtful participant in the policy debates about the role of education in our society."
The IU School of Education in Indianapolis has named Jesse Perez Mendez as founding dean, a position he will also begin Aug. 1. Terry Mason, the current dean of the IU School of Education, will return to the faculty of the school in Bloomington.
"I want to express my deepest gratitude, on behalf of the campus and the school, to Terry Mason for his visionary leadership in guiding the School of Education through its restructuring process," Robel said. "His deep knowledge of the school and its strengths helped ensure that the process of creating separate schools of education in Bloomington and Indianapolis proceeded with thoughtfulness and clarity to a result that will make both schools stronger and better positioned to support the state."
Watson received his doctoral degree in higher education and policy at IU, his master's degree in adult and student development at Ball State University, and his bachelor's degree in management at the Darla Moore School of Business at the University of South Carolina.
He is currently professor of education and executive director of the Center for Innovation in Higher Education at the University of South Carolina, where he had previously served as dean of the College of Education and director of the South Carolina Center for Educational Partnerships. Prior to his time in South Carolina, Watson was dean of the College of Education at Northern Illinois University and dean for the Division of Academic Support at Heartland College.
Watson has been awarded the U.S. Embassy Policy Specialist Fellowship by the International Research and Exchanges Board to conduct research on the impact of the Georgia Institute of Public Affairs. He was a senior research fellow at the Charles H. Houston Center at Clemson University and a research fellow at the Institute for Southern Studies at the University of South Carolina. He is a Fulbright Scholar to Belarus, and he has written articles and books and served as editor for several volumes related to organizational behavior, educational leadership and administration, human development, public policy, K-12 issues, and higher education.
He is widely published on topics including retention of Hispanic and African-American undergraduate students and cultural differences in student learning and development. He hosts a television program about education and serves on a number of professional and community boards. He has provided workshops and professional development opportunities to executives, teachers and administrators in the U.S. and in countries including Thailand, the Philippines, Belarus, China, England, Finland, South Korea, Poland, Ukraine, Georgia and Mexico.
"My hope is that we can use all of our faculty expertise, research, programs and services to assist the state in its challenges," Watson said, adding that he looks forward to developing and enhancing meaningful partnerships on campus, with regional campuses and with other institutions in the state, creating examples to share around the country and the world.
"We are poised to deliver creative solutions to today's and tomorrow's challenges related to education, healthy communities and individuals' well-being," he said. "I know that I am coming to a world-class university and school with remarkable faculty and alumni. I am ready to build upon the great foundation that has been laid before us as we move forward."