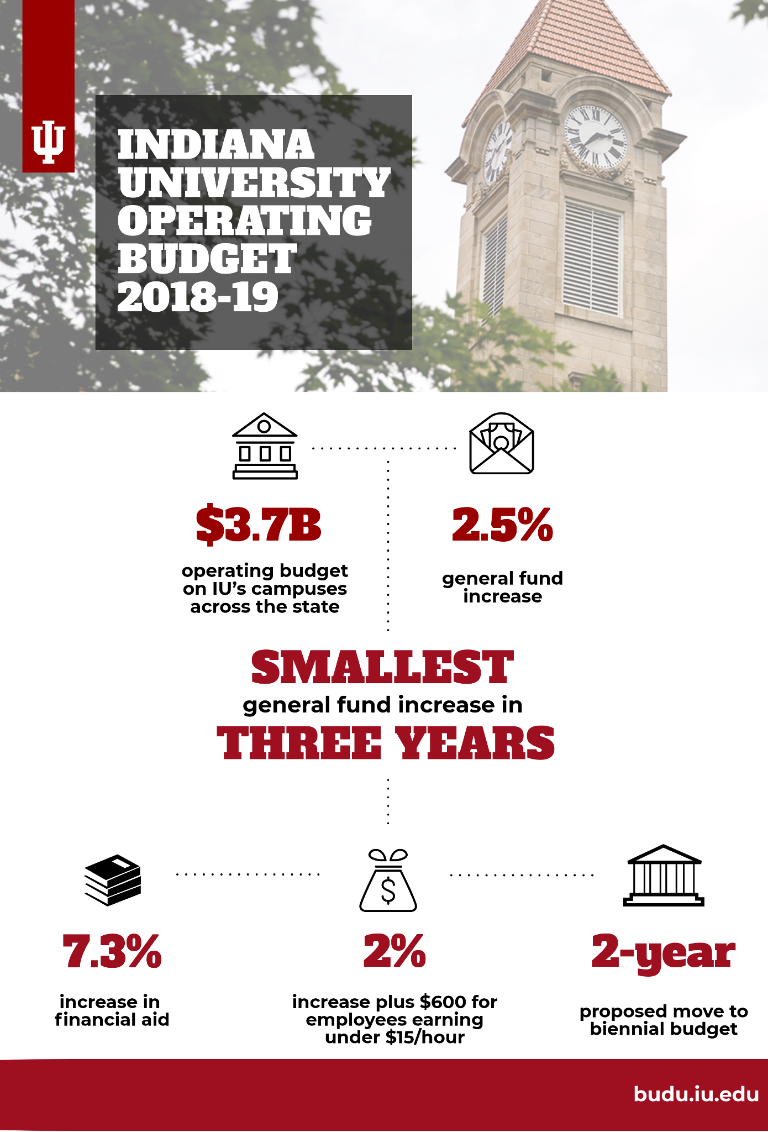 GARY, Ind. – The Indiana University Board of Trustees has approved the university's operating budget for the next fiscal year.
The fiscal year 2018-19 operating budget calls for spending $3.7 billion on IU's campuses across the state. The operating expense budget in the General Fund is a 2.5 percent increase over last year, the smallest budget increase in three years.
IU Vice President and Chief Financial Officer John Sejdinaj and Associate Vice President for Budget and Planning Samuel Adams presented the budget to the trustees.
The operating budget for IU covers employee salaries and benefits, energy and utility costs, and planning for strategic initiatives associated with the university's Bicentennial Strategic Plan.
The budget includes modest resident undergraduate tuition and fee increases, which were set during a tuition forum last year. Affordability is a focus of the university strategic plan and is reflected in an increase of financial aid by 7.3 percent to $288 million, which is 2.4 percentage points larger than last year's financial aid increase.
The 2018-19 budget also includes a salary increase for faculty and professional staff, with an additional focus on increasing the pay of employees earning less than $15 per hour. As in last year's budget, wage-earners under $15 an hour will receive an increase of 2 percent as well as an additional $600. The latest move toward bringing all employees to a wage of at least $15 by just after the IU Bicentennial in 2020 will cut the number of employees under that number by almost half.
The employee benefits budget is down $7 million, or 1.9 percent. This savings was used for compensation increases and increased funding for academic and research programs.
Sejdinaj and Adams also proposed a change in the next budget construction; the trustees endorsed their recommendation that IU examine moving to a two-year budget cycle. With this change, several phases of the budget planning process will follow the cycle of tuition and state revenue appropriations, which are both done on a biennial cycle. This will create efficiency in the budget planning timeline and allow for increased focus on long-term financial planning.
An accessible version of this graphic is available online.