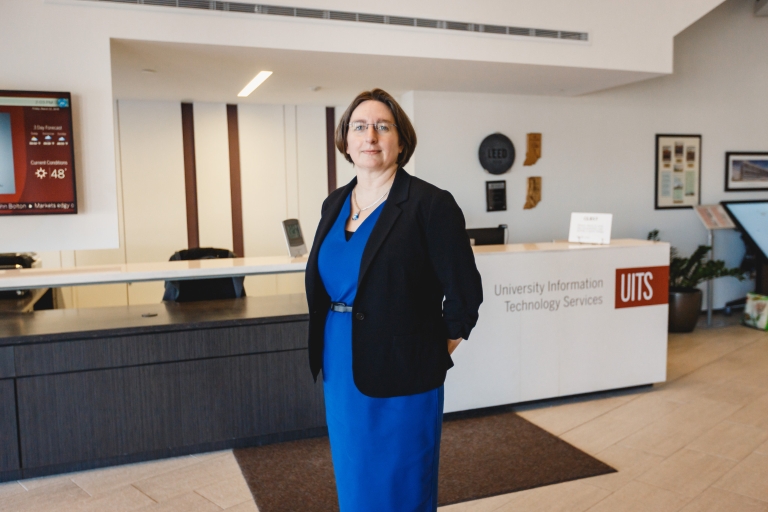 BLOOMINGTON, Ind. – The National Science Foundation has awarded Indiana University and the Energy Sciences Network a three-year, $3.5 million grant to help scientists more efficiently work with massive datasets that have become essential to modern scientific discovery.
The funding will create EPOC: Engagement and Performance Operations Center as a collaborative focal point jointly led by IU International Networks and ESnet, a high-performance network user facility that serves U.S. Department of Energy scientists and their collaborators worldwide. The new center will allow researchers to routinely, reliably and robustly transfer data through a holistic approach to understanding the full pipeline of data movement – and better supporting collaborative science.
"At its core, this grant enables scientists and researchers to better collaborate by offering them a kind of 'support center' to ensure that data transfers go smoothly," said Jennifer M. Schopf, principal investigator and director of International Networks at Indiana University. Co-principal investigators on the grant (NSF award #1826994) are David Jent, IU associate vice president of networks, and Jason Zurawski, ESnet science engagement engineer.
"EPOC has the potential to be transformational to science and education by providing not only a depth of understanding to achieve better data transfers but also the human expertise needed to make the most of research collaborations," Schopf said.
The center will support four main activities:
"Roadside assistance" via a coordinated operations center to resolve problems with end-to-end data transfers.
Proactive discovery and resolution of performance issues via network analysis services (enabled by the NetSage monitoring suite) and application analysis.
Encapsulated Network Services, via support through the IU GlobalNOC and its regional network partners.
Coordinated training to enable better use of network tools and science support.
"Today's sophisticated experimental instruments are creating massive datasets for diverse scientific communities and hold the potential for new insights that will have long-lasting impacts on society," said Brad Wheeler, IU vice president for information technology and chief information officer.
"Scientists, however, can't make effective use of this data if they are unable to move, store and analyze it. EPOC will help researchers take advantage of today's advanced networks to quickly and securely share findings with others around the world. Through our targeted partnerships, the center has the potential to benefit nearly all of U.S. science, research and education on a far broader scale than any one organization can accomplish alone," Wheeler said.
Because researchers at larger educational institutions tend to already have access to advanced networks, the new center will focus on working with small or medium-sized institutions and collaborations that may lack the financial and human resource capacity for more advanced services.
The center will work with regional networks to develop, teach and make available additional materials to these institutions. The initial regional network partners include:
The Indiana Network, or I-Light.
The Ohio State R&E Network, or OARnet.
The Keystone Initiative for Network Based Education and Research, or KINBER.
The Great Plains Network, or GPN.
The Texas State R&E Network, or LEARN.
The Front Range Gigapop, or FRGP.
Nearly 80 percent of ESnet's traffic from its connected sites, Department of Energy experimental facilities and supercomputers originates from or terminates at universities and other research organizations around the world. ESnet continues its close collaboration with IU as well as the regional partners through this grant to allow the organizations to collectively take the science engagement and outreach efforts to the next level.
"Scientists in nearly every research domain are seeing data growth from their experiments at an unprecedented rate," said Inder Monga, ESnet division director. "Last year alone, ESnet delivered 733 petabytes of data to our connected sites. This only accounts for a subset of massive data transfers happening on other research networks around the world. Many large academic institutions and large science collaborations have generous experience in building and operating a solid cyberinfrastructure foundation for supporting a massive data analysis pipeline. EPOC brings this expertise to organizations that might otherwise not be able to effectively participate in this 'big data' science revolution."
To learn more about EPOC and its infrastructure and science community partners, visit epoc.iu.edu.
About International Networks at Indiana University
IN@IU delivers network connectivity that fosters the scientific collaboration that drives research and education around the world. From niche projects to large-scale research efforts, IN@IU uses high performance networking as a tool to advance scientific diplomacy. Accordingly, International Networks at IU leads two large-scale international research networks that link scientists around the world – the NSF-funded Networks for European, American, and African Research, or NEAAR, and TransPAC4, which connects the U.S. to Asia. IN@IU also manages NetSage, a network measurement, analysis and visualization project addressing state-of-the-art challenges in today's international research and education networks.
About ESnet
The Energy Sciences Network is a U.S. Department of Energy Office of Science User Facility and a high-performance, unclassified network built to support scientific research. Managed by Lawrence Berkeley National Laboratory, ESnet provides services to more than 40 Department of Energy research sites, including the entire National Laboratory system, its supercomputing facilities and its major scientific instruments. ESnet also connects to 140 research and commercial networks, permitting Department of Energy-funded scientists to productively collaborate with partners around the world.