Students in an IU Bloomington class on finding ways to help Malaysia expand its use of renewable energy thought they might get a chance to present their findings to the U.S. ambassador to Malaysia. It turned out they got more than that.
The ambassador, Kamala Shirin Lakhdhir, invited embassy staff and high-level Malaysian government officials and business leaders for an end-of-semester video conference in which the students presented their work. The group in Malaysia then launched into detailed discussion of the findings and ideas.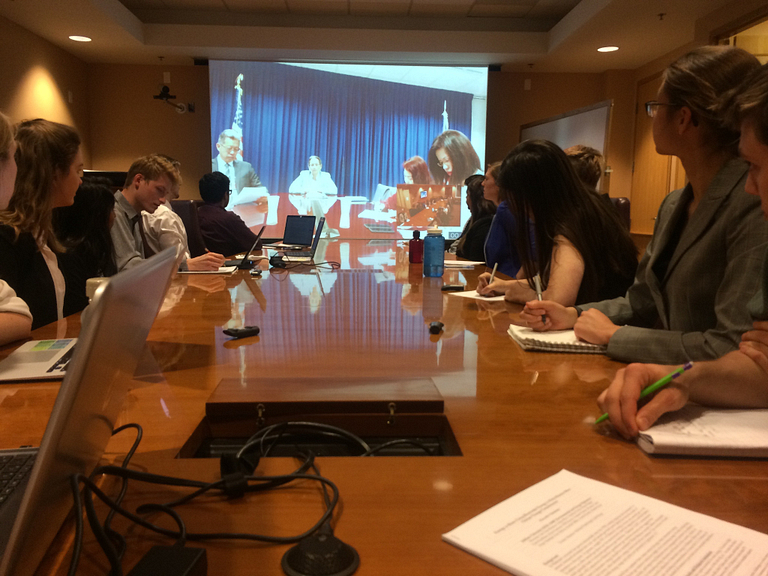 "It was really interesting, because I think it started conversations between people who might not have talked about these ideas with each other," said Katie Halpin, an IU graduate student. "You don't get that opportunity as a student very often – to see conversations that could lead to policy being made."
The course, "Environmental and Energy Diplomacy," led by IU Professor of Earth and Atmospheric Sciences Michael Hamburger, was part of the Diplomacy Lab project, in which the U.S. State Department collaborates with research universities to "course-source" projects related to foreign policy.
IU Bloomington joined the initiative in 2016, and university faculty have taught 15 Diplomacy Lab courses on topics including public-private partnerships, integration of refugees and immigrants, conflict mediation in Africa and architectural design of U.S. embassies.
The Malaysia course included six graduate students and 10 undergraduates. They studied how Malaysia, which relies on coal, oil and natural gas, could use renewable energy as part of a strategy to reduce greenhouse gas emissions. The project, titled "Energy to Burn: Using Renewable Energy to Help Malaysia Meet Climate Change Commitments," was initiated by the energy and science teams at the U.S. Embassy in Kuala Lumpur.
The students report examined four options:
Expand solar energy. Malaysia is a leading manufacturer of solar panels, but almost entirely for export. Cheap fossil fuels limit the incentives for using solar power.
Develop geothermal energy resources. The country has only one geothermal plant in development, but others could be developed both for energy production and for low-intensity uses like providing heat for industries.
Invest in waste-to-energy technologies, such as landfill gas recovery, waste incineration and anaerobic digestion, to reduce greenhouses gases while managing Malaysia's solid waste.
Add environmental and energy education in schools, religious institutions and other organizations to create more support for renewable energy.
Ryan Kammer, a master's student in geological sciences, signed up for the course to get a better sense of how government agencies and organizations operate in the real world.
"I learned that, at the U.S. embassy, there's quite a bit involved in every decision that's made," he said. "We saw quite a bit of collaboration, both with us as representatives of a research university but also with their Malaysian counterparts."
Kammer was part of a group that worked on the section of the report on geothermal energy. They recommended further exploration of geothermal resources in Malaysia, partnerships with American and Malaysian universities and engagement with businesses that could develop the resources.
Halpin, a former high-school teacher who has completed an IU master's degree in environmental science and will earn a second master's in education in December, worked on the environmental education section. The group suggested involving the U.S.-based Fulbright program, working with Malaysian religious leaders and upgrading school curricula to improve energy literacy.
"These kinds of classes and research programs did not exist when I was an undergraduate, or at least they were not on my radar," Halpin said. "It was really unique and awesome opportunity."
Participants in the end-of-course presentation and teleconference included not only the U.S. ambassador and embassy staff but officials with the American-Malaysian Chamber of Commerce, the Sustainable Development Authority of Malaysia and First Solar Malaysia, a U.S.-based manufacturer of solar panels.
The officials talked about real-life technical, political and economic challenges to implementing the students' recommendations, Hamburger said, an indication they were taking the ideas seriously. He said the students may have "planted a few seeds" that could lead to significant policy changes.