What does it mean to be a learner and leader in the 21st century? What makes an effective teacher in today's highly diverse and technological society? What can educators do to address the needs of schools and communities?
These are the questions students explore in the Inspire Living-Learning Center, a wing of a floor in the Spruce Hall residence hall dedicated to enriching experiences of students in the Indiana University Bloomington School of Education. Thanks to a recent trip to Ireland and Northern Ireland, 16 members of the living-learning center had the chance to explore these questions in an entirely new context.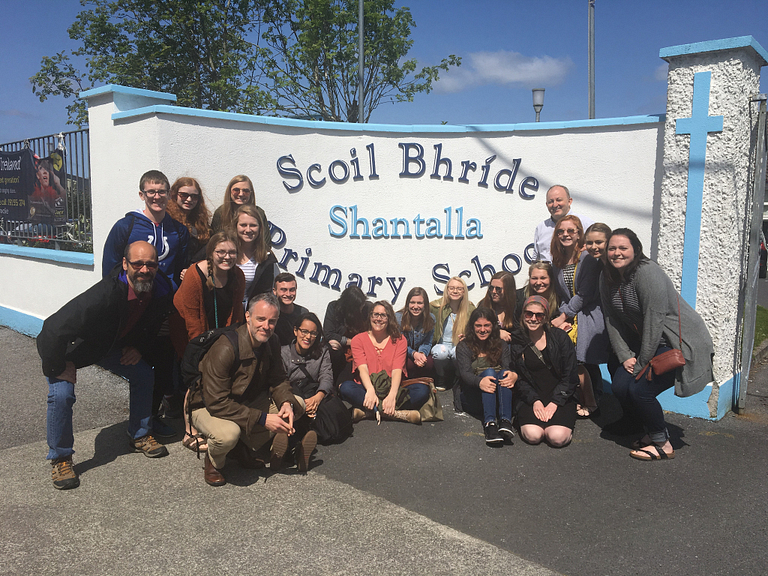 Students traveled to Dublin, Belfast and Galway to learn about educational systems in Ireland and observe the impact that religious and historical factors can have on classrooms. The trip was the first of the 4-year-old center's Inspire Abroad program, which provides cultural immersion opportunities so students can gain different perspectives in education early in their college careers.
"Growing up in the U.S., it can be easy to get used to a certain framework of how the world works," said Diana Velazquez, assistant director of the Inspire Living-Learning Center. "When you travel abroad, it can disrupt that. It challenges us to think critically about how we see our own identities and professions in relation to the world."
During their 10 days abroad, students visited a variety of primary school classrooms, including parochial schools and schools that are part of Ireland's Educate Together program, which promotes a religiously pluralistic education. According to Velazquez, students observed the segregation that exists in Ireland, even though it looks different than segregation in the U.S., and learned how schools can combat it.
Brianna Leibel, who studies elementary and middle school education, said she found it easy to draw comparisons between challenges for educators in Ireland and the United States. Irish teachers work to make sure children from nomadic populations stay in school, while their American counterparts build relationships that ensure children experiencing homelessness still receive an education. Leibel said she also noticed key differences in Irish classrooms, like how students were strictly separated by ability levels and how large of a role religion played. Gaining these different perspectives was the most valuable aspect of the trip, she said.
"In general, it's important to learn about other cultures and values, but it's even more important for teachers," Leibel said. "As a teacher, you could be working with children from a wide variety of backgrounds, and it's your job to make your students feel valued for who they are."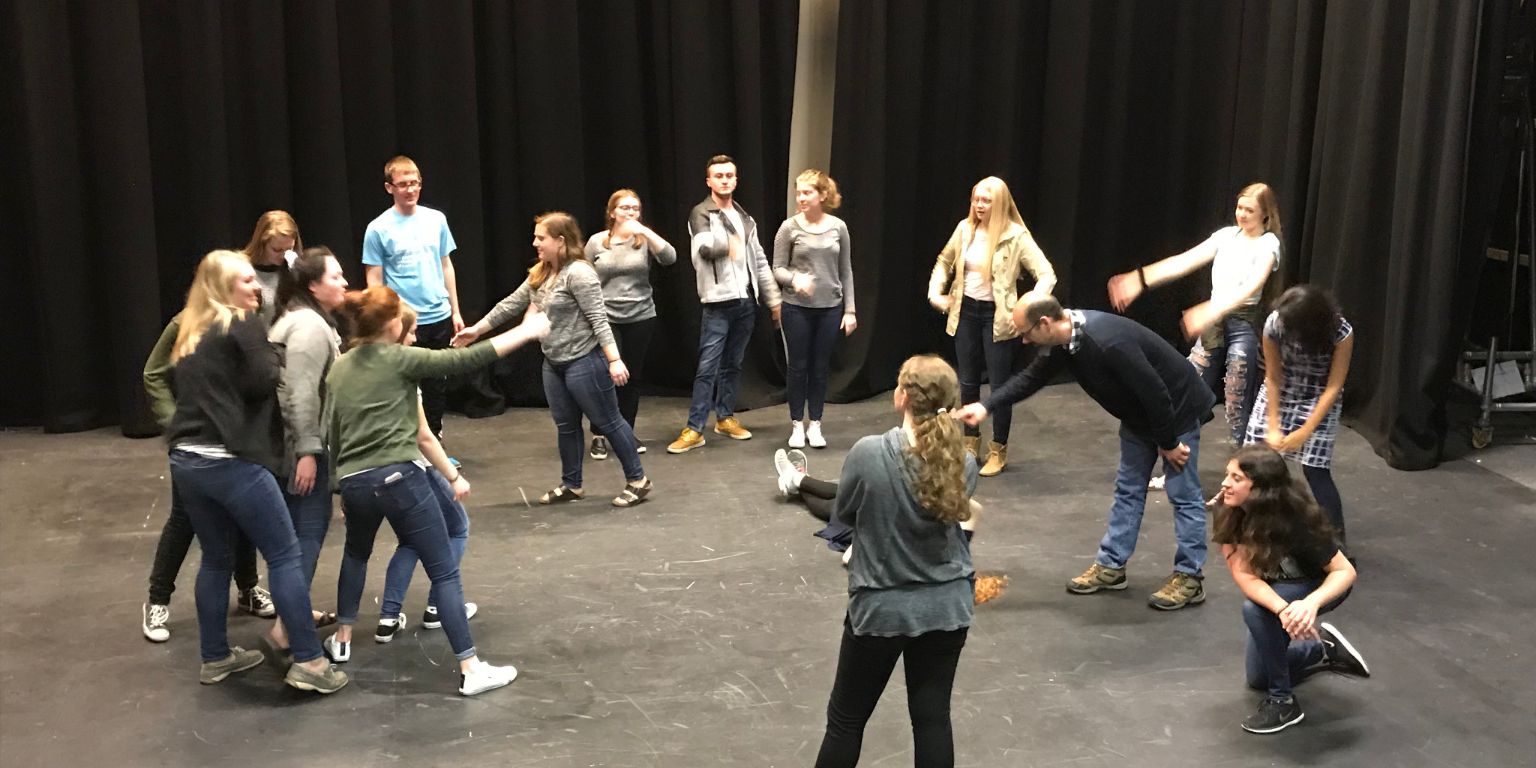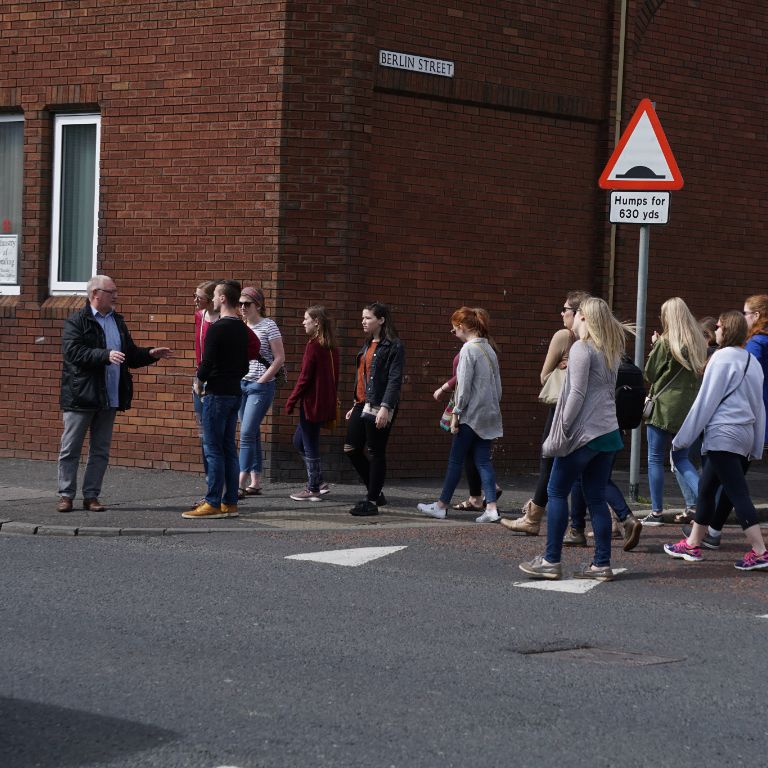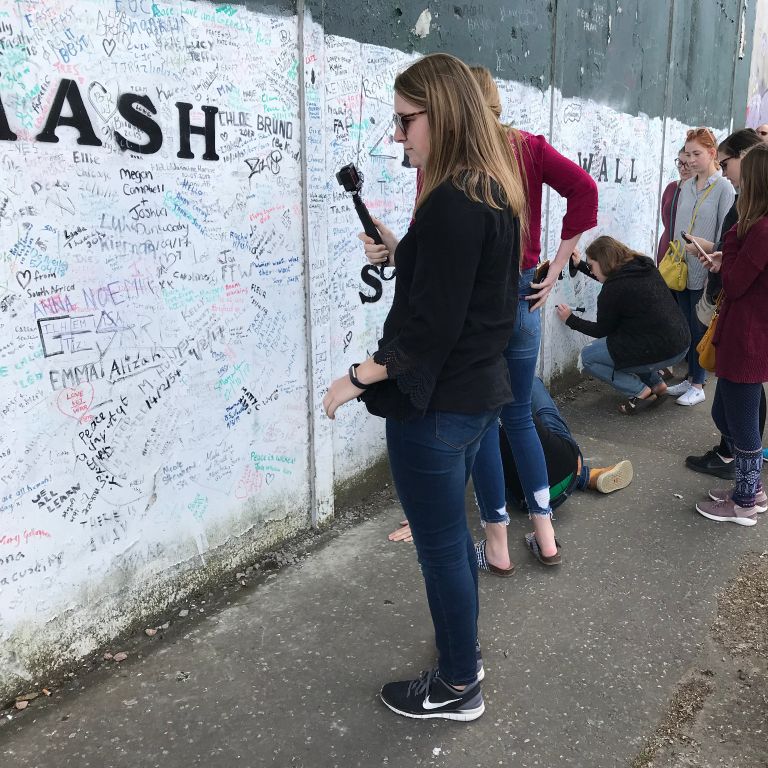 Zach Paul, who will be a junior in the fall, noticed an emphasis on student mental well-being in Irish classrooms that he hadn't seen in American classrooms. For example, a few times per day in one of the schools the group visited, a schoolwide bell rings, signaling time for students to close their eyes, take a few deep breaths and collect their thoughts. When they are finished with the exercise, students are given the opportunity to debrief and share what is on their minds. Paul said he hopes to incorporate these types of exercises into his classroom one day.
Beyond visiting the schools, students experienced Irish culture by attending two plays and learned about Irish history through a tour of Belfast, Northern Ireland, where they visited peace walls and were led by guides from opposing sides of the Troubles. Students also took part in a drama workshop for adults with autism spectrum disorders, which Paul found particularly rewarding. He said it allowed him to put into practice the methods he has learned in his special education courses while gaining experience working with an age group that hadn't taught before.
Francesca Figlioli, who will be a junior in the fall, said that being able to have experiences that fell outside of what she's used to was the most impactful part of the trip.
Francesca Figlioli, who will be a junior in the fall, said the ability to experience something new on the trip made the biggest impact on her.
"As a teacher you have to be open to new experiences and be adaptable and flexible," Figlioli said. "You have to be willing to step out of your comfort zone and going abroad forces you to do just that."
James Damico, director of the Inspire Living-Learning Center, said one of the trip's goals was to encourage students to push themselves out of their comfort zone, whether through personal travel or by taking part in the School of Education's Global Gateway for Teachers program. Paul said he is considering doing his student teaching in Ireland through the program thanks to this recent trip.
International programs at IU like the Global Gateway for Teachers were instrumental in making this trip a reality, Damico said. The learning-living center received support from the Office of Overseas Studies and relied heavily on IU faculty connections with educators in Ireland.
"We are very grateful that we are in a place like IU that has the infrastructure to make this trip happen," Damico said. "I know IU really prides itself on its international mission, and for us, the support we received for this trip made it crystal clear what that commitment means."