New WTIU documentary explores the beauty of IU's campus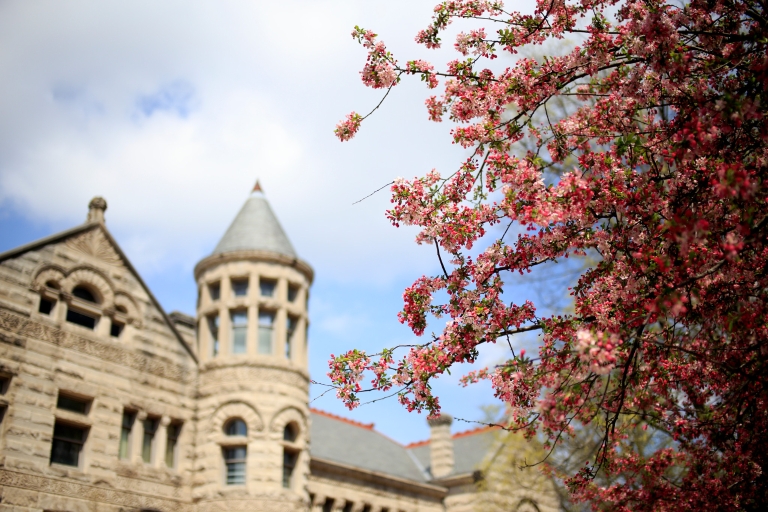 "Beautiful by Design: The Indiana University Bloomington Campus," a new documentary from WTIU Public Television exploring the campus' distinctive features, premiered June 2 on WTIU and Facebook Live. The documentary reveals that the campus's beauty is not by chance; careful planning and cultivation went into creating an environment that evokes feelings of admiration and wonder.
The documentary was produced by Susanne Schwibs, senior lecturer at The Media School at IU, and WTIU staff member Justin Crossley. The film was made possible with production support from the IU Office of the Vice President for Engagement.
"Beautiful by Design" will be available to watch on the Indiana Public Media's website until July 3 and will air on WTIU at 9:30 p.m. June 5. DVD and BluRay copies of the program will be available to purchase starting in September. IU faculty and staff using a valid IU email address can enter to win a copy of "Beautiful by Design" on DVD.
IU staff, first lady honored by Bloomington Chamber of Commerce
The Greater Bloomington Chamber of Commerce honored seven local women as recipients of the Women Excel Bloomington 2018 award. Recipients were chosen based on their outstanding leadership, business acumen, entrepreneurship and community involvement.
IU first lady Laurie Burns McRobbie and Kyla Cox Deckard, director of communications for the Center for Rural Engagement, were among the honorees. The seven women were honored with a reception and celebration May 31 in IU's Henke Hall of Champions.
Abandoned limestone mill was inspiration behind award-winning film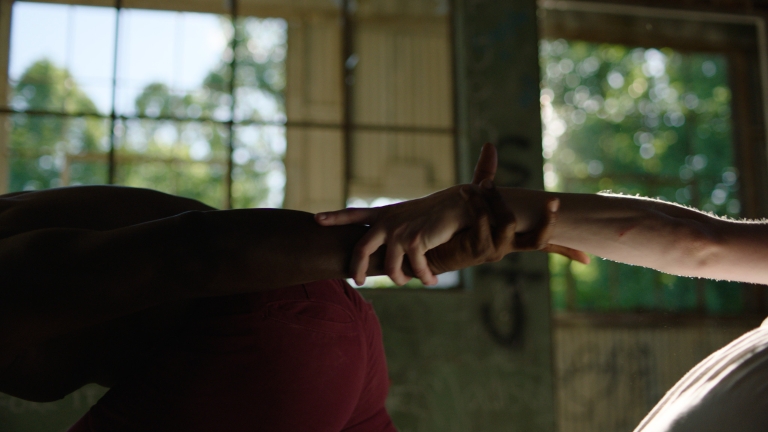 When Allen Hahn stumbled across Bloomington's Woolery Mill in late summer 2016, he knew the beautiful, industrial, rusting structure was begging for a film to be made there.
This led him to associate professor Elizabeth Shea, "the adventurous sort" as described by Hahn. Within two weeks, the pair had visited the mill, decided to work on a film together and successfully submitted a proposal for one of IU's New Frontiers in the Arts and Humanities grants.
The end result was "Breath | Light | Stone." The 15-minute film was an official selection in the Utah Dance Film Festival this year and earned a number of awards, including three first-place finishes for cinematography, sound design and ensemble performance. The film made its European premiere at Exposure, a curated installation of moving art in Fermignano, Italy, and was just announced as a finalist for the Front & Main Dance Festival, Temecula 2018.
IU School of Public Health-Bloomington offers free online training on opioid crisis
The IU School of Public Health-Bloomington is providing free online training to health professionals and practitioners in Indiana to address the state's opioid crisis, particularly harm reduction around intravenous drug use.
The opportunity is a part of the school's "Public Health & You" initiative, developed in 2012 to provide education and training to health workers in Indiana and beyond in order to increase awareness about public health issues and improve public health outcomes.
Titled "Harm Reduction and Overdose Prevention," the five-part series is divided into five modules: principles of harm reduction; stigma, HIV and hepatitis C virus; safer injection and wound care; overdose prevention and response; and outreach and engagement. The series takes eight to 10 hours to complete. Participants can work at their own pace and can take one or all five portions.
Play for Jake Foundation gifts AEDs to IU Bloomington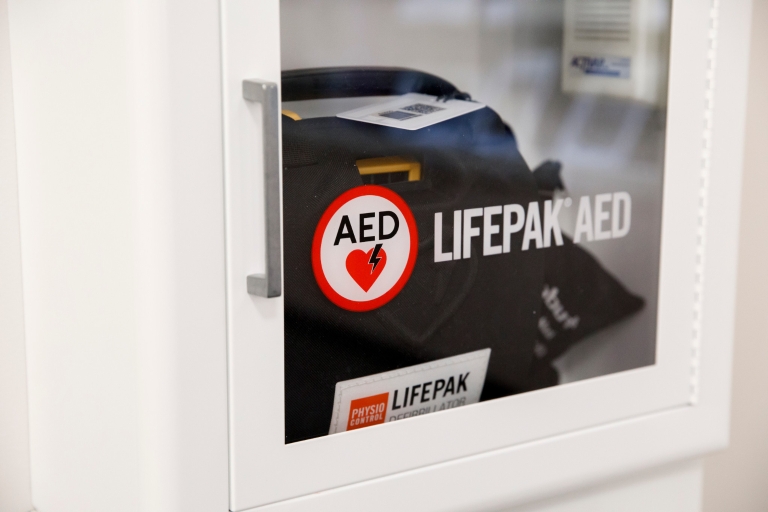 On May 3, the IU Bloomington chapter of the Play for Jake Foundation presented two automated external defibrillators to the university.
Jake West, a student at LaPorte High School, passed away suddenly during football practice in September 2013 from an undetected heart condition. Immediate access to an AED might have saved his life.
The two AEDs provided by the Play for Jake Foundation will be placed in the IU Bloomington Athletics complex. IU's Office of Insurance, Loss Control and Claims recently installed supplementary AEDs throughout all major buildings universitywide.
Items from IU Eskenazi Museum of Art on display at Speed Art Museum starting this month
While the Eskenazi Museum of Art is closed for renovations, a selection of works from its renowned collection will be on view at the Speed Art Museum in Louisville, Kentucky, from June 16 through Jan. 13.
The exhibition, "Picasso to Pollock: Modern Masterworks from the Eskenazi Museum of Art," will feature more than 70 paintings, sculptures and works on paper, including highlights by Pablo Picasso, Diego Rivera, Henry Moore and Jackson Pollock.
A second exhibition, "American Storybook: The Imaginary Travelogue of Thomas Chambers," will also be on loan from the Eskenazi Museum of Art. In addition, the Speed will be integrating key masterworks from the Eskenazi's collection into the permanent collection galleries during the latter half of 2018.
IU students, faculty and staff will receive free admission to the Speed Art Museum with their university photo ID while the exhibitions are on view. For more information about visiting, check out the Speed Art Museum's website.
Dave O'Guinn named IU's new vice provost for student affairs and dean of students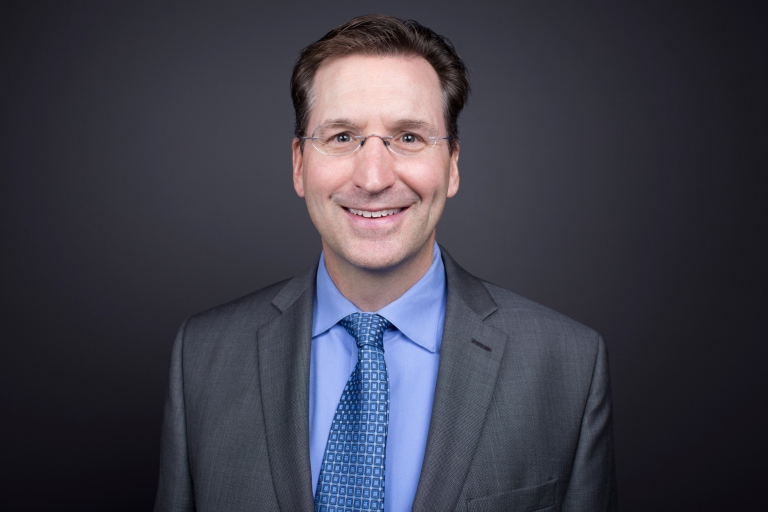 M. Davis "Dave" O'Guinn, currently chief litigation counsel at IU's Office of the Vice President and General Counsel, has been appointed vice provost for student affairs and dean of students at IU Bloomington, pending formal approval by the Indiana University Board of Trustees.​O'Guinn's appointment is a two-year term.
O'Guinn succeeds Lori M. Reesor, who has served in the role since July 2016. 
Hilltop Gardens hosts sixth annual Bug Fest
Learn about dragonflies, butterflies, spiders and other bugs and take part in games and crafts, mealworm races, bug-related storytelling and more at Hilltop Garden's sixth annual Bug Fest.
The celebration, from 10 a.m. to 3 p.m. Saturday, June 23, is a collaboration of Monroe County Parks and Recreation, City of Bloomington Parks and Recreation Department, Hilltop Garden and Nature Center, Sycamore Land Trust, Sassafras Audubon Society, the WonderLab Museum and the Purdue University Extension Office.
Admission is free, but donations of canned fruits or vegetables for the Hoosier Hills Food Bank and Mother Hubbard's Cupboard are appreciated.
For more information on guest speakers, schedules and lecture topics, visit the Hilltop Gardens website.
Sign up now for faculty and staff intramural sports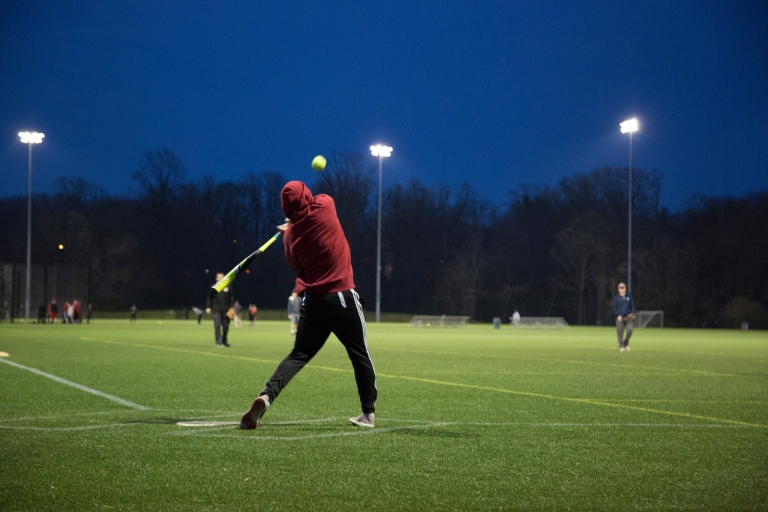 Faculty and staff are encouraged to sign up for volleyball, softball or tennis this summer.
Participants don't need a team to play. The cost is free for IU Recreational Sports members, but faculty and staff who are not Rec Sports members can play by purchasing a $5 punch pass at either the Student Recreational Sports Center or Wildermuth Intramural Center. Employees should RSVP by 5 p.m. the day before a game to allow time to create teams.
Volleyball games will be played from 5:15 to 6 p.m. Tuesdays through July 24 at WIC courts 5 and 10. Softball games will be played from 5 to 6 p.m. every Wednesday in June and on July 18 and 25 at the Recreational Sports Field Complex Fields 1 and 3. Tennis matches will be played from 5 to 6 p.m. Thursdays through July 26 at the Student Recreational Sports Center tennis courts.
Additional details and registration are available on the Rec Sports website, or by contacting imsport@indiana.edu or calling 812-855-2371. Faculty and staff intramural games will be canceled the week of July 4.
Office of International Development seeking host families for Youth Leadership Programs
The IU Office of International Development invites IU faculty and staff to take part in a unique opportunity to engage with students from around the world participating in On-Demand Youth Leadership Programs at IU Bloomington's campus, sponsored by the U.S. Department of State. Students spend four weeks in the United States learning about community service, civic leadership and American culture.
The Office of International Development is seeking households who would like to host the students for their two-week stay in Bloomington. Students from the Baltics will visit July 20 through Aug. 4, and students from southern Europe will visit Aug. 14 through 25. Participants range in age from 15 to 18 and arrive with intermediate to advanced English-speaking and comprehension skills.
During weekdays, participants engage in program activities from 9 a.m. to 5 p.m. Host families are responsible for providing transportation to campus and picking guests up and are asked to provide all meals except for weekday lunches.
Anyone who is interested in this rich cross-cultural experience is encouraged to apply. After applications are submitted, a background check and a home visit are required. A brief orientation session will take place one to two weeks in advance of each group's arrival.
For more information, contact hduemlin@iu.edu or 812-855-9552.
Media School announces two new cohorts of honors students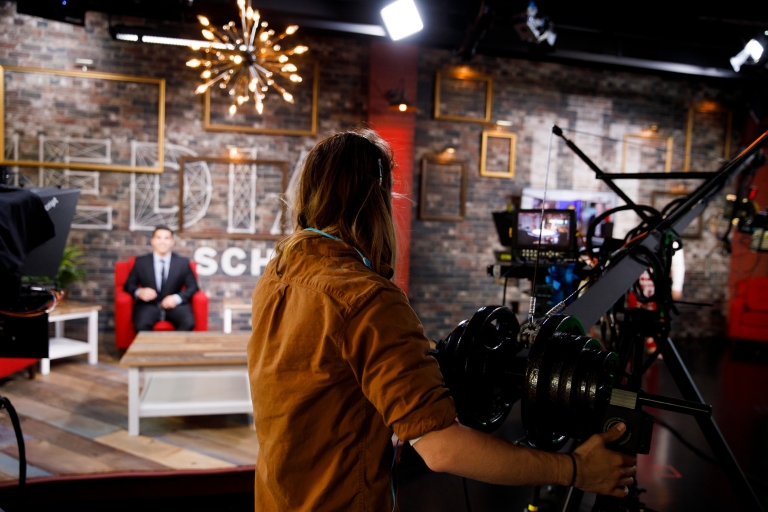 The Media School at IU Bloomington announced two new cohorts of honors students who will enroll at the school this fall.
Fifteen Ernie Pyle Scholars will pursue a Bachelor of Arts in journalism, while 17 Media Scholars will pursue either a Bachelor of Arts in media or a Bachelor of Science in game design.
The Class of 2022 marks the 12th year for the Ernie Pyle Scholars, whose alumni work at some of the country's leading journalism, public relations and other media organizations.
The remaining students form the first class of Media Scholars, a new program created to offer expanded academic and professional opportunities to students pursuing studies focused on media in all its forms, including advertising, film, communication science and game design.
IU Bloomington announces 2018-19 Mosaic Faculty Fellows
IU's Mosaic Active Learning Initiative bolsters innovative classroom design, research and support for all IU classrooms. The Mosaic Faculty Fellows program provides an opportunity for faculty to explore and reflect on active learning approaches with other Mosaic fellows, as well as to contribute to the development of learning spaces across the university.
Earlier this month, IU announced the 2018-19 Mosaic Faculty Fellows for the Bloomington campus. They are:
Ann Bunger, lecturer, Department of Linguistics.
William Emigh, lecturer, The Media School.
Kelly Hanson, lecturer, Kelley School of Business.
Minjeong Kim, associate professor, School of Art, Architecture + Design.
Margaret Lion, senior lecturer, School of Public Health-Bloomington.
Robin Reeves, senior lecturer, Department of Spanish and Portuguese.
Kan Shao, assistant professor, School of Public Health-Bloomington.
Long Service and Retiree Recognition Program honors Bloomington staff
A staff service recognition program held this afternoon will recognize active Bloomington staff employees who met service year milestones of 25 years and up. The program also recognized Bloomington employees who retired in the prior calendar year with the IU Retiree designation.
The event was hosted by University Human Resources Associate Vice President John Whelan and IU Bloomington Provost and Executive Vice President Lauren Robel. They honored 199 long-service recipients and 133 retirees.