Indiana University scholars and representatives of over a dozen Native American nations are moving forward with a plan to repatriate human remains unearthed at Angel Mounds State Historic Site near Evansville from the 1930s through 1950s, in accordance with the Native American Graves Protection and Repatriation Act.
The law, enacted in 1990 and known as NAGPRA, requires universities, museums and government agencies to inventory and identify human remains and certain cultural items and consult with Indian tribes to arrange for their return to the tribes.
IU hosted members of at least 15 tribes this spring for a consultation on the project, with some coming from as far away as the Rocky Mountains. The National Park Service awarded the university an $85,000 grant to help fund the consultation, which followed preliminary meetings starting in 2016.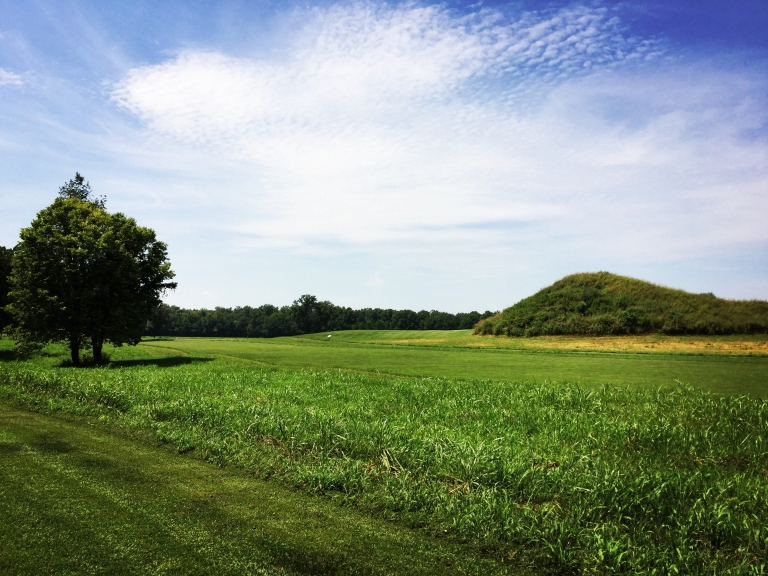 Jayne-Leigh Thomas, the IU NAGPRA director, said the involvement of so many tribes that may have connections to Angel Mounds means there are a lot of questions to sort out. The archaeological collection from Angel Mounds is the largest one housed in IU's Glenn A. Black Laboratory of Archaeology and includes the remains of more than 400 individuals.
"Working with our largest collection is challenging, but our staff are eager to see these individuals returned with dignity," said April Sievert, director of the Glenn A. Black Lab.
"This is a complex task that hasn't really been done before in the Midwest," Thomas said. "With tribal help, it could set a precedent and become a model for repatriating on such a large scale."
During the consultation events, Native American representatives learned about and discussed IU's collections, visited Angel Mounds and discussed how to proceed with repatriation.
"What Indiana University shared with all the attendees at the spring 2018 consultation was professional and positive, and all of our opinions and comments were listened to and addressed," said Nekole Alligood, NAGPRA coordinator for the Oklahoma-based Delaware Nation.
The Delaware Nation were among many Native American groups that were removed by European settlement from the Eastern United States to areas west of the Mississippi River. A significant issue for those "removal tribes," Alligood said, is finding a safe place to rebury ancestors near where they lived.
"For me, laying them back to rest in familiar surroundings is incredibly important," she said. "Realizing the people of Angel Mounds will return to their home gives me great hope for the future of repatriation work. Continued partnership with museums and universities is important for everyone involved and incredibly worthwhile."
NAGPRA calls for repatriating human remains and certain artifacts through consultation with present-day tribes that have "cultural affiliation" with specific historic groups, many of which lived long before the era of European contact. That can be a challenge in Indiana, the "land of the Indians" from which most Native American groups were removed nearly 200 years ago.