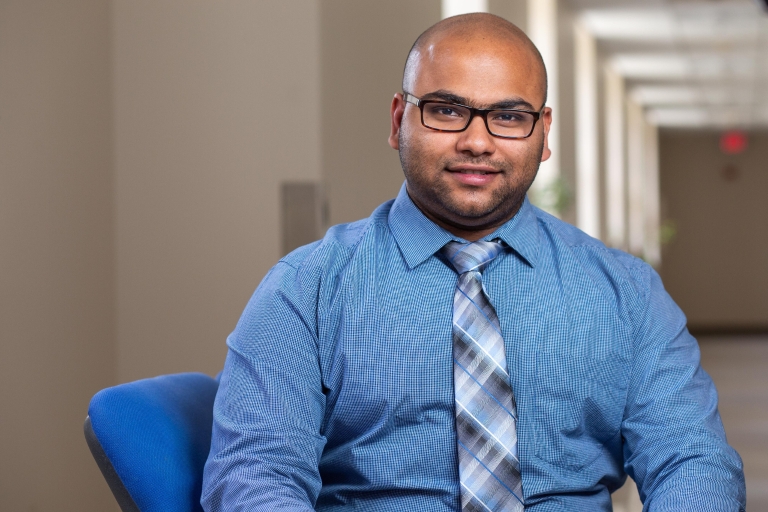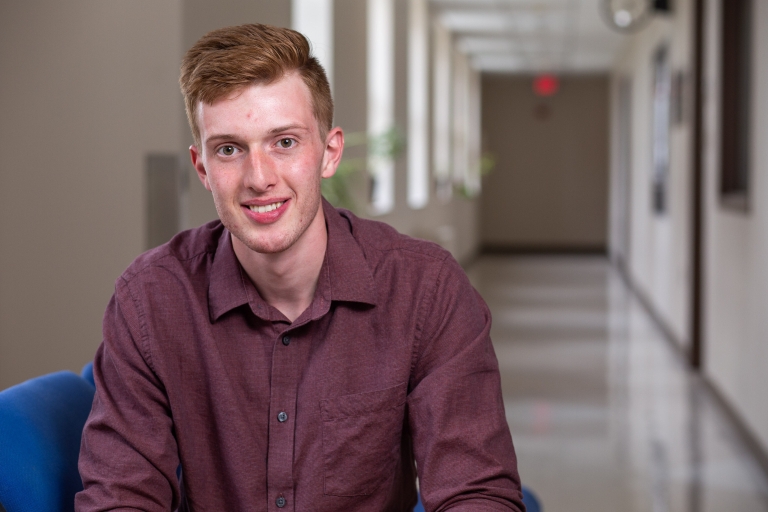 Research is the quest to uncover the unknown. Sometimes you get more than you bargained for in the process, which is exactly what happened to IUPUI's Josh Roy and Abhinaba Bhattacharjee when they signed on with faculty-led startup Health Smart Technologies.
Roy is a junior studying medical humanities and health studies in the School of Liberal Arts and the Honors College; Bhattacharjee is a graduate student in the School of Engineering and Technology. Both joined School of Health and Rehabilitation Sciences associate professor Terry Loghmani's research team knowing they would learn more about manual therapy.
With the duo's assistance, Health Smart Technologies continued to develop a device allowing medical professionals to measure the pressure and direction of force used during treatment. This will allow for improved and more consistent treatment in fields such as physical therapy and chiropractic care.
Those technical lessons, gaining knowledge related directly to the research itself, were what Roy and Bhattacharjee expected. Seeing firsthand how the research will likely impact their own futures was the added bonus.
"Seeing this side of physical therapy is so unique that some physical therapists never see it in their whole career. I'm not even a therapist yet, and I'm already getting an opportunity to see it," Roy said. "That will help show me my interests, and if I'm interested in research, if getting my Ph.D. one day would be possible. It's good to be a fly on the wall and see it."
The project also widened Bhattacharjee's perspective.
"I had some enthusiasm in electronics initially when I was a kid. At that time, there wasn't much robotics in the country where I'm from," said Bhattacharjee, who is originally from India. "But electronics always used to make me happy and inquisitive about how things work. Now I'm studying electrical and computer engineering during my master's degree.
"When I started this project, I really wondered how it would be implemented and how it would satisfy a need. But now, at this stage, I know how it works because I have been through the whole journey. I've gained a lot of experience in medical robotics, so it will help me pursue a career in medical device development and medical robotics."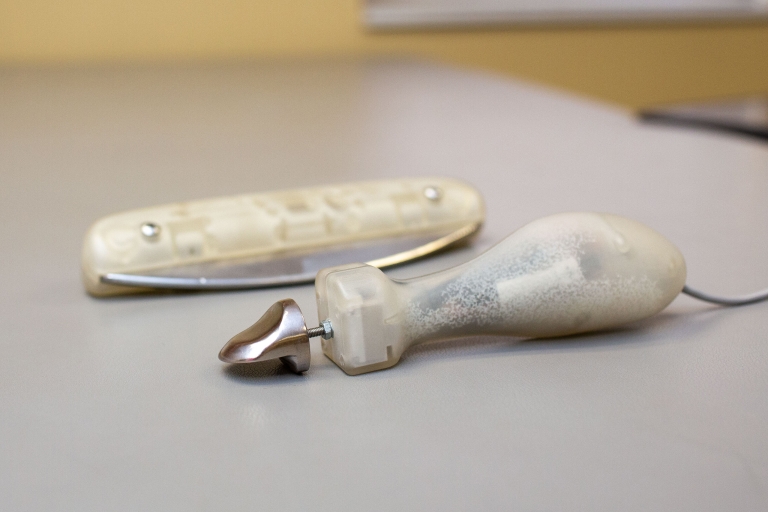 INDIANAPOLIS – Physical and occupational therapists, athletic trainers, chiropractors, veterinarians, and other medical professionals could improve the outcomes of manual therapy to treat soft-tissue injuries by using patent-pending, handheld instruments being developed by IUPUI entrepreneurs.
Health Smart Technologies Inc., a medical device startup, is developing a force-sensing instrument system called Quantifiable Soft Tissue Manipulation, or QSTM, that can quantify the forces applied during manual therapy. A metal tip on each device transmits the applied forces to a 3D load cell that sends measured force signals to a microprocessor. The microprocessor computes the pressure, angle, duration and stroke frequency of the tool during targeted soft-tissue manipulation. The information can be displayed on a laptop computer or a tablet for real-time monitoring and recording of relevant data.
Terry Loghmani, an associate professor in the School of Health and Rehabilitation Sciences at IUPUI, is president of Health Smart Technologies. She said there are currently no clinical methods to quantify the force and motion variables used in soft-tissue manipulation, such as therapeutic massage. This can lead to variable and inconsistent application within and between clinicians.
"This is a problem because the results of soft-tissue manipulation are dependent on pressure," she said. "My colleagues and I have conducted interviews and surveys with medical professionals around the country, and the results show a clear need for this kind of technology."
Loghmani said Quantifiable Soft Tissue Manipulation integrates an accelerometer, force sensors, a gyroscope and software to compute the force and motion parameters.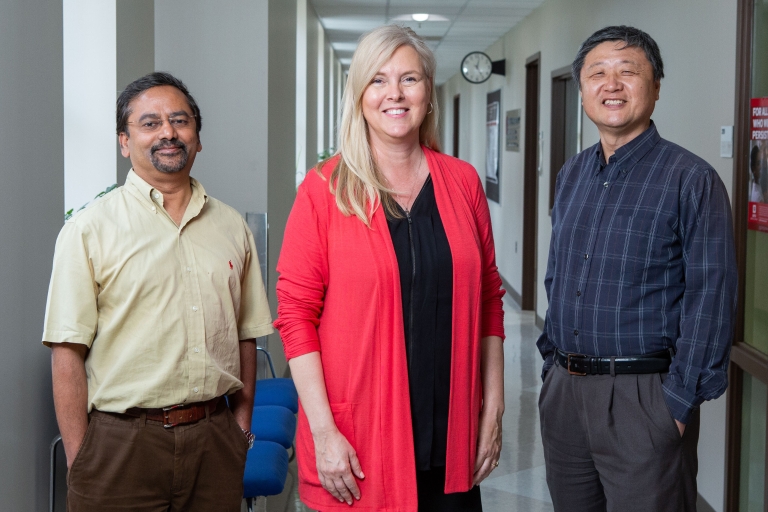 "It accurately measures the force, orientation and angle of pressure delivered to the intact surface of a patient's skin during soft-tissue manipulation treatment used as a noninvasive and nonpharmacological approach to musculoskeletal injuries," she said.
Sohel Anwar and Stanley Chien of the Purdue School of Engineering and Technology at IUPUI co-founded Health Smart Technologies with Loghmani. Anwar is an associate professor of mechanical engineering, and Chien is a professor of electrical and computer engineering. The startup licensed Quantifiable Soft Tissue Manipulation from the Indiana University Innovation and Commercialization Office, which protects, markets and licenses intellectual property developed at Indiana University so it can be commercialized by industry.
Loghmani said Health Smart Technologies will create prototypes of the instrument system for beta testing. The company will also conduct soft-tissue manipulation trials to determine the best parameters to treat specific clinical conditions, like low back pain.
"Along with developing QSTM, we will look to secure industry partnerships or sublicensees," she said. "We will also pursue local and federal grants."
About Indiana University Innovation and Commercialization Office
Indiana University ICO is tasked with the protection and commercialization of technology emanating from innovations by IU researchers. Since 1997, IU research has generated almost 3,000 inventions resulting in more than 4,500 global patent applications. These discoveries have generated more than $142 million in licensing and royalty income, including more than $115 million in funding for IU departments, labs and inventors.
A hands-on approach to improving manual therapy
The Health Smart Technology team says Quantifiable Soft Tissue Manipulation, or QSTM, is the key to helping medical professionals understand their actions during treatment. When a therapist massages an injured muscle, for example, they can't determine with any certainty how hard they are pressing. That makes it difficult to replicate successful treatment – both from session to session or from one clinician to the next – and train future therapists. 
"Some therapists have gone their whole lives not knowing how many newtons of force they've applied. They're just like, 'Oh, it's moderate," which could be accurate, but they don't really know. QSTM makes it a lot more reliable," Roy explained.
Improving consistency and reliability across the board would go a long way toward reducing pain and healing injuries more quickly. Bhattacharjee specifically mentioned how the device's use could eventually benefit athletes trying to get back on the field sooner, something that should interest sports-crazy Indianapolis.
In search of a solution, the team developed device prototypes that can measure and record valuable information. Bhattacharjee was part of the engineering team that worked on the electrical architecture, ensuring communication between the device and computer software.
Multidisciplinary approach
Roy focused on data entry and interviewed practicing therapists to help identify their specific needs, bringing Health Smart Technologies that much closer to putting the device in clinicians' hands. He modestly downplays his duties as "just intern work," but he also can't be thankful enough for the opportunities he has received.
"Being part of such a cool team with Health Smart and Dr. Loghmani, even doing data entry feels like an honor."
As Bhattacharjee completes his thesis, Roy will continue working with Loghmani throughout the summer. His Life-Health Sciences internship, which matched him with Loghmani during the school year, has ended, but a grant from the Center for Research and Learning will keep him with Health Smart Technologies for a few more months.
"How cool it is that Dr. Loghmani and Health Smart are allowing me to be on that team, giving me the chance," Roy said. "They could find someone else. They could pay someone or get another physical therapy student, but they've given me, an undergrad student, an opportunity."