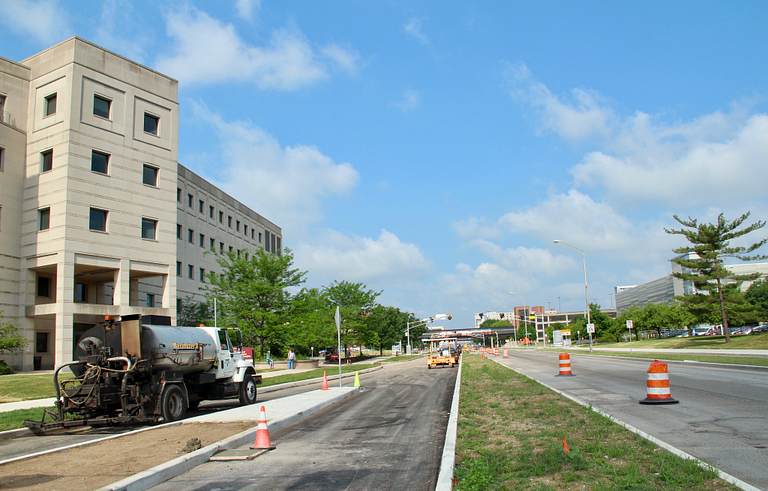 A major, impactful construction project will begin as another major, impactful construction project nears completion.
The I-65 bridge rehabilitation project will completely close the interstate in both directions between 21st and Meridian streets from July 1 to Aug. 5 and will dramatically impact commutes to and from IUPUI around the time the Michigan Street conversion project comes to a close. The Michigan Street redesign, led by city of Indianapolis Department of Public Works, will improve vehicle, pedestrian and cyclist safety; facilitate traffic movements and increase travel options for drivers, transit and cyclists; and help create a sense of place with landscaped, raised medians.
Associate Vice Chancellor for Facilities Jeff Plawecki said that due to utility relocation issues as well as cold and wet weather both last winter and this spring, the city has slated July 1 for substantial completion.
"While the city has experienced some unforeseen issues with this construction project, I want to thank the campus and local communities for their patience as we enhance movement across campus and transform IUPUI," he said.
Though hot, the weather in late May and early June has been consistently dry, aside from the occasional pop-up thunderstorm. A recent look between West and Blackford streets along Michigan Street saw several workers clad in neon yellow-green shirts buzzing around cement and paving trucks.
"The project is finally getting close, but they're not quite there," Plawecki said.
More updates on IUPUI summer construction projects:
North of Michigan Street, a high-traffic walkway near Barnhill Drive and the Van Nuys Medical Science Building will be renovated, starting this month.
The north entrance area of Taylor Hall will continue to be under construction to repair structural problems around the building, which was completed in 1971. The best entrance to Taylor is on the west side. The project should be complete in time for the start of the fall semester.
Another July project will impact West Street: Campus gateways will be installed in the fall. Exact dates will be determined soon.
Curbs and sidewalk replacement and street milling and paving will occur all over campus throughout the summer. These projects are quicker but could affect getting around campus.