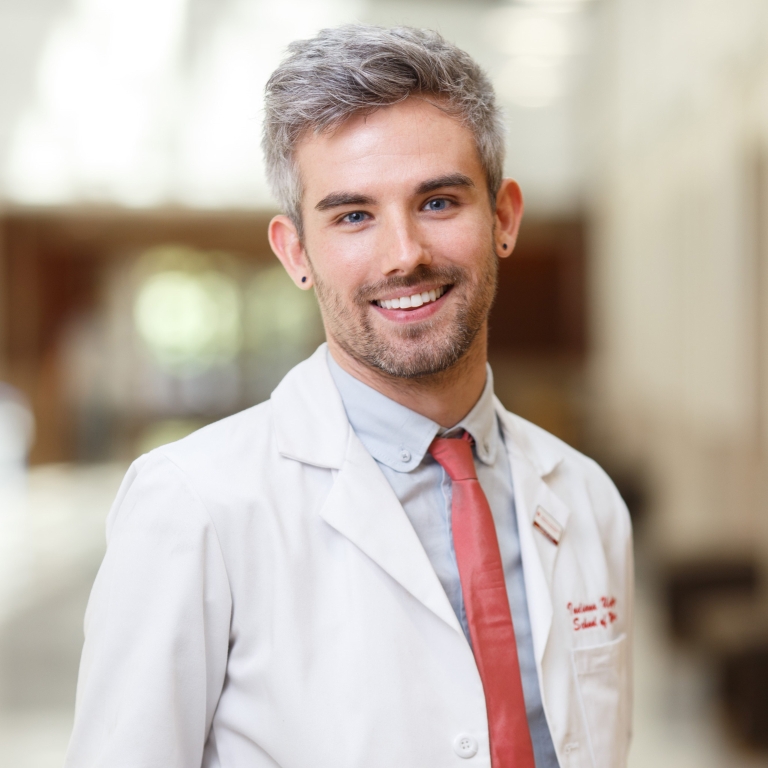 "Doctor, I'm gay."
"Great. We'll test you for HIV today."
"But I'm not having sex."
"How much do you drink?"
Dustin Nowaskie, president and co-founder of OutCare, worries about how often this conversation happens. He worries that these types of exchanges result in a member of the LGBTQ community not going back to a doctor because they weren't understood. Even worse, he worries that an individual will give up completely on seeking medical care because of it.
"Sometimes, as a doctor, you only have 15 minutes to talk to a patient. But you have to establish a line of comfortability," said Nowaskie, an IU School of Medicine alum. "LGBTQ is unique because of the statistics. LGBTQ individuals are at much higher risk for substance abuse and almost all the mental health disorders. Lesbian women are at higher risk for breast cancer. These are things that I think you learn in medical school and later as a health care provider, but you can't just automatically assume that because someone says they're gay, you need to test them for HIV or you need to ask them about alcohol."
Even though doctors don't always consciously make those assumptions, it happens. And it often results in damaging conversations like the one above.
"There are so many issues that I think it can be very disheartening whenever you meet an individual that you think should be unbiased and that you can put your confidence in, because I think that's what most people view health care providers as," Nowaskie said. "To have that idea broken can really scare people away. I don't want to be that health care provider, and I don't want to send my friends and family to other providers where that could happen."
Nowaskie graduated in May, but before that, in the middle of his psychiatry studies, he founded OutCare, a database for LGBTQ health care. The website includes the OutList, a compilation of doctors and nurses confirmed to be culturally competent on LGBTQ health issues, as well as a database of other community and educational resources for patients and health care providers alike.
Turning anger into change
OutCare was birthed out of Nowaskie's personal experience and what he saw as a dire need in Indiana. The Southern Indiana native came out as a teenager. While he had the support of his family, his community was not quite so accepting.
Searching for a less pressure-filled environment, he moved to Los Angeles, where he majored in psychology, neuroscience and biology at the University of Southern California.
"I absolutely loved it. I kind of blossomed as an individual. I became very comfortable with myself, talking about being gay."
Nowaskie's return to Indiana for medical school, however, fell a bit flat. After three years away, he thought he'd come back to a state more accepting and able to support the needs of the LGBTQ community. He was also extremely excited about diving deeper into minority health care.
"Did not happen. We never talked about it," he said. "If we did, it was always about HIV. It was very stereotypical. From my lens, it was controversial, but no one else realized it was. It was very biased education, and to be frank, it pissed me off."
Nowaskie turned his anger and frustration into a catalyst for change. He addressed the IU School of Medicine's curriculum committee and spurred updates to some of the courses. Just as importantly, he took the summer after his first year, the summer when most medical students do research in preparation for their residencies, to found OutCare.
Bringing OutCare to life
"The first couple months were very strenuous. When I created the website, it was just the OutList. I was emailing and calling everyone in Indy, asking them to join. We were getting mental health providers, which is great. That is still our biggest category today, and I think it's probably one of the most needed categories for LGBTQ care. But we weren't getting M.D.s, we weren't getting D.O.s, we weren't getting nurse practitioners. That's when I went back to the school, and I went to Diversity Affairs."
Nowaskie told them about his vision. How he had watched too many friends and family members struggle to find medical care that was knowledgeable and sensitive to their needs as LGBTQ individuals. Nowaskie knew he wasn't the first to come up with the idea. Similar resources were already widely available in Los Angeles, and the diversity affairs staff at the IU School of Medicine apparently had been thinking along the same lines for several years. Nowaskie was the just the first in the area to make it a reality.
"The school still supports me just as much today," Nowaskie said, recalling the contacts and resources he initially received. "They were pushing out emails, templates, flyers about the OutList. It helps that it was student-driven because it was inspiring the school to back up a student."
The IU School of Medicine continues to support OutCare by hosting conferences on LGBTQ health issues. Now heading into its third year, the conference covers everything from health insurance to how doctors can ask patients culturally sensitive questions.
Taking OutCare national
Since starting in May 2015, OutCare has grown from being an Indiana-focused website to a national 501(c)(3) nonprofit. The OutList includes providers across the country, and the organization has teams established in seven other states to address the specific needs of those communities. They've begun hiring interns, but they would love to reach even more people.
"For any undergrad or graduate student, or anyone in the community who wants to join, just email me," Nowaskie said. "It's dustin@outcarehealth.org. Just join our team, whether you want to hear what we're doing or join some of our initiatives. We have so much going on. We're definitely a welcoming body and a family that accepts diversity.
"It's nice that IUPUI and the IU School of Medicine have backed us up so much because I think the idea of creating a welcoming environment started with our organization, but it also infiltrated the other schools and organizations. We want to be a safe space where you shouldn't be afraid to be yourself, whatever that means. If that means coming out, or just talking about how you grew up and how you want to find a new family, or how you just want to find a doctor, we're here. We're listening."