During June and July, Indiana University students from around the state have spent time at the university's core campuses, IU Bloomington and IUPUI, to take part in the Regional Campuses of Indiana University Presidential Summer Research Fellowship.
Read more about the four fellows and they work they've done this summer. 
Marisha Rigle, IU Kokomo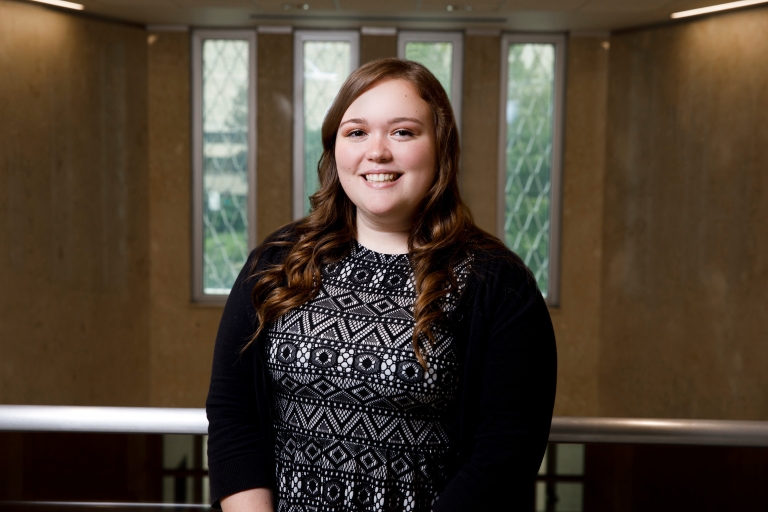 Growing up in Logansport, Indiana, IU Kokomo senior Marisha Rigle always thought she'd be a doctor or a lawyer one day.
"I've always wanted to help people; I just wasn't sure in what capacity that was going to happen for me," Rigle said.
But after taking a few introductory courses at IU Kokomo and finding a mentor in the coordinator of the campus' sociology program, Rigle decided that studying psychology and sociology was the right path toward helping people the way she wanted to. When Nikki Weller, Rigle's mentor and associate professor of sociology at IU Kokomo, told her about a program where she could apply her social science skills in a hands-on setting, Rigle jumped at the opportunity.
This summer, Rigle has been conducting research on the IU Bloomington campus that will help improve the health of first-year students and teens around the state. As a Regional Campuses of Indiana University Presidential Summer Research Fellow​, Rigle is working with Heather Eastman-Mueller, School of Public Health-Bloomington faculty member and assistant director of sexual and reproductive health at the IU Health Center.
Rigle's research includes analyzing data from Indiana teens surveyed about their health needs as a partnership with the IU Health Southern Indiana Physicians. She is also working to create curriculum to be offered in residence halls with the IU Bloomington Student Wellness Alliance, a group formed to improve mental health resources for first-year students. Rigle is meeting with each of the Counseling and Psychological Services professionals at the IU Health Center as well.
"I have so many different interests when it comes to psychology and sociology, but I know that eventually I'll have to narrow my focus and choose an expertise," Rigle said. "I'm hoping by the end of the summer I'll have a broader picture of what it's like to work in mental health services on a large college campus."
Eastman-Mueller said participation in the fellowship program will prepare Rigle for postgraduate research if she decides to pursue her master's or Ph.D.
"We are a research institution, so our students have to know how to conduct research properly," she said. "Training students in best practices for research prepares them for success in academia or whatever they decide to do in the future. Being able to analyze data and being a wise consumer of information is important in any field."
Marcus Dudas, IU Southeast
Marcus Dudas set his sights on psychology because he's interested in why people do what they do. Luckily, when it came time to pursue a degree, he found a robust program close to home at IU Southeast.
Now one class away from a bachelor's degree in neuroscience, Dudas is spending the summer on the IU Bloomington campus getting hands-on experience in a Department of Psychology and Brain Sciences lab.
Dudas is a research assistant to graduate student Elise Ozier, working in a social psychology lab focused on stereotypes and disparities in underrepresented or stigmatized groups. Ozier's project attempts to empirically measure the anecdotal sentiment from minority groups that they must work twice as hard to earn the same status of success of majority groups.
"I think anyone who's interested in psychology is interested in how people work," Dudas said. "They want to get a little deeper into what makes people behave the way they do. Being someone of many races, I found the work of this lab and its investigation of stereotypes and other factors that affect the lives of minorities very interesting."
At IU Southeast, Dudas had established relationships with professors and spent a year in a neuroscience lab studying the effects of social exclusion. This introduction to the neuroscience of motivation got him interested in understanding motivation from the bottom up. Studying how humans assign value to stimuli and how they act according to these values led Dudas to branch out into social psychology. When his professors encouraged Dudas to apply for the summer fellowship in Bloomington, he was only interested in working in Ozier's social psychology lab.
In addition to learning more about social identity theory and self-categorization theory, Dudas is looking forward to gaining skills in statistical analysis of a wide array of data during his time in Bloomington. He said his experience in Ozier's lab has encouraged him to possibly pursue a graduate degree in social psychology and eventually a career in research.
Ozier said getting hands-on experiences in labs is imperative for undergraduates to understand how theories of psychology are put into practice.
"Some undergrads don't fully understand that psychology is a science and that we do experiments and write peer-reviewed papers," she said. "It's great to be able to expose students early on to the research process broadly and share specifically how scientists who are interested in these more complicated, human-focused questions go about answering them."
Austin Pierce, IU East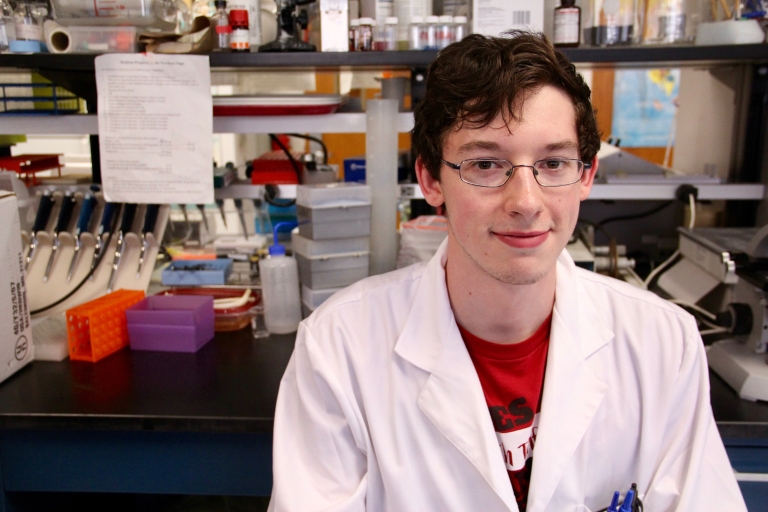 Austin Pierce's first undergraduate research experience involved scanning mouse femurs for observation and comparison.
The tiny bones are important in IUPUI biology associate professor Jiliang Li's research in bone cell biology and bone regeneration. Current projects look at how exercise affects bone growth and strength. The work has ramifications on human bones' response to space travel as well.
"It relates to how to heal bones even faster," said Pierce, a senior biology major at IU East from Eaton, Ohio.
Pierce has mastered biology basics in classes at IU East, but the research experience has helped fill some spaces in his science arsenal, including new research fields and new lab equipment. He said that by the time he finishes his fellowship at IUPUI on July 27, he'll have a clearer picture on his future career.
"This definitely gives me a good background in animal research," said Pierce, noting IUPUI's wide range of research opportunities. "I've been using a SkyScan, which is a specialized X-ray machine that can image the bones in a three-dimensional format."
After scanning, Pierce's next project was testing for bone density and strength by applying pressure to specimens while recording the data. Biology graduate student Carlie Priddy has been supervising Pierce in Li's labs. She said the summer lab experience will help Pierce's overall research confidence.
"Undergraduate research opportunities in a lab setting really show people that haven't started their careers yet that they can do it," she said. "They can practically apply those skills and be comfortable around technology and terminology that they may be intimidated by if they didn't have those opportunities. It's really beneficial."
Priddy said Pierce's work could even lead to a contributing author credit on her next publication on the effects of transcription factor nrf2 on bone regeneration.
Joe Jansky, IU Northwest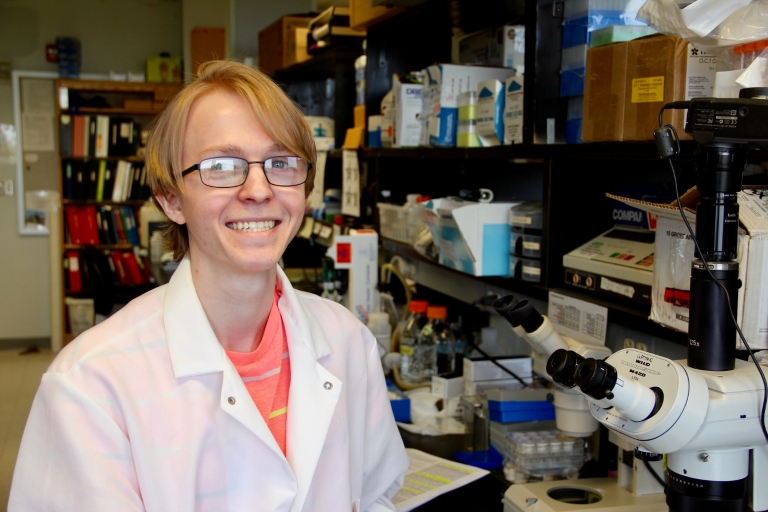 IU Northwest senior Joe Jansky's second go at undergraduate research is in a different field on a different campus.
The Schererville native studying biology has been gaining integral experience as a visiting student researcher under the mentorship of IUPUI biology professor Bonnie Blazer-Yost. Jansky started his work on the Indianapolis campus on June 4 and will fulfill his summer research stint July 28.
"It gives me good exposure to many types of scientific fields," Jansky said in one of Blazer-Yost's labs. "I'm hoping to gain skills and knowledge in help in my future career and into medical school. The skills I learn here will be very valuable there.
Blazer-Yost's current work is directed toward finding a drug treatment for hydrocephalus – water on the brain – using an animal model of the disease. Jansky's main duties are monitoring behavioral and pharmaceutical effects of potential drugs on rats.
Last year, Jansky worked in a mycology lab analyzing different fungi. He used a chemical approach to extract DNA from old specimens. This summer, he is using more practical and hands-on work in monitoring the hydrocephalus drug's effects.
"The opportunities provide by IU as a whole are astonishing; it would be detrimental to not take part in undergraduate research," Jansky said.
Jansky's previous experience was more autonomous. In Blazer-Yost's labs, he is working on a team, with graduate students like Stefanie Simpson. Her experience conducting cancer research in her undergraduate years gave her a head start as a graduate student, and she hopes this summer will prepare Jansky for his next academic steps.
"We had to throw a lot of things at him, but he's taking it in stride. We have high hopes," Simpson said.