It is official! IUPUI's 50th Anniversary year has begun.
July 1, 2018, marked a milestone for IUPUI and the community as we officially launched our 50th Anniversary. We are celebrating the occasion with a year of spectacular events that honor our history, showcase our talent and help us imagine what the next 50 years will hold.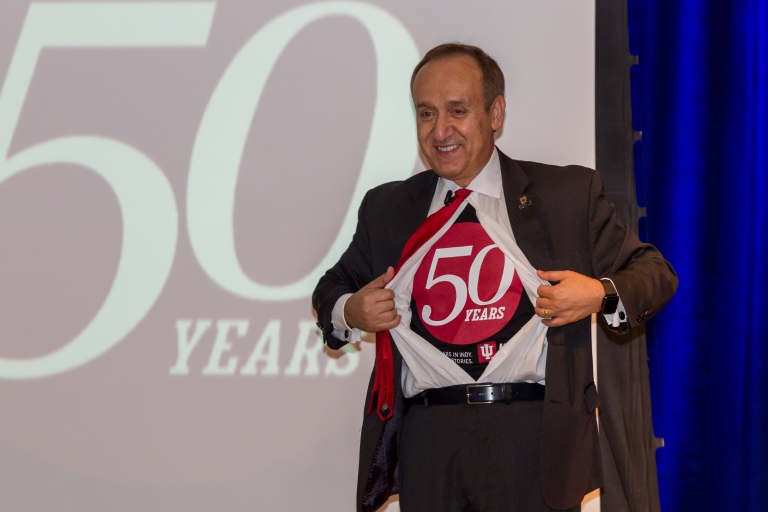 Our campus's official birthday is Jan. 24, 1969, the date on which officials signed the paperwork to establish IUPUI as a campus. The agreement brought together Indiana University's Indianapolis-based programs, including the School of Medicine, the School of Social Work and many others, and Purdue programs in engineering, technology and science. So Jan. 24, 2019, is the perfect day for our Birthday Bash, which will definitely include cake … lots of cake. 
We are also planning other signature events throughout the year, including the IUPUI Fall Kickoff Celebration on Aug. 24, marking the beginning of another academic year. This event will bring the campus community together to celebrate our shared history, build spirit and energize everyone for the year ahead. The event will start in Hine Hall Auditorium then move to outdoor spaces around North Residence Hall, where I am looking forward to an IUPUI talent showcase. Now is the time to shine a spotlight on the remarkable people who call themselves Jaguars.
This year's IUPUI Regatta, another signature event, promises to make an even bigger splash than usual. In its 10th year, Regatta is moving closer to campus with the race on the south end of the canal and the Regatta Festival in Military Park. We look forward to welcoming the campus and the community for this daylong celebration on Sept. 22.
Rest assured there will be other events like Jagathon Dance Marathon, the Spirit of Philanthropy Luncheon, Jagapalooza, IUPUI Student Research Day, Alumni Leaders Dinner, Top 100, Elite 50 and many more, each with a distinctly 50th Anniversary flair. We want IUPUI's 50th Anniversary to be in people's minds and in their hearts throughout the year. 
I encourage you to join this celebration by visiting the 50th Anniversary website. In Our History, in Your Stories and in the Faces of IUPUI, which just launched this month, you will see the impact our campus has made over our first 50 years. 
We have done so much in our first half-century, it's difficult to imagine what our first full century will hold. Join our celebration and learn what it means to be a Jaguar: 50.iupui.edu.
Nasser Paydar is chancellor of IUPUI.