INDIANAPOLIS – Indiana University researchers and physicians have announced progress toward their bold goals of developing cures and preventive treatments for devastating diseases prevalent among Indiana residents.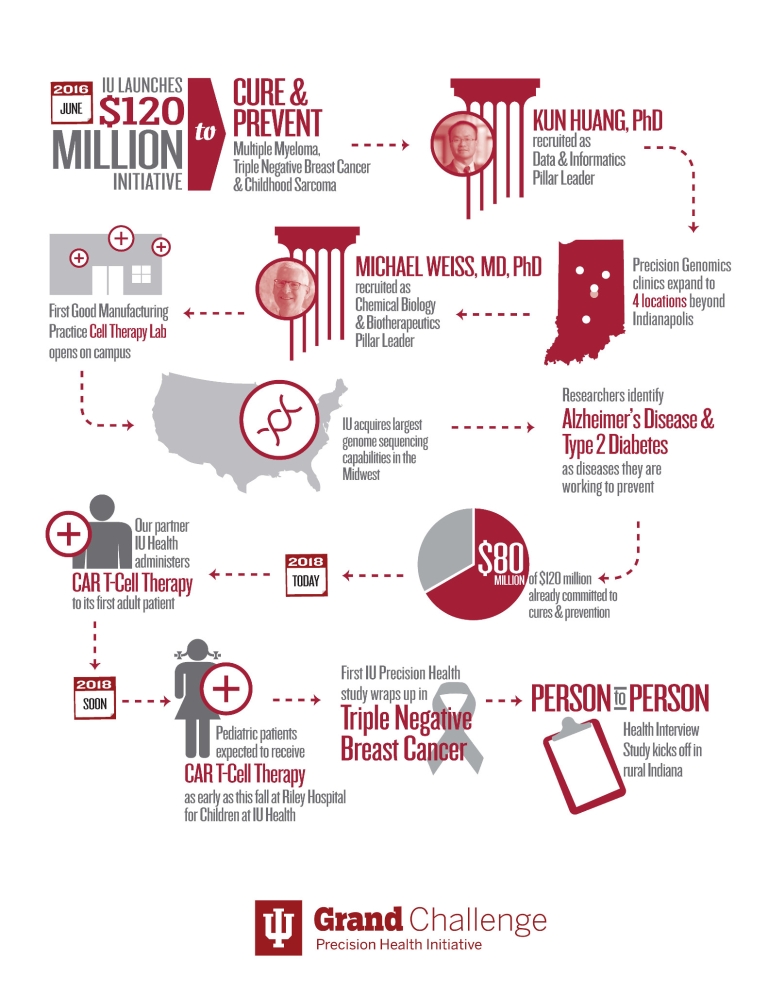 IU Precision Health leaders announced that they have recruited 33 new research faculty from throughout the country and built some of the most advanced research and clinical capabilities in the Midwest with the goals of:
Developing new approaches for treating triple negative breast cancer and multiple myeloma that will cure more of these patients.
Curing more children with pediatric sarcoma, a particularly deadly cancer found in tissues such as tendons, bones and muscle.
Preventing the onset and progression of Type 2 diabetes by discovering what biological factors trigger the disease and tailoring treatments to individuals.
Slowing the progression of Alzheimer's disease by researching the role of the immune system and developing new immunotherapies.
In addition, the university said that a team led by IU Bloomington social scientists will soon begin canvassing rural Indiana to collect information and DNA samples from residents of all backgrounds. The data collected will help researchers understand how genetic, behavioral and environmental factors influence a person's health.
Led by IU School of Medicine, the Precision Health Initiative Grand Challenge is IU's big health care solution. It was established in 2016 with a $120 million investment – $80 million of which has already been committed.
"The progress made over the last two years is already impacting the care we provide patients," said IU School of Medicine Dean Dr. Jay L. Hess. "The Precision Health Initiative ensures Hoosiers do not have to travel to receive leading-edge care and participate in clinical trials. In partnership with IU Health, we are now using genomics to personalize care for thousands of patients, and we are the only place in Indiana to offer cellular immunotherapy – the ability to reprogram a patient's immune system to fight disease."
Statewide person-to-person health study
Beginning in August, Precision Health Initiative social scientists led by Bernice Pescosolido, Distinguished Professor of Sociology at IU Bloomington, will begin an effort to reach a statistically representative sample of 2,000 Indiana residents that reflects the demographic characteristics of Hoosiers. Based on recent U.S. Census data, residents will be selected to participate in the initiative's "Person-to-Person Health Interview Study."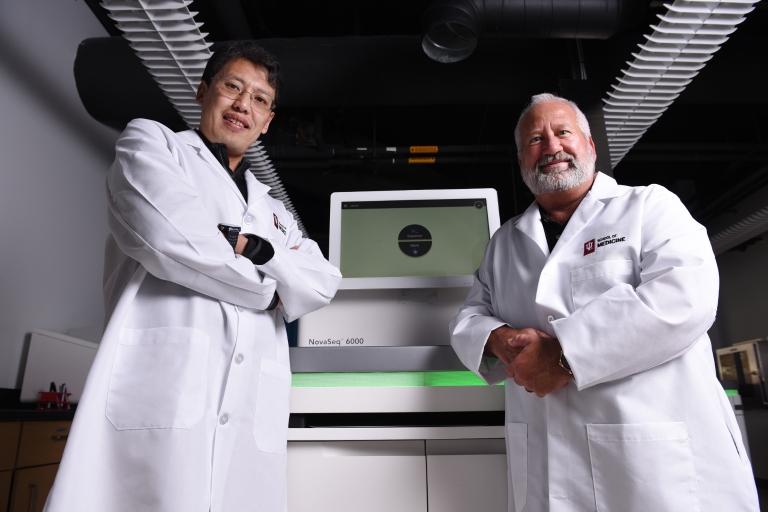 Households that are selected will be sent letters of invitation in the mail, letting them know that credentialed interviewers will soon be arriving at their door. Residents will then be asked to complete a questionnaire covering a variety of health topics such as their exposure to environmental contaminants and their attitudes toward mental health treatment. Participants will also be asked to discuss their social networks and provide a saliva sample for DNA collection.
IU Bloomington Provost and Executive Vice President Lauren Robel said that input from residents across Indiana is critical to the long-term success of the IU Precision Health Initiative.
"People turn to their social networks to support their well-being, health and pathways to care, so it matters who is in your network," Robel said. "This unique approach will allow IU researchers to bring the voices and experiences of Indiana's people into the Precision Health Initiative's efforts to improve health."
The IU Precision Health approach
"The IU Precision Health Initiative incorporates a multidisciplinary view of health, illustrated by the initiative's several scientific pillars of investigation: genomic medicine; cell, gene and immunotherapies; chemical biology and biotherapeutics; data and informatics; and psychosocial, behavioral and ethics," said Dr. Anantha Shekhar, principal investigator of the IU Precision Health Initiative and executive associate dean for research affairs at IU School of Medicine.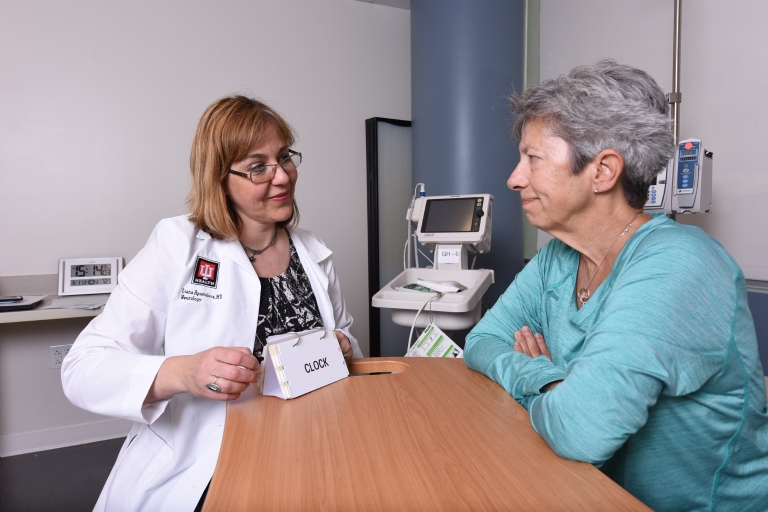 "Identified diseases are taken through each pillar using a team science approach as we work to treat, cure and prevent diseases."
He cited the university's approach to Alzheimer's disease as an example of how different pillars – or scientific areas of focus – of the IU Precision Health Initiative will work together.
Researchers are studying how the body's own immune system may impact the underlying biology associated with cognitive decline, the primary symptom of Alzheimer's disease. The team is planning to establish new immune biomarkers associated with Alzheimer's disease that together, with existing Alzheimer's biomarkers, will better predict onset and progression of the disease.
Once those biomarkers are determined, researchers will investigate and develop immune-based therapies that not only target biomarkers of the disease but are also tailored precisely to an individual's own biology.
"Previous approaches to treatment or prevention of Alzheimer's disease may have failed because they only focused on one indicator of disease, such as amyloid or tau," said Bruce Lamb, co-leader of the Precision Health Alzheimer's disease research team and executive director of IU School of Medicine's Stark Neurosciences Research Institute.
"Our approach focuses on altering the body's own immune system to positively impact all three biomarkers of amyloid, tau and inflammation," Lamb said. "If we can identify new methods to slow Alzheimer's disease from progressing to a fully debilitating disease of the mind and body, we'll have made a great step forward."
Indiana resident Mary Estrada, 62, lost her mother to Alzheimer's disease and was recently diagnosed with early onset Alzheimer's. Estrada is currently participating in Alzheimer's research as part of the Precision Health Initiative at IU School of Medicine.
"I'm concerned (about my diagnosis), but I also feel good that there is so much being done these days and so many people are working on it; that gives me reason for hope and reason to be proud that I get to be a part of it," Estrada said.
Stay up-to-date
Because the IU Precision Health Initiative is a long-term effort, IU School of Medicine is sponsoring monthly podcasts on the topics of diseases that IU researchers aim to cure, treat or prevent. The podcasts, produced by the award-winning show "Healthcare Triage," are anchored by IU School of Medicine faculty and social media star Dr. Aaron E. Carroll. Download the first podcast on Alzheimer's disease on the IU School of Medicine website.

Additionally, anyone interested in getting involved in improving health in Indiana is encouraged to visit www.allin4health.info and sign up to receive information about health resources and to participate in research happening across the state.
What they are saying
"Leveraging the deep research expertise in each of these diseases through IU School of Medicine, combined with the population health experience of IU's Bloomington campus, is what led us to choose these as areas of focus for IU's first Grand Challenge. It starts with the idea that we have the right expertise and some of the country's top researchers in these diseases that we believe will help make these incredible goals a reality." – IU President Michael A. McRobbie
"All knowledge from the initiative is being integrated into research training and clinical education to further propel IU's reputation as one of the leading universities with one of the nation's top medical schools." – Fred Cate, vice president for research at IU and leader of IU's Grand Challenges program  
Media Kit: Access additional photos, images and b-roll