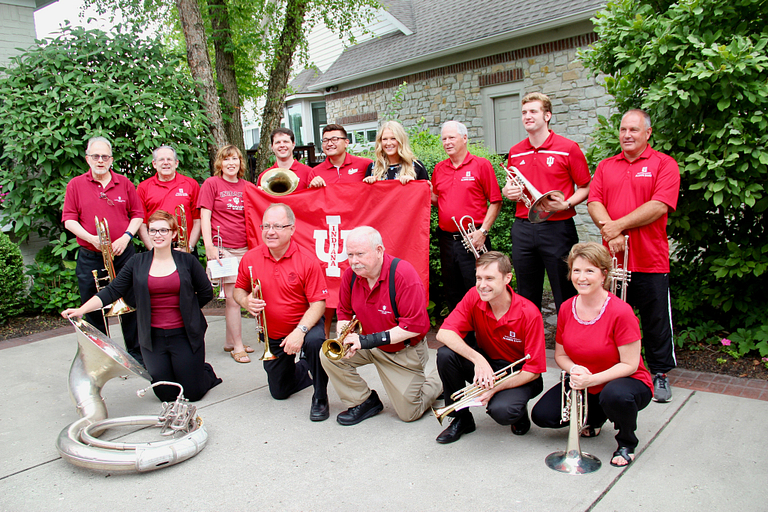 For one evening, Peppermill Lane in Fishers turned into Memorial Stadium with current and former members of the Marching Hundred serenading the neighborhood with the Indiana University fight song and other brass-driven tunes.
The occasion was Susannah Buhner's high school graduation open house and celebration of her acceptance into Indiana University. Why all the pomp? The circumstance: Buhner is the 17th member of her family to attend IU. Her parents, Zach and Mary Susan Buhner, met as students in Bloomington. Her great grandfather, John Buhner, was a chancellor at IU Northwest several years after he received his master's degree and Ph.D. from IU Bloomington.
During the band's performance, the Buhners and a guest list of extended family, friends, IU trustees, and Sidney and Lois Eskenazi all clapped and sang along. Cream and crimson adorned the invitations, balloons and even the M&M's.
Description of the following video:
Video transcript
"Lucky No. 17" video on https://youtu.be/92AkPNsNs1Y
[Video: Members of the Marching Hundred perform in the street during Susannah Buhner's open house event in Fishers.]
[Words appear: Indiana University Presents]
[Susannah Buhner speaks: It's crazy, but it's just like my family, this is what we do we celebrate, and IU admittance, it was a big day. Because it meant our legacy continues and that, it's another step towards becoming you and getting the IU education.]
[Words appear: Susannah Buhner, IU class of 2022]
[Video: The band performs more music.]
[Buhner speaks: Every member of my family has gone to IU, they rave about their education. And not just that, but the community, and the family, and the friends that you make, and the things that you're involved in set you up to be a successful person but also a great person. Which is exactly what it's about, it's to be a good person to the world and a good person to your community.]
[Video: The band plays the IU fight song.]
[Crowd speaks: IU fight, fight, fight!]
[Words appear: Indiana University Fulfilling the Promise, iu.edu]
[End of transcript]
"This is just like my family," Susannah Buhner said. "This is what we do: We celebrate, and IU admittance day was a big day because it means our legacy continues. Every member of my family who has gone to IU raves about their education, but also the community, family and friends you make and things you are involved in set you up to be a successful person and a great person."
Buhner plans on studying public relations and minoring in business while getting involved in Greek life, Student Foundation and the IU Dance Marathon. This balmy June evening had her even more enthused about starting her collegiate career, especially with volumes of advice from IU alumni family members at the ready.
"Everybody's experience is different, especially at IU because it is so big and so vast," Susannah Buhner said. "The common thread of it all is that you find yourself. Be yourself and find the people who will set you up to be you and support you no matter what you're doing."
The Buhner family tree at IU goes back four generations. Mary Susan Buhner's side, the Hershbergers, has three generations that have earned degrees in Bloomington with both families residing in the Indianapolis area.
"My parents are both IU grads," said Mary Susan Buhner, a former president of the IU alumni chapter in Indianapolis. "Growing up, we attended all of the IU football games, and we went down for basketball games. My dad (Terry Hershberger) was president of the business school's alumni chapter and student body president when he was on-campus during Herman Wells' time as IU president. He really kept saying, 'You don't have to go far from home to grow and evolve. You don't have to go far to discover who you are.' We grew up with a lot of pride for IU. We understood that this was the best school."
Mom and dad are confident that Susannah Buhner will make a tremendous impact at IU – while paving the way for younger sisters Caroline, 15, and Amelia, 12.
"It's going to be fun to see her grow there," Zach Buhner said. "It's come so far since we were there, so there is so much more to experience. We know she will get a great education with a lot of great experiences.
"IU feels like a second home for us."
After the Marching Hundred ensemble's performance, trumpeter Sean Christie, who is on the Marching Hundred Alumni Band's board of directors, said alumni have been reaching out for private gigs like the Buhner party. He's performed at IU-centric wedding receptions, and he predicts more such jobs for Indiana University's spirit soundtrack.
"The reaction is huge when we come out there," Christie said. "When we play the fight song, it's actually pretty nuts. … People come out of their chairs. They absolutely love it."