Alumni of an Indiana University Kelley School of Business program that has helped dozens of young entrepreneurs provide economic opportunities across the Middle East and North Africa are back at IU Bloomington for an advanced leadership development program.
During the past six summers, the Kelley School's Institute for International Business has presented an "entrepreneurship boot camp" to about 600 students from across the region. The Global Business Institute program, created with support from the Coca-Cola Co. and the U.S. Department of State, is concluding this year.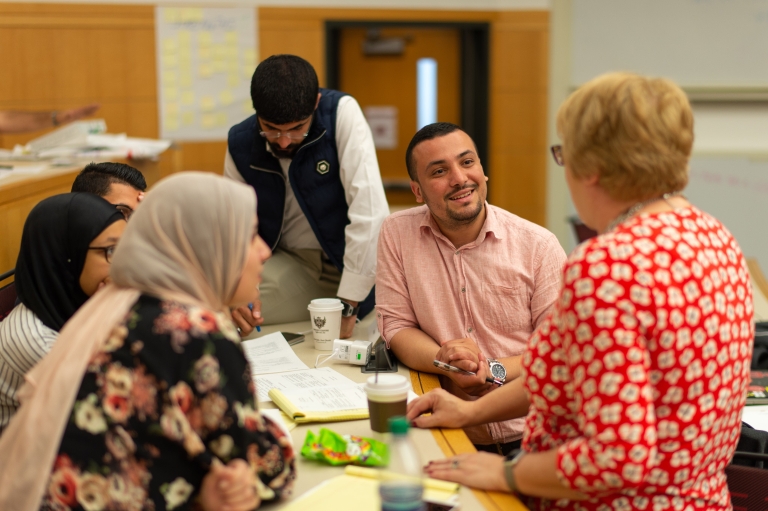 Organizers invited about 40 program alumni back for what is now the Global Leadership and Innovation program. Nations represented this year are Algeria, Egypt, Jordan, Morocco, Tunisia and the Palestinian territories. Students from Afghanistan, Pakistan and Saudi Arabia previously have participated.
In past summers, the Kelley School program taught what is involved in starting a successful new enterprise. Students in this year's program are picking up where the previous curriculum left off, said LaVonn Schlegel, executive director of the Institute for International Business.
"The Global Business Institute has had a variety of impacts on participants, including furthering international scholarship, initiating business formation and improving employment. The economic and diplomatic effects of these impacts cannot be understated," Schlegel said.
"Global Leadership and Innovation addresses the questions of how you can be a better leader for your organization and team – what can you do to help move your idea, your business, your organization to a different level of performance."
Since 2012, 164 businesses have been established and 103 are operating today – for a success rate of 63 percent. Nearly 1,000 jobs have been created in areas of the world where there is high unemployment.
More than two-thirds of alumni continue to be actively engaged in entrepreneurial activities.
The program also has fueled personal growth among its participants. Ninety-four percent of students were employed within six months of graduating and more than 160 received a scholarship to study outside of their home country.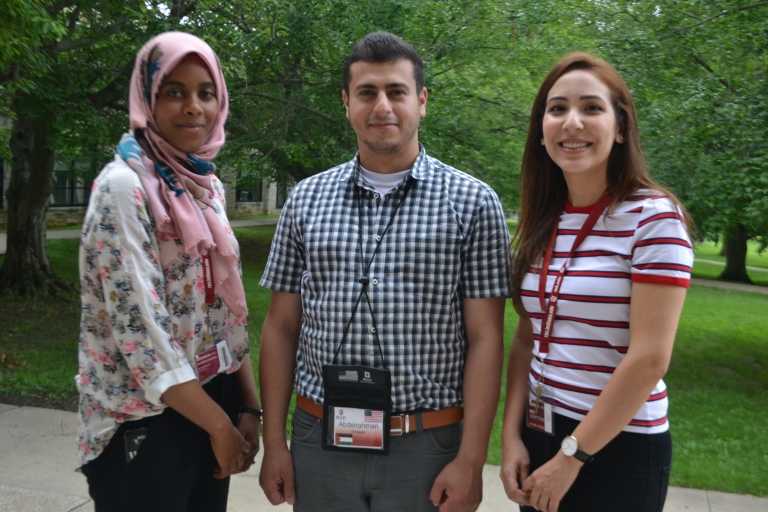 This year's class of students arrived on June 23. They will return to their home countries on July 14 after spending a week in Washington, D.C., where they will meet with business and governmental officials, visit the Lugar Center, the U.S. State Department and various embassies and tour the Capitol and the White House.
"I never thought that I'd be back here," said Dorra Jebali, a 2013 GBI alumna from Tunisia and a Ph.D. student and teaching assistant at Huddersfield Business School in England. "For me, it's been like living the dream again. … I did not hesitate one second to reapply, because I trust the kind of knowledge that we receive from this university."
In the last five years, Jebali completed her undergraduate degree at Tunisia's leading business school, worked for the Tunisian American Chamber of Commerce and interned at the UK's leading compliance and business consultancy. She said her previous Kelley experience "helped me to believe in myself."
Now teaching human resource management, she sees an opportunity to polish her instructional skills at Kelley. "I'm focusing on the things I've never seen before, like the inventive ways of delivering knowledge," she said. "Here, when they explain a theory or concept, they try to do it through activities, examples and videos. I imagine that my students will be really engaged using these methods."
Other alumni of the program said their previous experience helped them make an impact in their communities.
"What GBI did for me was a life-changing experience, since it opened my eyes to a new world full of business, creativity and innovation. I shifted myself from just being a doctor in a department in a hospital to being a leader in the community," said Dr. Abduelrahman Aldaqquh, a general practitioner in Jenin, West Bank, in the Palestinian territories.
Since being in the program in 2016, Aldaqquh has opened a community medical center that has 10 employees.
"After going back to Morocco, I focused on community service, (creating) programs, presentations and workshops in order to share all the information I got from the Global Business Institute," said Fatiha Zbayl, a 2015 GBI alumna and a graduate of one of Morocco's top universities.
Using knowledge she gained at Kelley, Zbayl has worked with an organization that helps disabled Moroccans support themselves by marketing and selling their hand-crafted items online.
In addition to what they are learning in the classroom, students said they are happy to again experience the best Bloomington has to offer, such as its vibrant diversity, natural beauty and frozen yogurt.
And they identify themselves as Hoosiers. About six months after leaving the GBI program, Aldaqquh climbed a mountain in the Swiss Alps and unfurled an IU flag upon reaching the summit.
Even though the program is wrapping up, Schlegel said the Institute for International Business will continue to support the alumni networks that have been formed.
"The relationships between our students and the faculty and staff at Kelley continue to work on individual levels," Schlegel said. "Our work in the region from a development point of view – such as our business incubator in Bethlehem – will continue to grow in new and exciting ways. With everything in life, things change, but what we learn and take away from each experience allows us to do things we can only dream of in the moment."
George Vlahakis is assistant director of communications and media relations, Kelley School of Business.