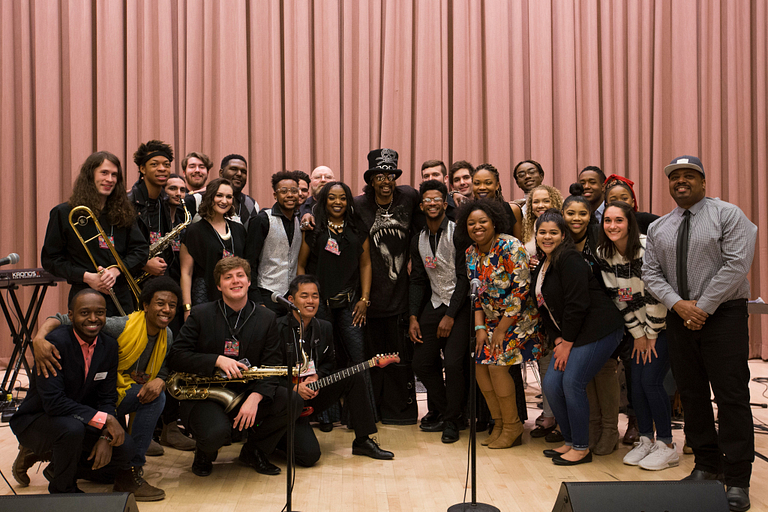 When Shai Warfield Cross first auditioned for IU Soul Revue, she was a scared, shy transfer student who wasn't confident she had what it takes to earn a spot in the renowned music group.
Fast forward three years later, and Warfield Cross is not only an integral part of the ensemble, she will be joining her fellow performers on stage at the Cincinnati Music Festival to open for music legend and funkmaster Bootsy Collins.
"You grow up in Soul Revue," Warfield Cross said. "In the beginning I was shy, and I didn't think I knew how to sing. Now, we are opening for Bootsy Collins. The transformation is crazy."
Collins' partnership with IU began in the spring when the Archives of African American Music and Culture brought him to campus for "Funkology: A Conversation with Bootsy Collins and Dr. Scot Brown" at IU Cinema.
During his time on campus, Collins stopped by while the IU Soul Revue, one of three ensembles in IU's African American Arts Institute, rehearsed for their upcoming performance at Collins' event later that evening. The bass guitar legend, whose career has spanned almost a half century, was so impressed with the group that he invited them to open for him at the Cincinnati Music Festival on July 28. 
Not only will members of Soul Revue open for Collins in his hometown, they are sharing a bill with other big names including Jill Scott, Common and The Roots.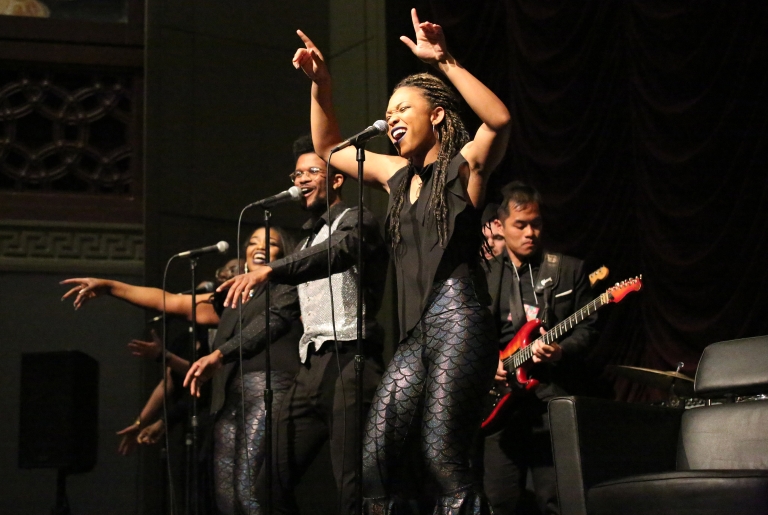 "It is a chance of a lifetime," Warfield Cross said. "You never believe something like this could happen; it doesn't seem real. This could open so many doors for us – not necessarily that someone is going to offer us a record deal, just the fact that we will have the ability to perform on the same stage as some of these artists. It's a huge confidence booster. It makes you feel like 'This dream could really happen.'"
That feeling of confidence is exactly what James Strong, director of the IU Soul Revue, wants to provide to his students. Strong, a product of the IU Soul Revue himself, has spent more than 20 years in the music industry and knows how hard the road to success can be.
By sharing his own experiences, Strong is hoping to make the students' paths to success a little easier.
"Being a product of the program and having gone out and paved my own path and now being back as director, my goal is to pass along valuable information that will help these students make their dreams a reality," he said. "I want them to know you can do this, if you really want it."
As a precursor to the upcoming festival, Strong recently took a few Soul Revue members and one alum to Los Angeles to perform with Collins and his band. Bobby Davis Jr., a doctoral student in IU's Department of African American and African Diaspora Studies, was one of those students.
Davis grew up listening to Collins' music. He was influenced by his late father, who played bass guitar and introduced his son to James Brown, Parliament and Funkadelic, along with Collins' solo music.
"Performing in front of Bootsy Collins was a dream come true, but performing with him was next-level dreaming," said Davis, who just wrapped up serving as an associate instructor for Soul Revue. "If my dad could see me now, I'm sure his face would be lit up."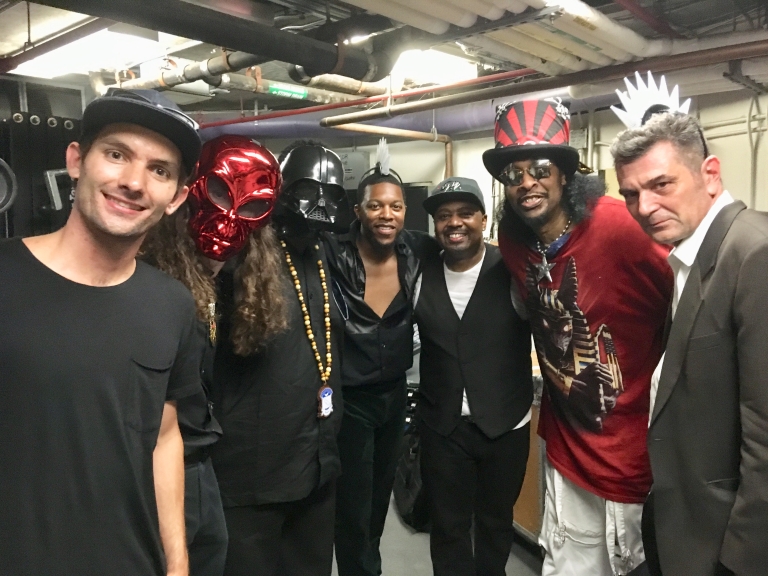 As they prepare for the upcoming festival, Davis and Warfield Cross are thankful for the IU Soul Revue, a group that not only provides "once-in-a-lifetime" opportunities but allows them to learn about the entertainment business as well as themselves.
"I gained musical, academic and social capital as a student in the IU Soul Revue," Davis said of his time as a student in Soul Revue. "I was taught how to approach performing and learning about black popular music from multiple perspectives. I learned a different approach to listening and applying music … and I learned about my culture and the soundscape we, African Americans, have created here in America throughout generations and is shared throughout the world."
"Soul revue really focuses on fostering an individual's talent and bringing it to the collective and teaching you how to work within a group," Warfield Cross said. "It is a class, but it feels like a lifestyle. They teach you so many different values and skills. It is not just music; it is everything."
The IU Soul Revue is a course offered through the Department of African American and African Diaspora Studies and managed by the African American Arts Institute. The ensemble's performance in the Cincinnati Music Festival was made possible with support of the Office of the Vice President for Diversity, Equity and Multicultural Affairs.
Description of the following video:
Video transcript
"IU Soul Revue feels the funk" video on https://youtu.be/rhz7qYXy-cs
[Video: IU Soul Revue performs while Bootsy Collins dances.]
[Words appear: IUPUI Presents]
[Bootsy Collins speaks: Somebody told me about the band: "The band is great." But I've heard millions of bands.]
[Words appear: Bootsy Collins, Funk legend]
[Collins speaks: So, I didn't think nothing of it and the next thing I know is that "Why don't you come on down to rehearsal, we want you to hear." When I came down to rehearsal I was like "That's what y'all doing up here, OK."
I was like, "if there's anything I can do, I'm in."]
[James Strong speaks: It's the opportunity of a lifetime.]
[Words appear: James Strong, IU Soul Revue director]
[Strong speaks: It's the actually the opportunity that I wish I had when I was going to school here. But to be able to play with a legendary artist like Bootsy, it's priceless.]
[Video: IU Soul Revue vocalists sing some of Collins' classic "I'd Rather Be with You."]
[Words appear: Jasmine Dennie, IU Soul Revue vocalist, arts administration graduate student]
[Dennie speaks: For us to stay there we performed with Bootsy Collins, it's just something that I couldn't even fathom.
It's like we have to wait until Saturday to see what it's gonna be like.]
[Collins speaks: To me, they is the new thing, I'm like the presenter. It's like "Here they are, ya'll. What ya'll been waiting on?" And so, for me, it makes me feel good to be able to do what James Brown did for me, he opened the door for me.
And once he opened the door, I was all up in it. And same thing could be for any one of these kids. And that is what does my heart proud.
[Words appear: IUPUI Fulfilling the Promise, iupui.edu]
[End of transcript]