Indiana University has been honoring acclaimed World War II correspondent Ernie Pyle since he was the first person to receive an honorary doctorate from the university in 1944. A statue outside Franklin Hall and a building in his name on the Bloomington campus serve as tributes to the beloved alumnus who was killed in the war. And now thanks to a resolution co-sponsored by Sens. Todd Young and Joe Donnelly and endorsed by the Ernie Plye Legacy Foundation, a national holiday has been designated in Pyle's honor.
Here are five ways to celebrate the inaugural National Ernie Pyle Day on Aug. 3:
Attend a celebration at Franklin Hall
The Ernie Pyle Legacy Foundation and The Media School will host a celebration from 10 a.m. to 2 p.m. Aug. 3 in Franklin Hall. The celebration will include a keynote address from prominent war correspondent Joseph Galloway, remarks from sculptor Tuck Langland about his approach to creating the Ernie Pyle statue on campus and a performance by Ronald May in character as Ernie Pyle.
Visit the Ernie Pyle sculpture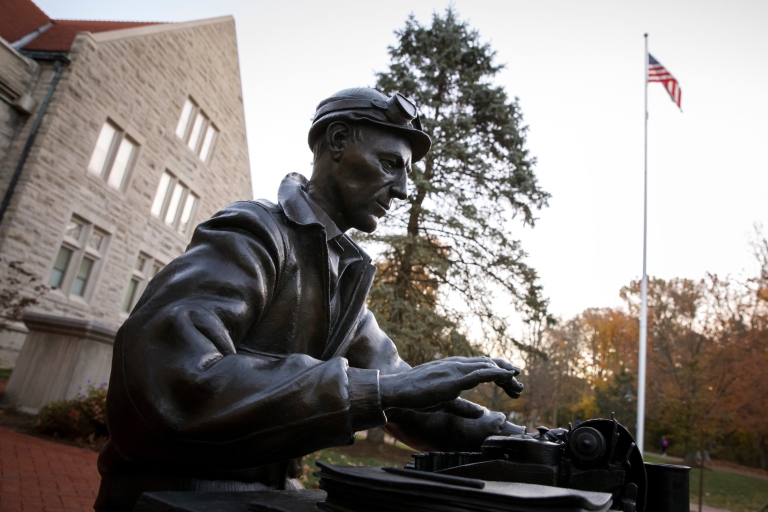 In 2014, the former IU School of Journalism joined forces with the former Department of Telecommunications and Department of Communication and Culture to create The Media School.
When the new school found a home in a renovated Franklin Hall and journalism classes left Ernie Pyle Hall to make way for the Office of Admissions and the Walter Center for Career Achievement, the addition of a sculpture depicting Pyle at his typewriter with a cup of coffee kept the columnist's spirit close to the new home of IU journalism.
Pay your respects to Pyle by placing flowers or (as some alumni have done) a cigarette near Pyle's spot outside Franklin Hall.
Read 'At Home With Ernie Pyle'
Pyle may have been celebrated for the writing he did in Europe and revered for his sacrifice in the Pacific, but he was a Hoosier at heart. In "At Home With Ernie Pyle," IU journalism associate professor emeritus Owen V. Johnson edited a collection of Pyle's columns on the state of Indiana and its people.
Pick up this book to find out why Pyle thinks the "country people" of Indiana are the only ones who truly know what it means to be good neighbors, or read his account of learning that his mother had passed away in Dana, Indiana, while he was thousands of miles away in London.
Check out the renovations to Ernie Pyle Hall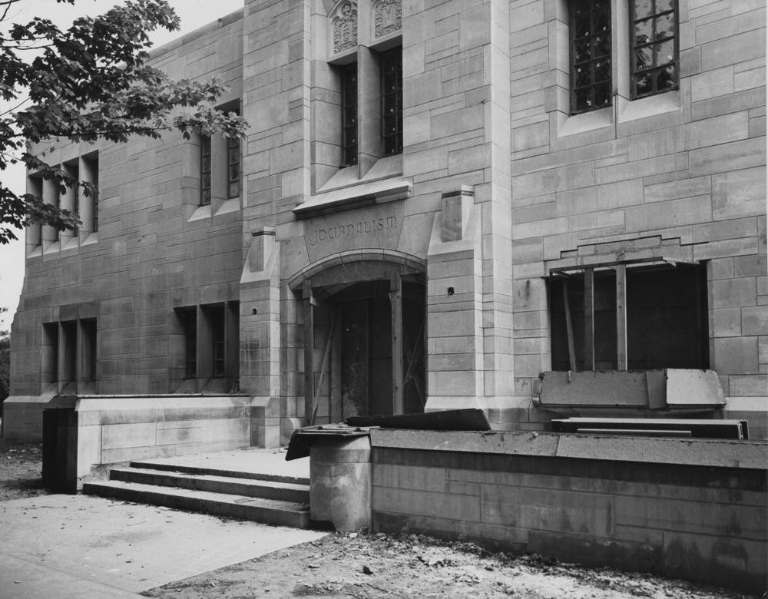 The Office of Admissions has begun giving presentations in Ernie Pyle Hall, and renovations to the building are expected to be completed by the end of the summer.
To honor the building's namesake, IU Bloomington's curator of campus art is gathering artifacts to be on display in Ernie Pyle Hall. Producers of an upcoming documentary will also craft a short video to teach visitors to the building and to campus about Pyle's legacy.
Drop-in tours of Ernie Pyle Hall will be available from 2 to 4 p.m. on Aug. 3. Check out updates to the building and the pieces of Pyle that remain.
Read Pyle's letters at the Lilly Library
Among collections of newspaper clippings of Pyle's columns and carbon dispatches Pyle sent to newspaper publisher Scripps Howard while in the field, IU's Lilly Library has an extensive collection of letters he wrote to his wife and best friend while abroad.
The collection includes 99 letters written to his wife, Geraldine Pyle, and 108 letters to former IU classmate Paige Cavanaugh. Pyle uses 97 pseudonyms in signing his letters to Cavanaugh, many of which are colorful. Those interested in reading the letters can use the Lilly Library request system to put the collection on hold in the Lilly Library reading room.