About 18 months ago, a group of Indiana University faculty and staff and Lawrence County leaders considered creative and effective ways to collaborate on community-identified opportunities and challenges. A list of 40 project ideas was narrowed to 14, and 20 IU Bloomington classes – composed of more than 550 graduate and undergraduate students, taught by 16 faculty members – joined county residents to realize goals that support a healthy, resilient and prosperous community.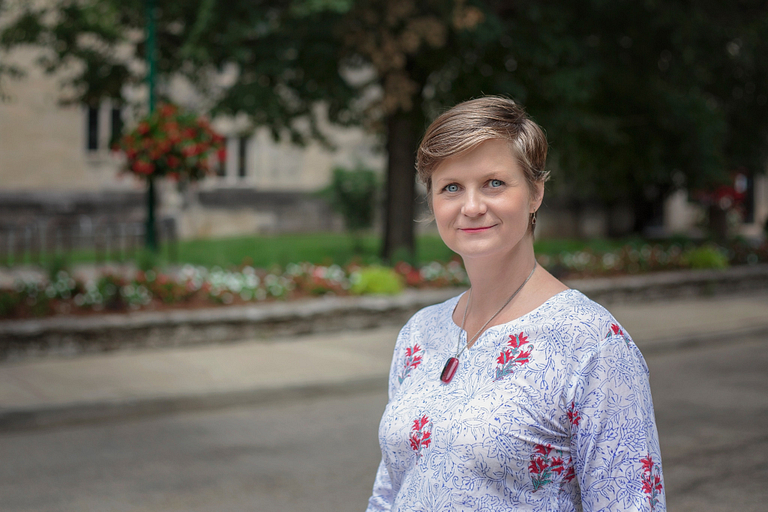 Projects included management and promotion of natural resources, such as the Dark Sky Places designation initiative in Hoosier National Forest; innovative approaches that foster entrepreneurship with a co-working facility proposal; improved infrastructure and quality of place for residents through reimagined city gateways and logos for Bedford and Mitchell and a Complete Streets planning approach.
An initiative of the Center for Rural Engagement based on a national model of the EPIC-Network, Sustaining Hoosier Communities emerged in its pilot year as the largest rural collaboration of its kind in the country. We presented an alternative EPIC-N model, founded on our experiences in Lawrence County and our plans with Orange County, at the national conference in Madison, Wisconsin. Bringing the resources of a large research institution to rural communities is a new twist, and our national and international partners were excited to hear about our challenges and successes.
For some faculty and students, Sustaining Hoosier Communities was a homecoming. School of Social Work professor and Lawrence County resident John Keesler launched a community survey of attitudes toward issues of addiction and mental health. Lauren Travis – a recent graduate from the School of Public and Environmental Affairs' Master of Public Affairs program and a Washington state transplant – found her new home and career here in this region as she discovered first-hand the energy and care Hoosiers place in their communities. Sarah Murphy, an undergraduate student from Bedford, worked with her integrated resource management classmates to identify plans for the recently decommissioned Avoca Fish Hatchery.
Sarah expressed feelings of pride in her home community because of their enthusiasm and interest in both the project and the future of the property. All this, she said, made it clear that despite the allure of work in the National Parks system, "there's lots of work to be done in our local communities."
Daisy Heath, a student who worked on the "What Moves You Mitchell" project to educate residents about hypertension and to promote physical activity, saw that her class could have an impact on people's lives by applying what they were learning in the classroom to a rural town. The experience solidified her aspirations to be "a physician working on the side of prevention and education," and without the class, she wouldn't have been introduced to the small community in the Indiana Uplands region.
The community welcomed us as neighbors, and when faced with important questions, they responded with enthusiasm. More than 3,000 residents voiced their thoughts through surveys and public meetings. The Lawrence County project partners, representing a dozen organizations, held integral roles in the process and planning. Their wealth of knowledge informed and inspired the IU teams.
The Center for Rural Engagement's partnership will extend well beyond the Sustaining Hoosier Communities initiative, and Professor Keesler's work on issues of addiction and mental health will continue in the coming year. The center is committed to fruitful collaborations toward a brighter future for all Hoosiers, and Lawrence County provided a launch point to propel this vision.
In the fall, Sustaining Hoosier Communities will commence a new set of projects in Orange County, bringing with it the knowledge and experience we gained in this first year. Sustaining Hoosier Communities welcomes engagement from the wide range of academic disciplines across campus on these projects, which include fostering entrepreneurship, addressing emerging public health needs, and developing and promoting local arts and cultural assets. In August, faculty, staff and students will kick off a new year side-by-side with the community. Sustaining Hoosier Communities is one of the many ways students can engage in an IU Corps experience.
Bedford Mayor Shawna Girgis, the early community adopter of Sustaining Hoosier Communities, told us that the enthusiasm and new ideas that students brought to the projects lit a spark in her community and created a renewed sense of excitement and optimism for the future. As I approach my 21st anniversary at Indiana University, I share her sentiment and see the spark the local residents bring to our work. Together, IU and the state's rural communities are creating a stronger Indiana.
Jane Rogan is director of the Sustaining Hoosier Communities initiative.