IU Bloomington receives $1 million grant to support research in arts and humanities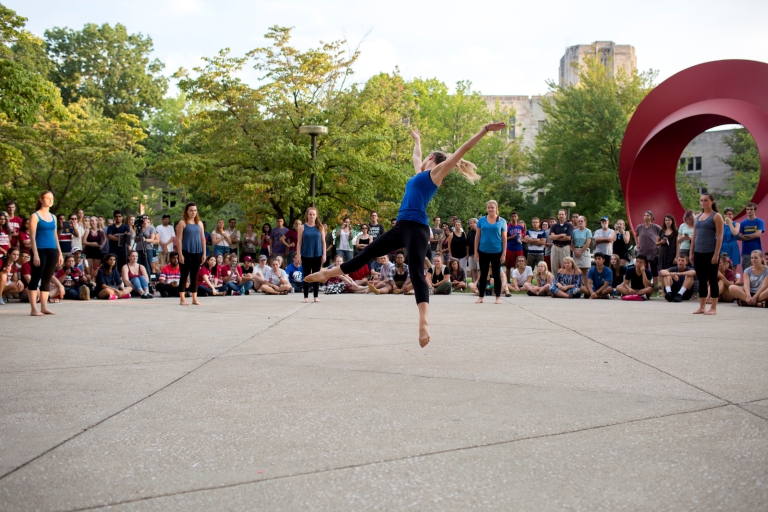 The Andrew Mellon W. Foundation has awarded a four-year $1 million grant to Indiana University Bloomington to support student and faculty research in the arts and humanities focused on Indiana studies and global popular music. The Office of the Provost and the Office of the Vice Provost for Research will provide an additional institutional commitment of $1 million to support the work funded by the grant.
The support will be used to create Platform, a collaborative research laboratory dedicated to contemporary arts and humanities and administered jointly by the College of Arts and Sciences and the Office of the Provost. The co-principal investigators for the grant are Jonathan Elmer, professor of English and director of the College Arts and Humanities Institute, and Ed Comentale, professor of English, associate vice provost for arts and humanities, and director of the IU Bloomington Arts and Humanities Council.
IU to host workshops, speakers on science and religion
IU Bloomington will partner with an American Association for the Advancement of Science project to host workshops and guest speakers to help scientists engage and communicate with diverse audiences, particularly on topics that intersect with faith and religion.
IU Bloomington was selected for the AAAS Dialogue on Science, Ethnics and Religion workshop series along with Stanford University, Texas State University, Vanderbilt University, University of Maryland-Baltimore County and Howard University.
The IU proposal came from Jayne-Leigh Thomas, director of the university's Native American Graves Protection and Repatriation Act office, and April Sievert, director of the Glenn A. Black Laboratory of Archaeology. Thomas said NAGPRA, with its focus on scientific and Native American world views, provides an ideal context for discussing science and religion. Events will be scheduled in early 2019.
Shelly Schwarz makes gift to IU Excellence Academy in honor of late husband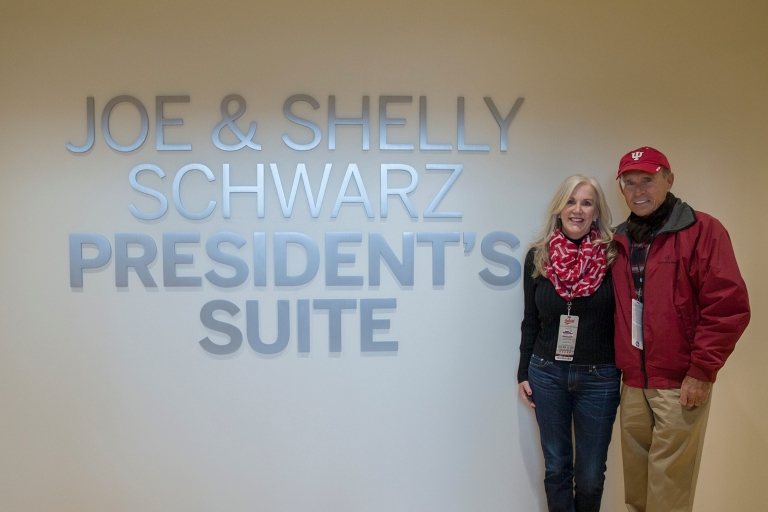 IU Athletics recently announced a major gift by Shelly Schwarz in honor of her late husband, Joe Schwarz, supporting the IU Athletics Excellence Academy being constructed in the south end zone of Memorial Stadium. In recognition of her gift, the President's Suite in the Excellence Academy will be permanently named for them.
The Joe and Shelly Schwarz President's Suite will be on the second level of the Excellence Academy adjacent to the Tobias Nutrition Center. Formerly on the seventh floor of the Memorial Stadium press box, the suite will be used during home football games for hospitality and game viewing. The space will also be used for meetings and events throughout the year.
The Excellence Academy is a $53 million, 66,575-square-foot facility which will enclose the south end zone of Memorial Stadium and create a bold new "front door" to campus for IU Athletics. The Excellence Academy is set for completion this summer.
Students, staff and faculty honored, promoted, hired
Read about recent IU student, staff and faculty honors, promotions, hires and grants, including:
Aparna Soni, a doctoral candidate in business economics and public policy in IU's Kelley School of Business, who received $7,500 to support her research on how policies and incentives can improve health outcomes and reduce risky behaviors in the population.
Padraic Kenney, professor of history and international studies, who has been named director of the Collins Living-Learning Center.
Catherine E. Reck, professor of chemistry, who has been awarded the 2018 Distinguished Service Award for IU Bloomington.
Caroline Chick Jarrold, professor of chemistry in the College of Arts and Sciences, who has been named a Class of 1948 Herman B Wells Endowed Professor.
Christiana Ochoa, professor and Charles L. Whistler Faculty Fellow in the IU Maurer School of Law, who has been named a Class of 1950 Herman B Wells Endowed Professor.
Justin Maxwell, assistant professor of geography in the College of Arts and Sciences, who has been awarded a Bullard Fellowship at Harvard Forest, a 4,000-acre laboratory and outdoor classroom that is part of Harvard University, to study species-specific responses to drought in the Eastern United States. The fellowship program supports research that show promise of making important contributions to forestry and forest-related subjects.
Jeff Mercer, who has been named head coach of IU baseball program.
No summer break for shuttle between Bloomington and Indianapolis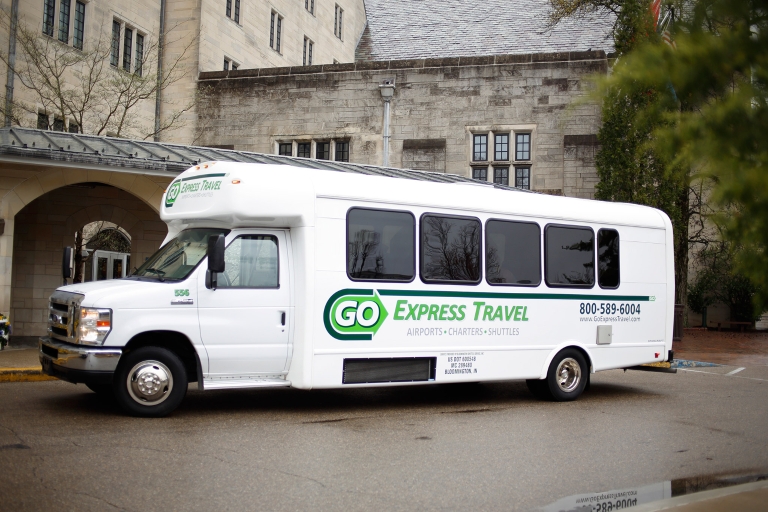 The intercampus shuttle service connecting IU Bloomington and Indianapolis will continue its regular schedule throughout the summer, easing the way for students, faculty and staff during what is expected to be a busy construction season along State Road 37.
A shuttles ticket is $12 one way, and reservations must be made online to use the service. Review the schedule and secure a seat at www.campuscommute.com.
WTIU to host inaugural Conference on Aging on July 28
WTIU Public Television is dedicating an entire day to exploring, explaining and navigating some of the issues of growing older.
The inaugural WTIU Conference on Aging will take place from 9 a.m. to 4 p.m. July 28 at the Radio-TV Building on the IU Bloomington campus. WTIU is pulling together area experts and resources to help participants determine what to ask, who to ask, how to ask and when to ask questions about aging.
The event is open to both caregivers and those who would like some advice on more informed aging. Register on the WTIU website or by calling 800-933-9330. The cost is $25 for one admission or $40 for two admissions, and lunch will be provided. For more information about the conference, contact Joan Padawan, WTIU events coordinator, at 812-856-2174.
Whirlpool Foundation, IU alumni Jeff and Marcia Fettig give $2 million to Kelley School of Business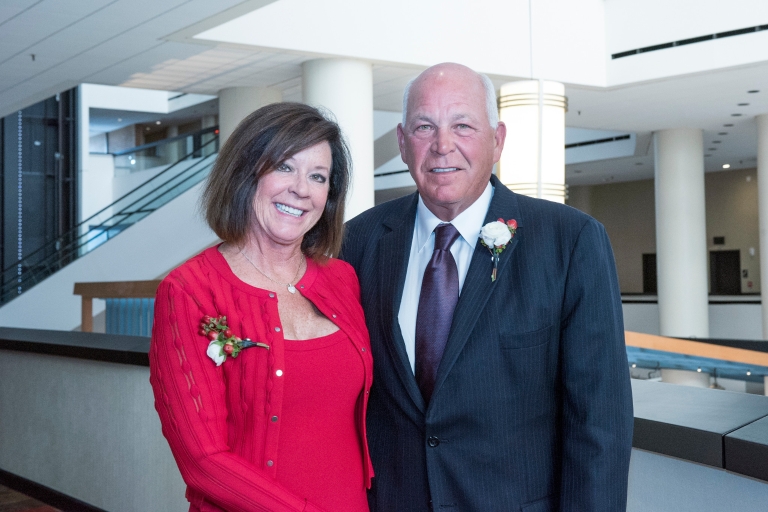 Gifts totaling $2 million from IU alumni Jeff and Marcia Fettig and the Whirlpool Foundation will support IU Kelley School of Business efforts to attract and retain top faculty, provide scholarships to students, and strengthen its initiatives in digital intelligence and social entrepreneurship.
Fettig joined Whirlpool 37 years ago and stepped down as CEO last year after 13 years leading the company; he remains chairman of the board. In recognition of his service, the company's foundation donated $1 million to the Kelley School, and the Fettigs are matching this gift.
IU Bloomington students, alumni receive Critical Language Scholarship from U.S. Department of State
The Critical Language Scholarship Program is an intensive overseas language and cultural immersion program for American students enrolled at U.S. colleges and universities. The program includes intensive language instruction and structured cultural enrichment experiences designed to promote rapid language gains.
The following IU Bloomington students and alumni were awarded the scholarship for summer 2018:
Connor Baskin, who will study Turkish in Baku, Azerbaijan.
Boryana Borisova, who will study Russian in Bishkek, Kyrgyzstan.
Margaret Bott, who will study Turkish in Baku, Azerbaijan.
Donald Bradley, who will study Japanese in Hikone, Japan.
Yassim Fashir, who will study Arabic in Tangir, Morocco.
Christian James, who will study Hindi in Jaipur, India.
Jamie Lui, who will study Chinese in Changchun, China.
Kristen Pimley, who will study Korean in Busan, South Korea.
Kaethe Schroeder, who will study Turkish in Baku, Azerbaijan.
Nancy Smith, who will study Persian in Dushanbe, Tajikistan.
IU Cinema to launch new website, releases fall 2018 programming line-up
In the past, IU Cinema has released fall season events on a rolling basis throughout the months of July and August. This summer, as they prepare to launch a new IU Cinema website, tickets will go on sale on the following two occasions:
June 28: All August 2018 events on sale.
Aug. 20: All September to December 2018 events on sale.
The streamlined and updated site is expected to launch Aug. 20, but in the meantime, patrons can explore the entire fall 2018 programming line-up in the IU Cinema Fall 2018 Program Booklet. Tickets for August events can be purchased through the IU Cinema online ticketing portal or by visiting the IU Auditorium box office during normal business hours, 10 a.m. to 5 p.m. Monday through Friday.
IU Kelley School Global Business Institute alumni return for program's final year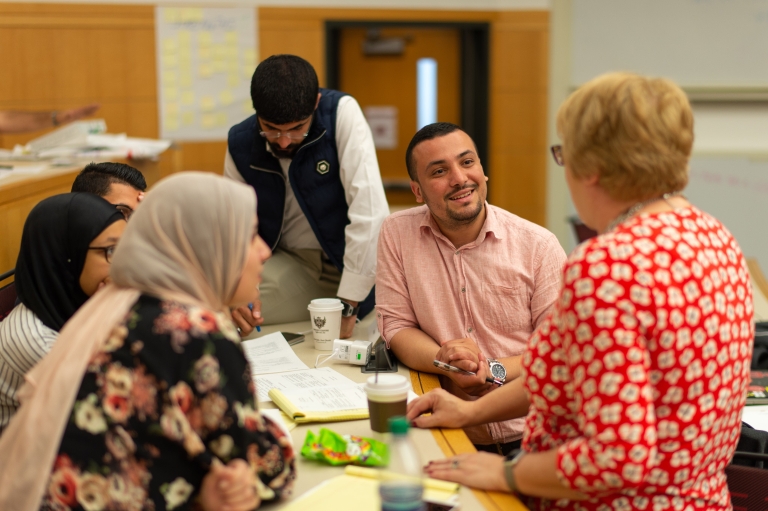 Alumni of an IU Kelley School of Business program that has helped dozens of young entrepreneurs provide economic opportunities across the Middle East and North Africa are back at IU Bloomington for an advanced leadership development program.
During the past six summers, the Kelley School's Institute for International Business has presented an "entrepreneurship boot camp" to about 600 students from across the region. The Global Business Institute program, created with support from the Coca-Cola Co. and the U.S. Department of State, is concluding this year.
Organizers invited about 40 program alumni back for what is now the Global Leadership and Innovation program. Nations represented this year are Algeria, Egypt, Jordan, Morocco, Tunisia and the Palestinian territories. Students from Afghanistan, Pakistan and Saudi Arabia previously have participated.
IU Bloomington to host national Boy Scouts of America event
The IU Bloomington campus will host more than 8,000 scouts and troop leaders July 30 through Aug. 4. The National Order of the Arrow, Scouting's second largest national event, provides opportunities for students from across the country to spend six days for an experience full of training and adventure.
Conference-goers will occupy IU residence halls, and since this year's conference has a sustainability theme, the IU Office of Sustainability will assist with programming.
WFIU, WTIU, and IU Radio and Television Services earn eight national awards
WFIU Public Radio, WTIU Public Television, and IU Radio and Television Services have won a combined eight national awards in recent contests.
WTIU's locally produced documentary "James Whitcomb Riley: Hoosier Poet" earned a Silver award in the biography category and a Bronze award for writing. IU Radio and Television Services won two Bronze awards in the non-broadcast biography category and a Silver award in the non-broadcast nature/wildlife category. The Telly is the premier award honoring outstanding local, regional and cable TV commercials and programs, as well as the finest video and film productions, and web commercials, videos and films.
With the latest wins, WFIU, WTIU, and IU Radio and Television Services have now earned a total of 60 awards for their work in 2017, including seven Regional Edward R. Murrow Awards, 18 Indiana Associated Press Broadcaster Awards, 25 Indiana Society of Professional Journalists Awards and two regional Emmy awards.