Renovation of the Campus Center food court began Monday afternoon, setting the table for a new look and a new lineup of dining choices for IUPUI students, staff and faculty members.
In partnership with Chartwells, construction in the food court area is expected to last until August 2019. The space will welcome popular Chinese food chain Panda Express and Simply PUUR, a grab-and-go café that features a menu with many locally sourced items and foods prepared from scratch including vegetarian selections. Simply PUUR will replace Outtakes convenience store, while Outtakes will be rebranded as The Market. The convenience store's new location will be in the food court area.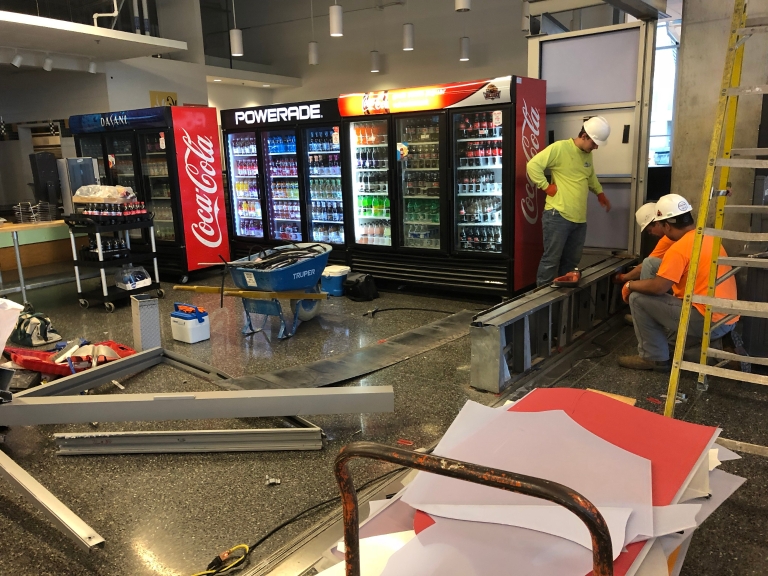 Chick-fil-A and Papa John's will remain, while a "student choice" will fill out the dining lineup. Students will be able to vote from a selection of concepts including Tu Taco, Za'tar (Mediterranean), Smoked (barbecue), The Egg Shoppe (breakfast), Iron Waffles, SMASH'D (baked potatoes), Burger 317 and Rooted (vegetarian), among others.
The renovation will improve the aesthetic appeal, function and efficiency of the Campus Center food court. The food court will be more open, visible and inviting to all who visit the Campus Center. Seating capacity in the food court will increase 20 percent (to 380) and offer a mix of different seating options from rail seating to large communal tables to club seating. Wait times will decrease as each food location will offer its own cash registers, rather than use a centralized pay station, so customers will only need to stand in line once.
The Campus Center food court will remain open throughout the renovation period and offer plenty of seating. All food options will be available, but they could be temporarily relocated either within the Campus Center food court or in Tower Dining. Signage will indicate which food options are being offered and where.
To minimize disruption, the renovation will occur from 2 p.m. to 2 a.m. Monday through Friday and weekends, as necessary, in the early phases. Hours may be adjusted as Chartwells moves throughout the construction process, but service will not be affected.