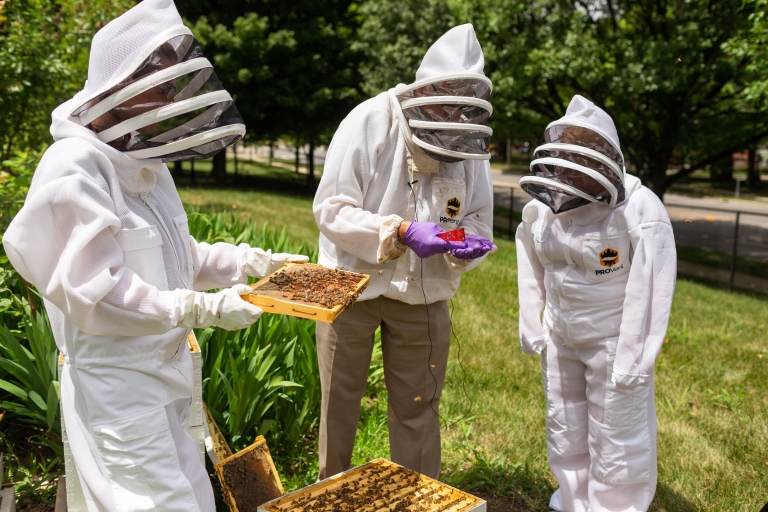 Bee puns buzz by quickly during IUPUI's Summer Beekeeping Sessions, one-hour workshops open to anyone.
"Bee there or bee square. Bee happy," said Melissa Kidulas with a laugh. She is the community engagement intern for the Office of Sustainability, president of the IUPUI chapter of Urban Beekeepers, and a senior studying sustainable management and policy. "I sign my e-mails with 'Have a bee-utiful day.' "
Dr. Steven Blanchard, also known as "Dr. Bee," has teamed up with Kidulas this summer to share the basics of beekeeping by utilizing the two hives in an IUPUI on-campus garden area. The hives of honeybees are contained in two stacks of four boxes. Thousands of worker and drone bees serve one queen in each hive. Honey is extracted about once a year, but the hives are inspected every 10 to 15 days.
The last two summer beekeeping sessions are scheduled for 1 p.m. July 17 and 12:30 p.m. July 27. Fall sessions will be announced soon.
Attendees must sign up before each session and sign a waiver. Everyone receives protective clothing in the form of gloves and a breathable jacket that has a protective mesh head and face covering. Closed-toe shoes must be worn, and hair must be pulled back. Sessions are limited to five attendees.
At a recent session, computer science sophomore Sofia Gunther held a frame from one of the hive boxes. It was heavy with honey, nectar, pollen, eggs, bee larvae and hundreds of worker bees tending to the honeycomb-patterned surface.
"I was afraid I was going to smash the bees," said Gunther, who drove more than an hour from Delphi to attend the session during her summer break. "I turned the frame over to look at the other side, and it was full of bees."
Growing up in a rural area of Indiana, Gunther had an interest in beekeeping but thought she would pursue it after college. This session gave her a jump-start in experience. She walked away more excited about her potential hobby.
"I was surprised at how fine I felt with the bees surrounding me," she said.
Sweet keeping
Blanchard got the bug for beekeeping after visits to the Indiana State Fair. While his dentistry career took center stage, he got the taste for maintaining hives that can hold more than 50,000 insects. The biggest concern is bee stings, but honeybees will only sting when they feel threatened – while the bee sting is painful to the recipient, it is fatal to the bee since the barbed stinger is ripped from the bee's abdomen in the process of stinging. Blanchard could attest to that when he would enter and inspect the hives without gloves. His old, bulky leather gloves were too clumsy to hold frames well, so he tried beekeeping without them.
"I would be stung on a regular basis, most of the time for putting my fingers on bees I didn't see," Blanchard explained. "If I get stung once or twice, it's no big deal. This spring, the bees in one hive weren't too happy, and I got stung multiple times in just a few seconds."
Blanchard now usually wears thin, nitrile gloves with a smooth texture the bees can't grab onto in order to sting.
Aside from the protective garb, Blanchard said, beekeepers need only two tools: a hive tool for helping pry open lids and to lift up frames glued together by the bees' propolis and a smoker, which has a mysterious effect on the insects.
"Some people say it disorientates the bees; other people say it calms the bees," said Blanchard, who usually starts the smolder with straw or paper before moving to wood chips. "But you always want a smoker, because it does calm things down."
Bee facts from Dr. Steven "Bee" Blanchard
On this June afternoon, Blanchard inspected several frames in both hives. He found the elusive queen – marked with a bright yellow dot by Blanchard to assist in locating her – in each. Ensuring the queen is still reigning well over her hive is one of the main goals in beekeeping.
"When we go into a hive and look at it, we're really looking to see if there is enough room for the queen to lay eggs, especially this time of year," Blanchard said. "And we have to make sure the queen is in there, because without the queen, the bees won't survive."
Each frame told a different story. Some were laden with honey ready to be consumed, while others had honey that needed more time. Capped with wax, many cells in the frames were filled with eggs and larva. The baby bees chew out of the wax when they are finished pupating – ready to join the colony. Some frames had nectar and pollen brought back from the worker bees' foraging.
"They put different colors of pollen in different cells," Kidulas said. "It looks really cool. It looks like a painting."
Bee Campus USA
With the support of the Office of Sustainability, Kidulas maintains IUPUI's status as a Bee Campus USA – a national recognition of its "adoption of rigorous commitments to raise awareness and enhance habitat for pollinators." Bee City USA bestowed the honor on the university in 2017, making it the 31st university nationwide and first public institution in Indiana to have such a title. Bee City gives IUPUI free resources, webinars and easy networking with other Bee Campuses.
"One of the requirements for Bee Campus is to have a group of students to support the bees so I created the bee club," Kidulas said. "We officially began in December of last year. My goal for the organization is to get a group of students who are able to bee-keep and take care of these hives and expand, eventually, on their own."
Located in the southwest corner of campus beyond a couple of softball fields, the hives and the garden are a hidden oasis for outdoorsy Jaguars. The space shows the university's commitment to sustainability by utilizing nature's bounty.
"You can take these skills home and bee-keep yourself," Kidulas said.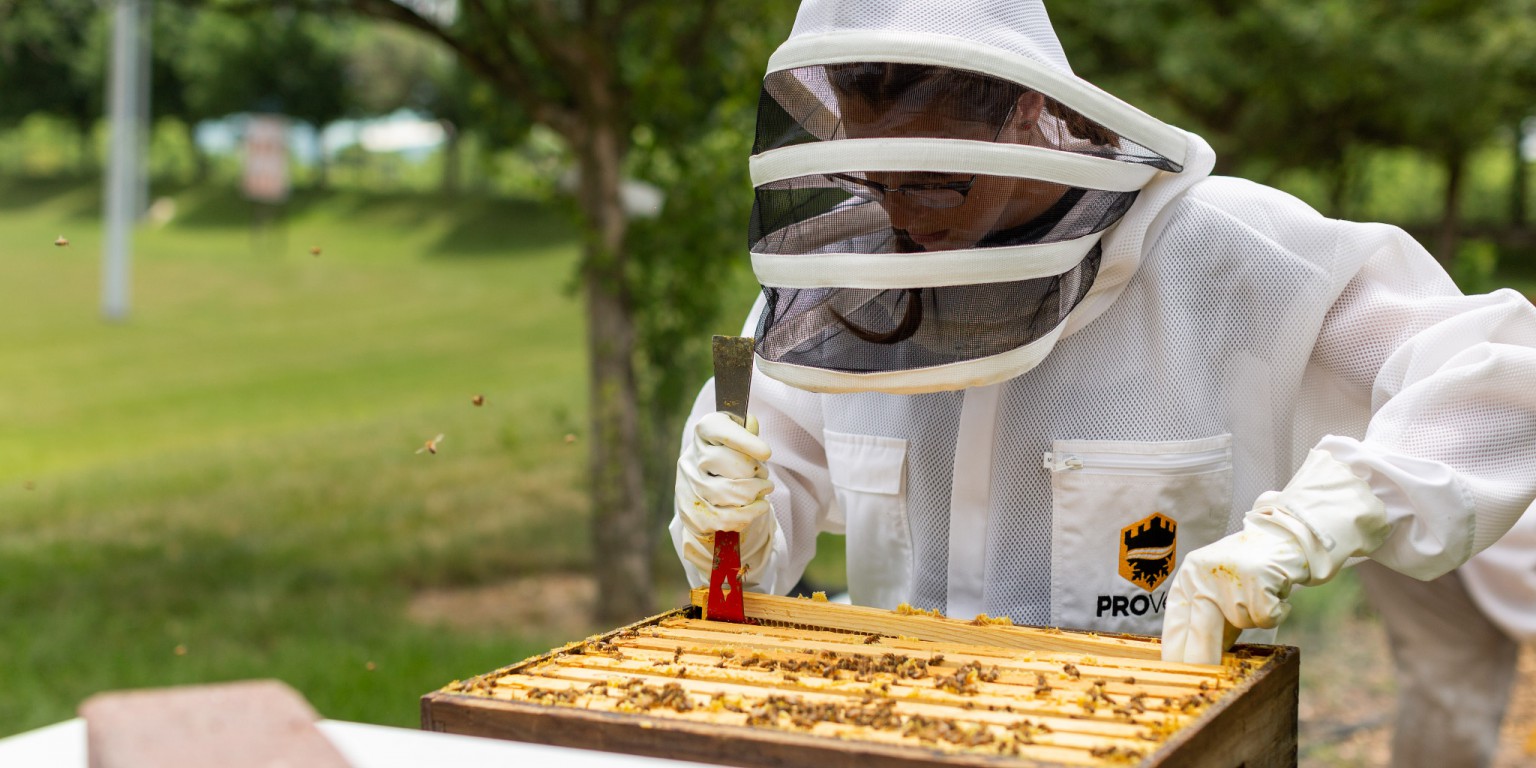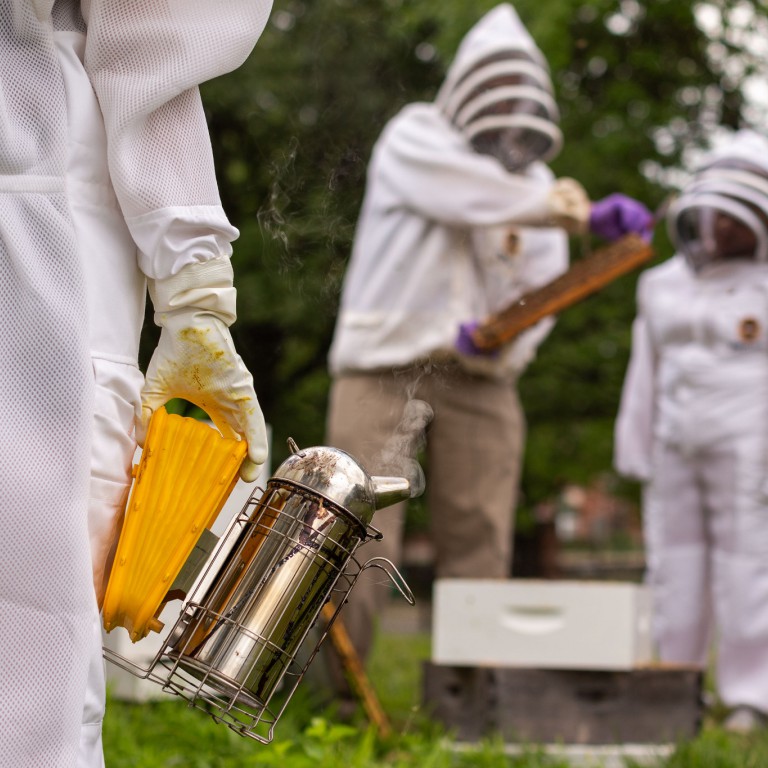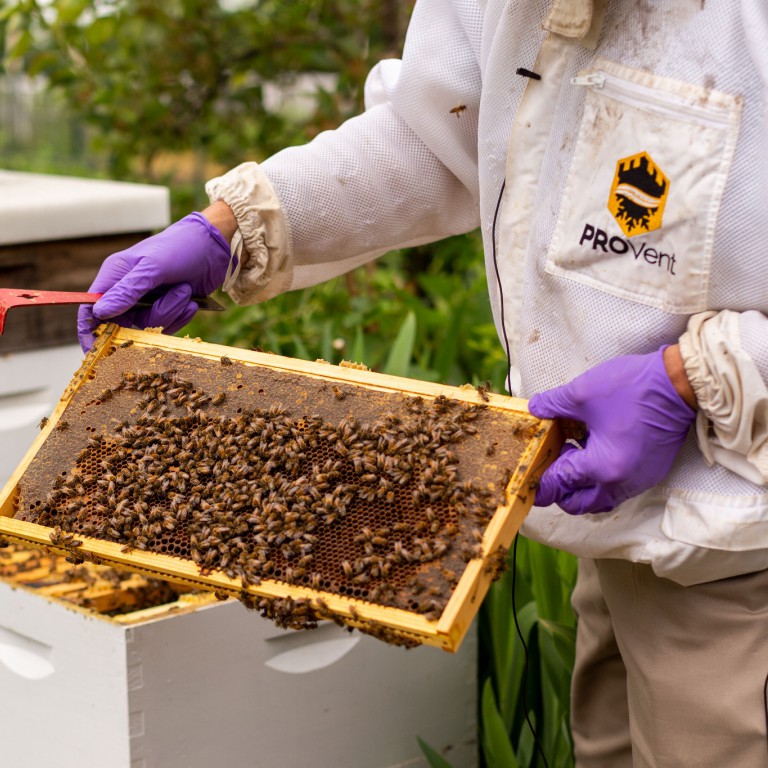 Photos by Liz Kaye, IU Communications