School of Liberal Arts at IUPUI sees leadership change
Thomas J. Davis, dean of the Indiana University School of Liberal Arts at IUPUI, stepped down from his leadership position effective June 30. Professor Robert Rebein will serve as interim dean while the school conducts a search for its next dean.
Davis will return to the Department of Religious Studies as a professor following a leave of absence. He said personal reasons led to his decision to step down from his leadership role.
Davis earned his Bachelor of Arts from West Georgia College, a Master of Divinity from Louisville Presbyterian Theological Seminary and a Ph.D. from the University of Chicago. He has authored and edited multiple books, including works on John Calvin and the Reformation as well as the novels "The Christmas Quilt" and "The Devil Likes to Sing." Davis took over as dean of the School of Liberal Arts in 2015.
Michigan Street construction complete
Happy news for commuters: Construction on Michigan Street within the IUPUI campus ended June 29. The main thoroughfare has been converted into a two-way street: Michigan Street now takes drivers eastbound to West Street, while westbound still takes drivers through all of campus.
Blackford Street was repaved and converted to two-way as well. Lines were repainted on both streets. Some landscaping in the medians will be added, but the newly opened two-way street allows for smoother traffic flow.
Submit quips for July edition of Special Collections and Archives Caption Contest
Enter your captions for the IUPUI Special Collections and Archives Caption Contest for July for the chance to win a prize.
Congratulations to Joseph Dynlacht for winning last month's contest with his caption: "OK, who's up for a read-a-thon? Grab your books and your umbrella and meet us at the old termite-infested picnic table!"
Mandela Washington Fellows visit IUPUI
The 2018 cohort of the Mandela Washington Fellows visited IUPUI from June 20 to July 2, absorbing intellectual and cultural experience in the process. The 25 men and women checked out IUPUI's take on their respective fields through numerous tours, presentations and learning sessions.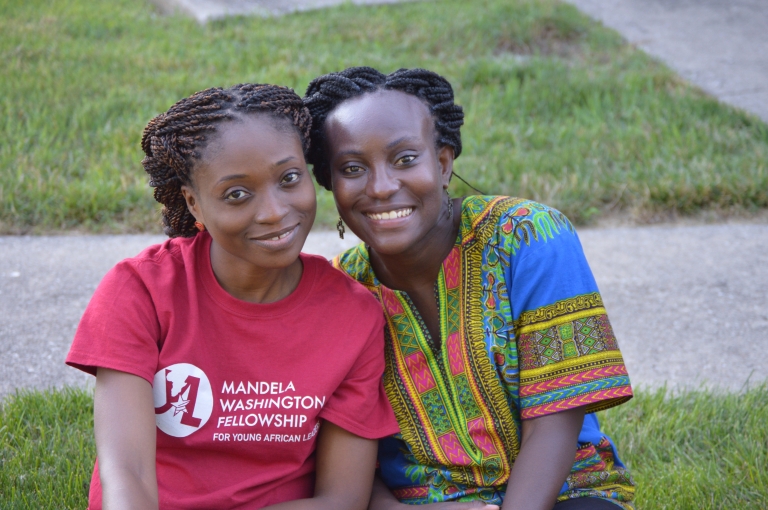 The researchers will be based at Indiana University Bloomington through the rest of the summer before heading to Washington, D.C., for the fifth annual Mandela Washington Fellowship Summit, where they will take part in networking and panel discussions with each other and with U.S. leaders from the public, private and nonprofit sectors.
The fellows' work in Africa is spread among fields that match up well with IUPUI and IU programs: medicine, business, journalism, activism, social work and law.
Summer shuttle is a cool way to get to Btown
The intercampus shuttle service connecting Indiana University Bloomington and Indianapolis is continuing its regular schedule throughout the summer, easing the way for students, faculty and staff during what the busy construction season along State Road 37.
Campus Commute offers four daily trips from each campus, Monday through Friday, with two pickup locations on each campus. In Indianapolis, the bus stops at the IUPUI Campus Center and the Indiana Statehouse. In Bloomington, the pickup locations are the Indiana Memorial Union circle drive and the Memorial Stadium purple lot.
The shuttles offer free Wi-Fi service, and the fee is $12 per ticket one way.
You must make a reservation online to use the shuttle service. Review the schedule and secure your seat at www.campuscommute.com.
Kelley podcast sits down with the governor
Kelley School of Business at IUPUI's "The ROI Podcast" has posted more than 50 episodes, and it recently celebrated a special guest.
Indiana Gov. Eric Holcomb sat down with co-host Phil Powell, associate dean of academic programs for the Kelley School of Business at IUPUI, for a 17-minute interview that dropped June 25. Powell conducted the interview from the governor's residence.
Topics discussed include technology in Indiana, preparing Indiana's workforce and talent shortages. Holcomb also gives some advice to listeners when it comes to "dreaming big."