BLOOMINGTON, Ind. – Private support is instrumental in ensuring that a world-class Indiana University education remains accessible and affordable for students from all backgrounds. In fiscal year 2018, 111,791 donors supported this vision with gifts and grants totaling $550.1 million.
This total represents a 19 percent increase from fiscal year 2017 and marks a fifth consecutive record year of philanthropic support. It includes record totals of $347 million in philanthropic gifts and $203.1 million in nongovernmental grants.
IU received more than 163,000 philanthropic gifts from 111,212 donors and more than 1,150 grants from 579 institutions.
IU alumni accounted for more than $157 million and 45 percent of philanthropic gifts raised. The $347 million in philanthropic gifts represents a fifth consecutive record year and is an 18 percent increase from fiscal year 2017.
Of the $347 million in philanthropic gifts, 39 percent were designated by donors for academic and student program support, 36 percent for faculty support and research, 16 percent for student scholarships and financial aid, 7 percent for facilities and 2 percent to a wide range of mission-related initiatives.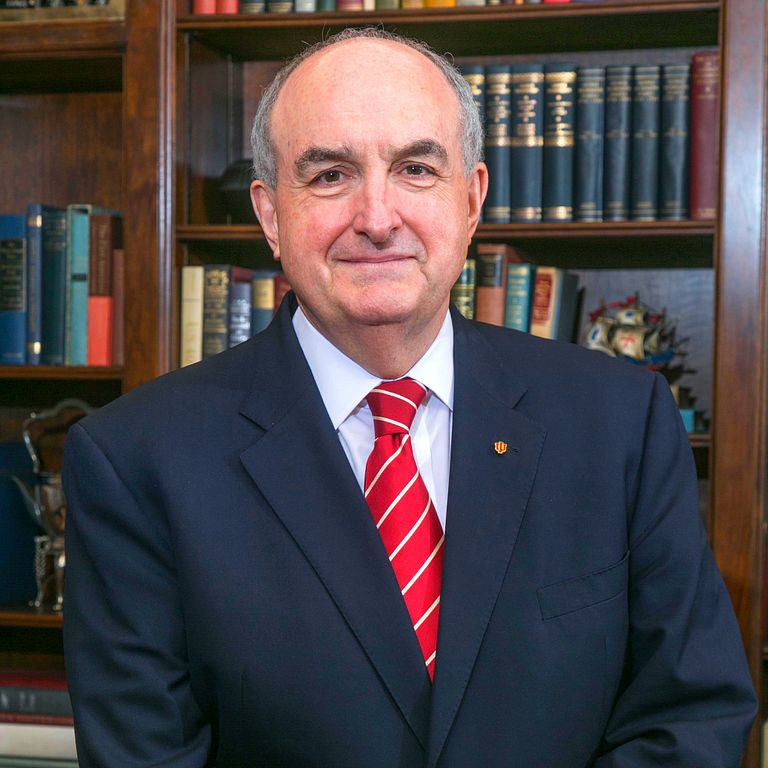 "This year's record level of generous gifts from Indiana University's alumni and friends supports the university's relentless progress toward excellence in education and research," IU President Michael A. McRobbie said. "These gifts help to support breakthroughs in research, and they fund endowed chairs and professorships that allow us to recruit and retain our most productive faculty. They also help to create a rich educational experience for IU students across the state, and they are fundamental to our efforts to keep an IU education affordable and within reach of deserving students."
Philanthropic support from IU donors supports ground-breaking research and technical innovations that have the power to change lives in Indiana and around the world.
"The unprecedented support Indiana University has received over the past year and throughout the Bicentennial Campaign reflects the level of energy and excitement present across all of our campuses," IU Foundation President Dan Smith said. "Our alumni and friends can clearly see the direct and transformative impact their gifts are making on our university, in the state and beyond. Their generosity is a testament to the remarkable work being done every day by our faculty, staff and students and the life-changing implications of that work. We could not be more grateful."
The Indiana University Foundation is in month 79 of the 102-month, $3 billion For All: The Indiana University Bicentennial Campaign. Since the campaign launched in 2012, more than 290,000 friends, alumni and organizations have provided more than $2.5 billion to support the mission of Indiana University.
For All: The Indiana University Bicentennial Campaign is taking place on all IU-administered campuses including IU Bloomington, IUPUI, IU East, IU Kokomo, IU Northwest, IU South Bend and IU Southeast. The campaign will conclude in June 2020 to coincide with IU's bicentennial year celebration. To learn more about the campaign, its impact, and how to participate, please visit forall.iu.edu.
Founded in 1936, the Indiana University Foundation maximizes private support for Indiana University by fostering lifelong relationships with key stakeholders and providing advancement leadership and fundraising services for campuses and units across the university. Today, the IU Foundation oversees one of the largest public university endowments in the country, with a market value in excess of $2.25 billion. IU is consistently ranked among the top four of Big Ten universities in annual voluntary support.