Emergencies can happen anywhere at any time – even on Indiana University campuses. Luckily, IU faculty and staff working across the state have an abundance of resources available for emergency preparedness.
Make sure you are ready for whatever comes your direction with these five tips.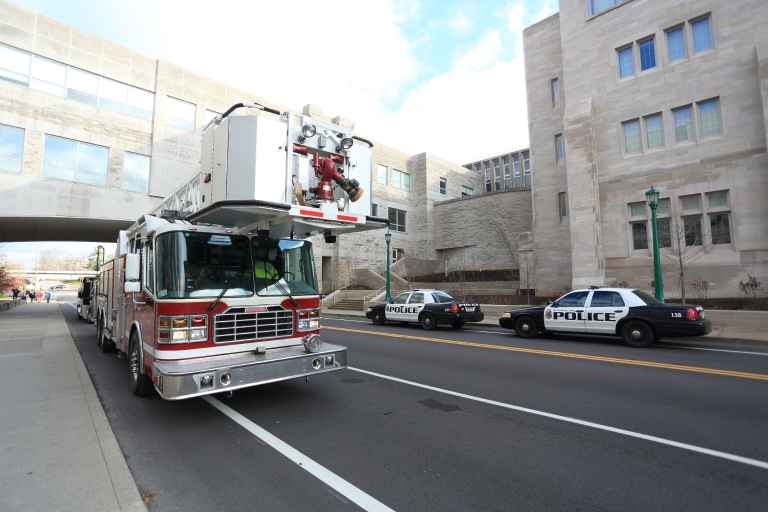 Run Hide Fight training
The Run Hide Fight strategy is the active shooter-aggressor response recommended by IU Police Department and IU Emergency Management and Continuity. The directions to run, hide or fight are not necessarily sequential, but instead should be considered as a list of options when experiencing an active shooter-aggressor emergency.
IU Police Department and IU Emergency Management and Continuity partner to offer faculty and staff active-shooter-reaction training. Public Safety and Institutional Assurance at IU has also produced a video to help the IU community familiarize itself with the Run Hide Fight strategy.
Sign up for SMS text alerts from IU-Notify
IU-Notify is IU's mass communication tool for alerting students and IU employees to immediate dangers, such as severe weather or hostile intruders. While IU-Notify will automatically send emergency updates to any and all email addresses and phone numbers on file for faculty and staff, lU Emergency Management and Continuity recommends that faculty and staff sign up to receive SMS text message alerts as well.
Not only are text message alerts the quickest, but they are also the only method IU-Notify uses to send updates on tornado warnings. To update your IU-Notify preferences, search IU-Notify in one.iu.edu.
Keep an emergency kit in your car or at your office
It's not just IU that recommends everyone have an emergency kit with the tools needed for when the unexpected happens – experts from the United States Homeland Security and the Federal Emergency Management Agency think it's a good idea too.
A long list of suggested emergency items can be found on Protect IU's websites, but some specific suggestions for a car kit include a change of clothes (especially shoes) that may be more suitable for harsh weather, jumper cables, a small shovel, and cat litter or sand to create tire traction.
Review emergency procedures for your campus
Do you know what actions you're supposed to take if a tornado is headed toward your campus? What should you do if your department receives a bomb threat via phone or the building you're in experiences a gas leak?
Campus-specific answers to these questions and more can be found on Protect IU's website. In the event of an emergency, it's unlikely that you'll have time to look up the correct procedures. Familiarize yourself with the procedures now so you can have a plan in place for the unexpected.
Earn a campus emergency preparedness certificate
IU employees, including graduate students, student staff and part-time employees, can pursue a campus emergency preparedness certificate through IU Emergency Management and Continuity and IU Human Resources.
The program requires 100 hours of training over two years, which includes participation in a range of emergency preparedness and response activities. Certificate candidates also have the opportunity to learn about how IU Public Safety and Institutional Assurance responds to campus emergencies by touring the Emergency Operations Center.
Register for the certificate program or email questions about the program to iuemc@iu.edu.