A sign that reads "recording in progress" hangs from the door, the red light on a camera blinks on, and Kim Arnold recites lines she has prepared and practiced.
Arnold is not an actress or a news anchor, but this is a typical Thursday morning for her. As a lecturer in the Indiana University Bloomington College of Arts and Sciences' Department of Chemistry, Arnold has been making instructional videos for high school students taking Advance College Project courses, to give them a sense of what a chemistry class at IU is like. She's been using one of University Information Technology Service's Faculty Media Production spaces to do it.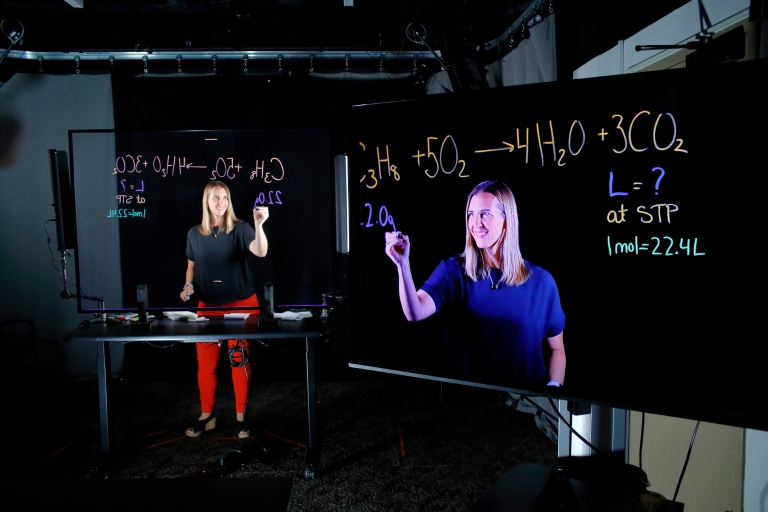 These recording facilities are reserved for IU faculty and provide professional-quality recording capabilities for lectures, demonstrations, small performances, interviews and more. Media production spaces are located on the second floor of Wells Library's East Tower on the IU Bloomington campus and the lower level of IUPUI's University Library. They offer IU the opportunity use of multiple high-definition cameras and high-quality audio to produce videos that meet a professional standard.
"Thanks to online video sources like YouTube and Netflix, students are used to having high-quality video at their fingertips, which sets expectations even for instructional videos," said James McGookey, manager of Collaboration Technologies at IU. "Having the resources to create high-quality videos for courses increases the likelihood that students will be engaged while also giving these videos a longer shelf life."
The media production space allows faculty to make videos more efficiently, too. The production staff will cut videos for faculty so they don't have to find time in their busy schedules to edit hours of footage. Arnold, who ended up completing 21 recording sessions at three hours per session, started her project by trying to record and edit herself.
"When I started this project, I really didn't want someone to have to film me and watch me lecture," she said. "I can talk in front of students with no problem, but to have someone in the room with a camera was a little scary. Now I know there would not be enough time in the day for me to be able to do this on my own. The help from Sam Underwood and the other staff at the space has been invaluable."
Beyond offering expert guidance from staff on hand, the faculty media production space offers advanced technology for engaging instruction. Chroma key technologies, more commonly known as green screens, can project an image behind instructors as they lecture. Lightboards – large plates of illuminated glass through which studio cameras can shoot – allow instructors to present written content while maintaining eye contact with the camera.
While Arnold initially created videos with high school students in mind, she decided to incorporate them into the instruction of her introductory chemistry courses on campus. Arnold said she's always been eager to branch out beyond the PowerPoint presentation and use hands-on methods to teach her classes. Her students build models of molecules from toothpicks and marshmallows and enjoy frequent in-class demonstrations. Arnold said that incorporating videos was a natural next step.
She's even recommended the space to several of her colleagues, who plan to make videos for test review and lab preparation in their courses.
Any IU faculty member wishing to use the Faculty Media Production Spaces can contact UITS eLearning Design & Services or visit Teaching Online at IU.