FLORENCE, Italy – As a result of a collaboration between Indiana University and the Uffizi Gallery in Florence, Italy, it's now possible to view some of the world's most admired ancient artifacts and sculptures in 3D without traveling overseas. A newly launched website, www.digitalsculpture-uffizi.org, was unveiled Tuesday  in a ceremony at the historic Uffizi Gallery attended by IU Vice President for Research Fred H. Cate, as well as other IU faculty. The site currently contains over 300 digitized sculptures and fragments from the collection.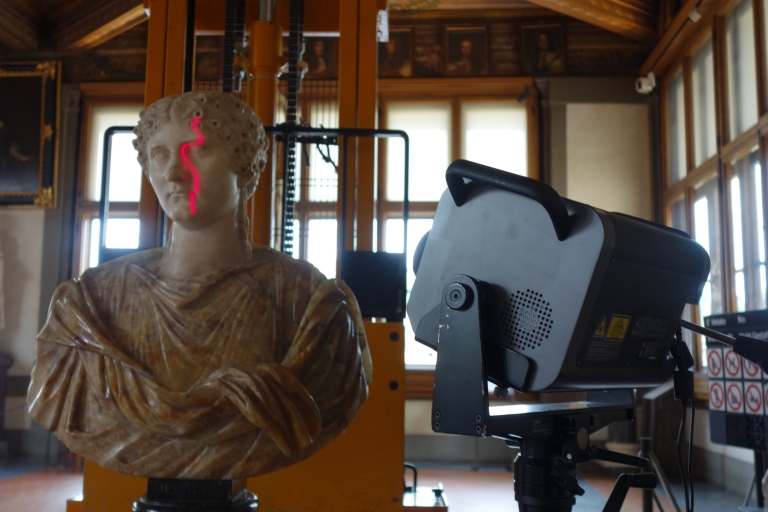 The project was announced in 2016 at the Uffizi Gallery in a joint presentation by IU President Michael A. McRobbie and Uffizi Gallery Director Eike Schmidt.
"As we accomplish the goals set forth in this unprecedented and enormously ambitious project, the unveiling of this new website marks a first major milestone in a collaboration that will generate unparalleled opportunity for scholarly engagement with materials housed in one of the world's oldest and very finest galleries," McRobbie said. "By leveraging IU's scholarly expertise in ancient art and culture, as well as our extensive technological capabilities, this collection of magnificent, inspiring and irreplaceable classical antiquities can now be viewed and studied in an entirely new and fascinating way by scholars, museum professionals, students and the general public."
In summer 2018, the IU team digitized 61 statues in the Uffizi and in the Villa Corsini, the complex where the Uffizi stores works of ancient art not on display in the galleries. The team is led by Bernard Frischer, IU professor of informatics, director of the university's Virtual World Heritage Laboratory and one of the world's leading virtual archaeologists. A key partner on the project has been the Politecnico di Milano, under the direction of professor Gabriele Guidi.
"I am very pleased by the progress of our work on this five-year project both in terms of quantity and quality," Frischer said. "We're about halfway through the project and are on target to finish the job, as foreseen, in 2020.
"We have already digitized more works of classical sculpture than has ever been done in a single museum. Even more impressive than the quantity of my students' work is its quality. I have shown the models they have made to many museum professionals in the United States and abroad. They have been uniformly impressed, and this has led to invitations to undertake new projects of digitization at the Getty Villa in Malibu, Palazzo Altemps in Rome and the National Archaeological Museum of Naples."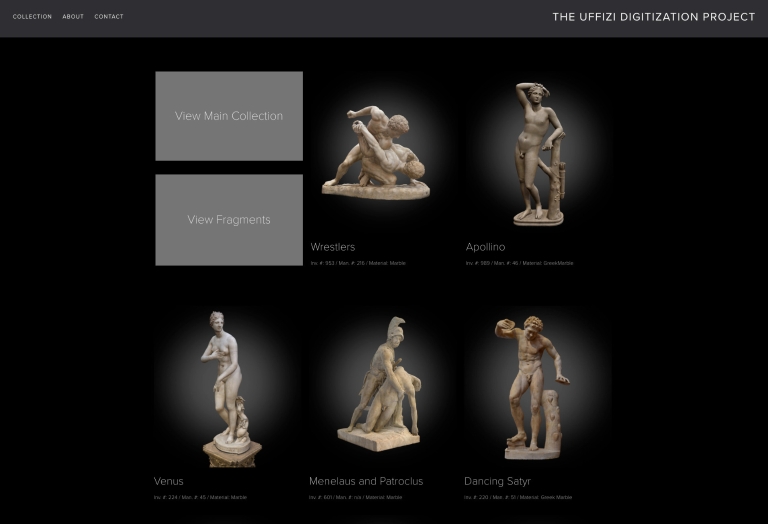 The digitization project includes training IU informatics and art history students in the techniques of 3D data capture, digital modeling and interactive online publication; creating a limited number of 3D restoration models of works of interest to individual project participants; and publishing the 3D models on several online sites, including the Italian Ministry of Culture's internal conservation database, the Uffizi's public website and the Virtual World Heritage Laboratory's publicly available Digital Sculpture Project.
IU's part of the digitization project is funded by the Office of the Vice President for Research as part of its New Frontiers in the Arts and Humanities seed funding program, which supports faculty members in path-breaking programs of scholarly investigation or creative activity. The project is receiving technological support from University Information Technology Services.
"It's exciting to see the progress of this ambitious project," Cate said. "Not only does the website offer first-of-its-kind opportunities to a broad audience, ranging from scholars and museum professionals to students and the general public, but we're creating a replicable model for other museums and institutions to use in digitizing their own collections."
The Uffizi Gallery, adjacent to the Piazza della Signoria in central Florence, houses some of the world's finest masterpieces, including works by Botticelli, Caravaggio, da Vinci, Fra Angelico, Michelangelo, Raphael and Titian. It is among the most visited museums in Italy, with more than 1.5 million visitors each year.