BLOOMINGTON, Ind. – Indiana University had another year of record research and philanthropic funding, achieving a total of nearly $1 billion in private philanthropy and external research awards in fiscal year 2018.
IU President Michael A. McRobbie announced the figures today at the IU Board of Trustees meeting in Evansville, Indiana. Further details were provided by Vice President for Research Fred Cate and IU Foundation President and CEO Dan Smith.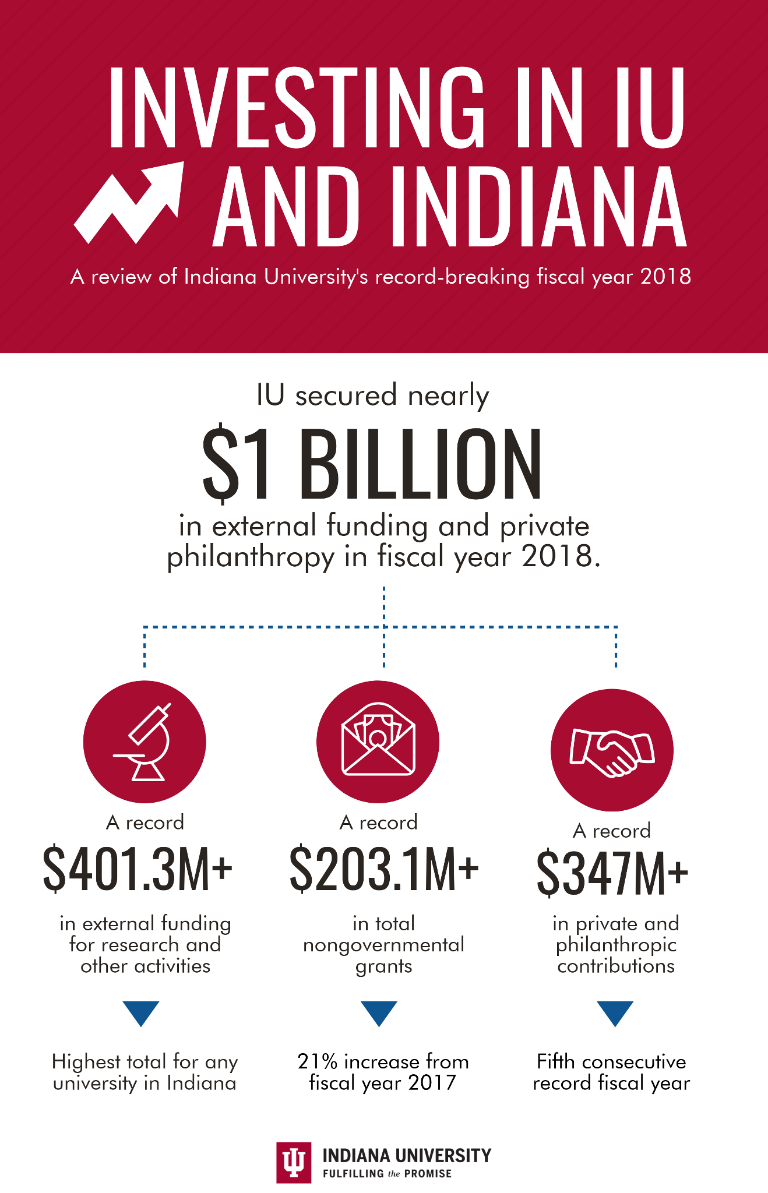 The university's research and philanthropic funding figures are both record-setting. The record private and philanthropic contribution total of $550.1 million includes a record $203.1 million in nongovernmental grants, representing an increase of 21 percent from fiscal year 2017, and $347 million in individual philanthropic giving, also a record and an increase of 19 percent over fiscal year 2017. The $604.4 million in external funding for research and other activities in fiscal year 2018 is the second highest on record and also includes the $203.1 million in nongovernmental grants, though this is accounted for only once in the overall total funding dollars from the university.
McRobbie and Smith also announced that as of the end of July – and with less than a year until the start of IU's bicentennial celebration – the total raised by "For All: The Indiana University Bicentennial Campaign" had surpassed $2.5 billion, the original universitywide Bicentennial Campaign goal. The university has nearly two years to achieve its new $3 billion campaign goal, which was announced last year, by the end of the IU Bicentennial in June 2020.
"These remarkable figures once again underscore the fact that Indiana University truly is the state's research powerhouse," McRobbie said. "They are testament to the quality of the outstanding research being conducted by our faculty, staff and students – research that expands knowledge, drives innovation, creates new industries and jobs, spurs economic growth and supports a high standard of living.
"These figures also reflect the longstanding generosity of tens of thousands of Indiana University alumni and friends based on the university's historic reputation for excellence over nearly two centuries. Collectively this funding directly and indirectly also helps to support thousands of jobs in the state of Indiana. I congratulate our faculty on their success and most sincerely thank our generous alumni and friends."
Sponsored research funding
The $604.4 million in external funding for research and other activities in fiscal year 2018 is the highest total of such funding for any university in Indiana during the fiscal year. This is the second highest total on record in IU history, only slightly below the previous record. This total includes the nongovernmental research grants as reported in the philanthropic giving totals, making the sum of the sponsored award funding and individual philanthropic giving $951.4 million.
IU set a new university record with $204.7 million in funding from the National Institutes of Health, the major federal government source of support for health sciences research in the United States. The $604.4 million includes $314.8 million in federal grants and contracts, $44.1 million in awards from the National Science Foundation and almost $75 million in sponsored funding from industry.
"The extraordinary support reflects the generosity and the confidence of our funders, the exceptional quality of our researchers, and the significant impact of IU research on the people and economy in Indiana and around the world," Cate said.
Private philanthropy
The Indiana University Foundation leads private philanthropic giving for Indiana University and leads the Bicentennial Campaign. The foundation fosters lifelong relationships with key stakeholders and provides advancement leadership and fundraising services for campuses and units across the university.
The record total of $550.1 million in total private individual and institutional philanthropy given by the alumni and friends of IU in fiscal year 2018 included $347 million in gifts from 111,791 donors. The total represented a fifth consecutive record fiscal year, with a 19 percent increase in philanthropic support over last year's amount raised. It also included a record $203.1 million in nongovernmental grants.
"For All: The Indiana University Bicentennial Campaign" is the most ambitious fundraising campaign in IU's history and has set a record goal of $3 billion to be raised by June 2020. It is based on IU's strategic priorities and is also IU's first ever all-campus campaign. The total of $2.5 billion raised to date includes gifts from nearly 300,000 donors.
"The remarkable support of our friends and alumni is a testament to the great work being done on the campuses of Indiana University," Smith said. "From cutting-edge research to on-the-ground initiatives both local and global, supporters of Indiana University can clearly see the life-changing impact their generosity has on our students, communities and society overall. We could not be more grateful for the trust so many friends have placed in the mission of IU and how they give so selflessly to help us create a brighter tomorrow, for all."
The Indiana University Bicentennial Campaign is taking place on all IU-administered campuses including IU Bloomington, IUPUI, IU East, IU Kokomo, IU Northwest, IU South Bend and IU Southeast, and IU's nine medical education centers across the state. The campaign will conclude in June 2020 to coincide with IU's bicentennial year celebration. To learn more about the campaign, its impact and how to participate, visit forall.iu.edu.