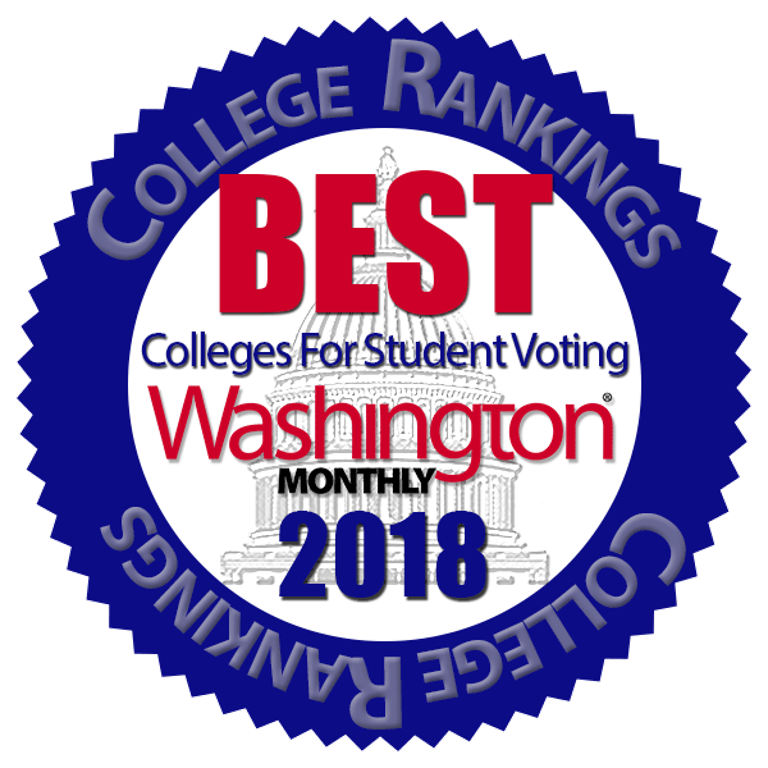 INDIANAPOLIS – Washington Monthly magazine has published a new college ranking that places IUPUI and Indiana University Bloomington among the best colleges in the U.S. for student voting.
Only 58 colleges and universities are listed on the Best Colleges for Student Voting ranking. Those institutions – out of the 1,488 schools included in the magazine's main rankings – received the top score for their commitment to encouraging voting by students.
IUPUI ranks No. 13 on the list, while IU Bloomington is 14th.
"We are pleased that IUPUI is among the best colleges and universities in the U.S. in this first-of-its-kind ranking that measures our students' civic engagement," IUPUI Chancellor Nasser H. Paydar said. "As we celebrate IUPUI's milestone 50th anniversary, this ranking underscores the fact that engagement is in IUPUI's DNA."
The magazine used four factors to measure a college's commitment to student voting. An institution received:
One point if it signed up for or participated in Tufts University's National Study of Learning, Voting, and Engagement. This program helps colleges calculate their precise student voting and registration rates by combining national voting records with enrollment data.
A second point if it signed up for the ALL IN Campus Democracy Challenge, an effort that uses the Tufts study data to help colleges create plans to boost their students' voting rates and civic participation.
A third point was awarded to an ALL IN school if it released its Tufts study data publicly.
A fourth point was awarded for making its ALL IN action plan public.
"We are heartened to see campuswide enthusiasm and involvement to enhance voter registration, nonpartisan voter education and voter turnout efforts," said Lisa-Marie Napoli, associate director of the Political and Civic Engagement program and director of Voices for Democracy and Civility at IU Bloomington. "At IU Bloomington, we do all we can to encourage student-citizens on campus and in public life. It's exciting to learn of this recognition and to observe administrators, faculty, staff and students coming together as a unified force to take on another voting endeavor, the Big 10 Voting Challenge."
The Big Ten Voting Challenge is a nonpartisan competition among conference schools that seeks to increase voter registration and turnout among students.
A back-to-school welcome message to students from IU President Michael A. McRobbie touched on student voting: "I encourage all of you to exercise your right to vote this coming fall and to make your voices heard. Turnout of young voters is at a historic low point when compared to other segments of our population. Yet every vote counts. Furthermore, your dreams, values and ideals deserve the attention of our politicians. If you have not already done so, I strongly encourage you to register to vote and to participate in the 2018 primary and general elections, here in Indiana or in your home state," McRobbie said.