Faculty at the Indiana University School of Optometry are helping area children receive the vision care they need, when they need it, and educating parents on the importance of early eye exams.
"A simple vision screening is not good enough," said Don Lyon, clinical professor and director of residencies at the IU School of Optometry. "We want to do more. We want to educate parents about vision care – not only how far your children can see, but how well they can see, their depth perception, how their eyes work together and, ultimately, their overall health."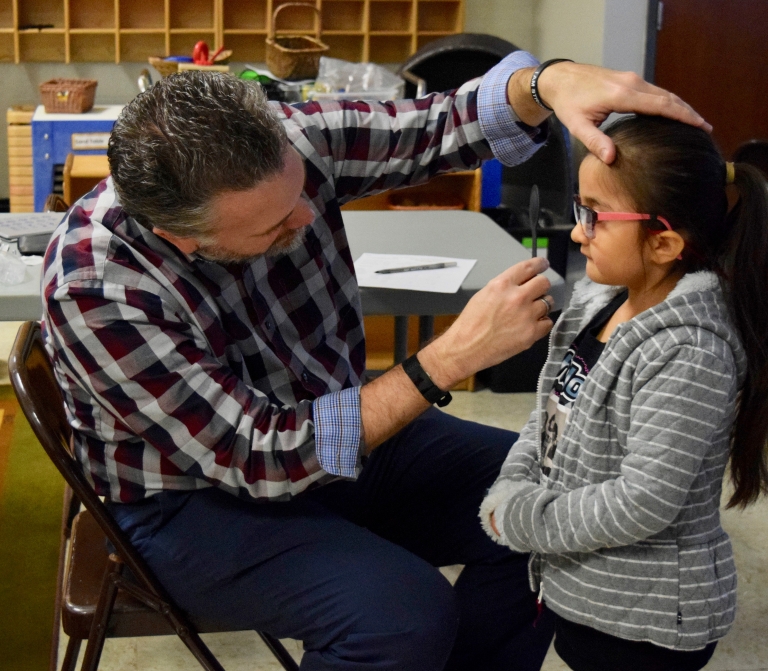 With the help of a 2015 grant from Women's Philanthropy at IU, Lyon and Katie Connolly, clinical assistant professor and chief of pediatric and binocular vision services at IU School of Optometry, started Vision for the Future. The program has two goals: providing much-needed advanced-level vision care to Head Start children in Monroe County, and educating parents and teachers about the importance of early vision care.
According to the American Public Health Association, children should have their first comprehensive eye exam with an optometrist or ophthalmologist between 6 and 12 months of age. They should have follow-up exams at ages 3 and 5, and then throughout school.
Vision for the Future started in 2015 and resulted in about 250 children receiving enhanced vision screenings that year. Children flagged with having any issues are referred to a partner optometrist who provides a comprehensive eye examination and glasses, if needed. If the family does not have health insurance, the program will pay for both the comprehensive exam and the glasses.
Head Start does provide annual vision and hearing screenings to children. But Vision for the Future provides superior screenings that have increased the number of children referred for follow-up care, said Cheryl Killion, health services coordinator for South Central Community Action Program.
"Partnering with IU allows us to provide much more comprehensive vision screenings to our preschool children," Killion said. "These children are receiving earlier intervention during a time that their brains are growing the most and learning is intense, which is crucial to their success."
The program worked so well in Monroe County that Lyon and Connolly – with the help of funding from community partners Smithville Charitable Foundation and the Nina Mason Pulliam Charitable Trust – decided to expand it to Marion, Morgan and Lawrence counties. So far, they have screened more than 2,000 Head Start children.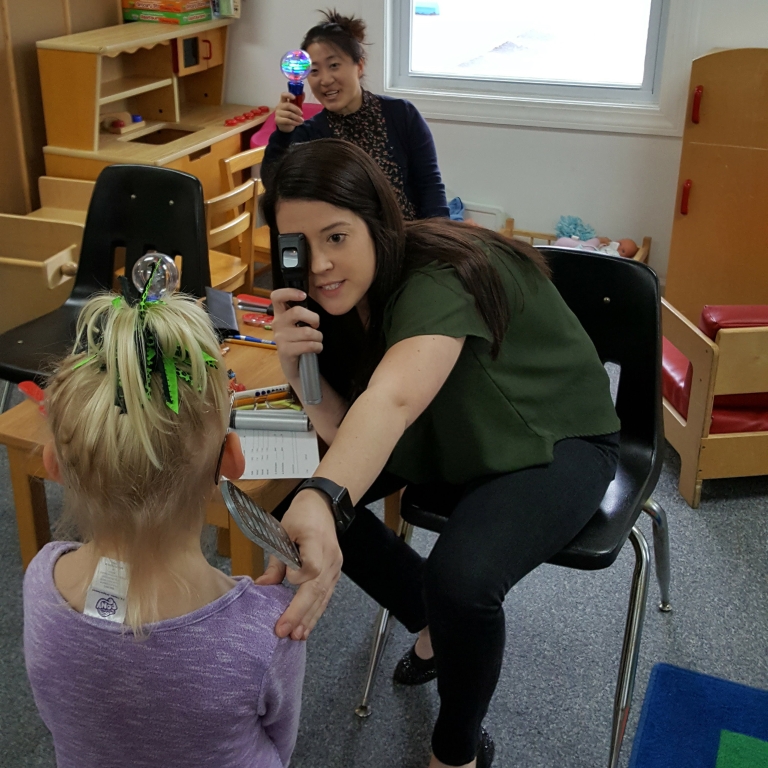 "What is so great about this program is not only are we providing much-needed vision care to young children who might not otherwise receive it, we are educating them, and their parents, about the importance of vision care that will hopefully follow them throughout their lives," Connolly said. "When we correct vision, we get rid of one of the barriers that could prevent these children from reaching their full potential."
The IU team will head out into the community again this fall to screen incoming children who have not been screened and those who needed follow-up appointments. They are also expanding the program internationally.
Vision for the Future is partnering with IU's Books and Beyond program – which provides books to students at the Kabwende Primary School in Musanze, Rwanda – to provide eye screenings and glasses to Rwandan students.
"Being able to take the program to Rwanda and work with Books and Beyond at this time is extremely exciting," Lyon said. "While it will be the first international event for this program, we have the experience of our partners, the IU chapter of Volunteer Optometric Services to Humanity and Eye Care 4 Kids, to draw upon. With their support, I know this could be a life-changing event for the children involved and the community."