In one week, classrooms across the Indiana University Bloomington campus will be filled with students, syllabi will be handed out, and expectations will be set for fall semester classes.
For faculty, graduate students and instructors across campus, teaching courses is often one of many professional responsibilities. Luckily, the IU Bloomington Center for Innovative Teaching and Learning equips instructors with several tools to make their time in the classroom efficient, effective and fulfilling.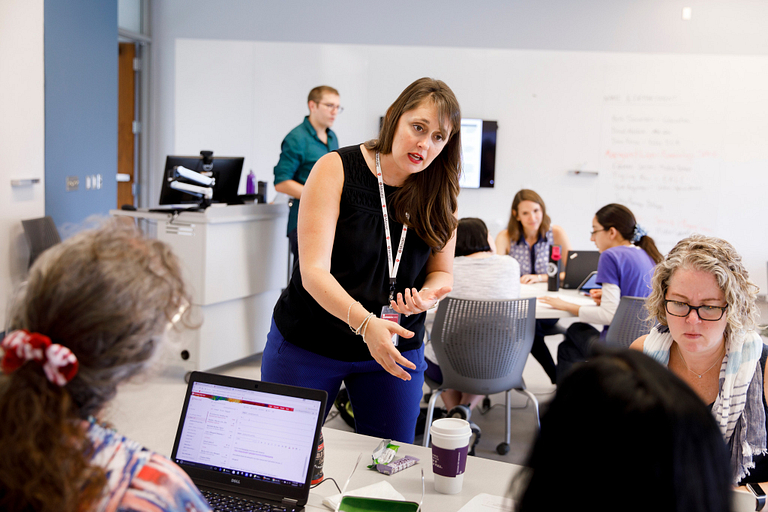 "Faculty members and graduate students are passionate about their subject areas and want to be able to share that passion with others," said Katherine Kearns, lead instructional consultant for the center. "We hope to help instructors create those great days in the classroom."
As the beginning of the school year draws nearer, here are five ways instructors can use the Center for Innovative Teaching and Learning for a successful semester.
Community-building opportunities
It's easy for instructors to become siloed in their schools and departments once the chaos of the school year sets it, but they have a lot to learn from their peers in different disciplines, Kearns said. That's why the center offers Faculty Learning Communities and Graduate Student Learning Communities. These groups gather to discuss teaching, test innovations, assess student learning and publish scholarship about their work.
The groups center on themes such as global learning, classroom inclusion, how to engage students in a large class and more. Beyond encouraging instructors to reflect and improve on teaching, these groups can help graduate students and faculty build interdisciplinary networks across the campus.
Mid-semester feedback
End-of-semester course evaluations can provide instructors with useful information, but sometimes that feedback comes too little too late. The center encourages instructors to get a pulse on how students are feeling about the class at a mid-point during the semester, allowing for adjustments and improvements before the semester ends.
Looking for this feedback can show students their instructors' commitment to improving teaching, help instructors gain targeted feedback when trying a new teaching method and prevent unpleasant surprises in end-of-semester evaluations. Instructors can use the center's online guide for creating a mid-semester evaluation or schedule a one-on-one consultation for help creating or discerning the results of evaluations.
Classroom observations and feedback
It's nearly impossible for instructors to see how every student in a class is reacting or engaging with material while they are teaching, but representatives from the center are available to stand in as a second pair of eyes and ears.
Through the center's class observation opportunity, instructional consultants use research-based methods to provide feedback on classroom instruction. This exercise can promote instructors' growth as teachers, are completely confidential and can be conducted without fear of affecting relationships within departments.
Course Development Institutes
Teaching a new course this semester? Looking for a way to revitalize one you've been teaching for years? The center is here to help with Course Development Institutes, groups of instructors who meet in multiple sessions to help one another develop or improve courses.
They are all offered free of charge for instructors of any rank, from any discipline or department, and can be useful for instructors teaching online courses, large courses or small to medium-sized courses.
Exercises for equity in the classroom
As a public institution, Indiana University has a duty to offer equal access to education for anyone and everyone. Ensuring equity in diverse classrooms and approaching difficult or controversial material can require instructors to think outside their own experiences.
Beyond hosting a wide array of diversity and inclusion resources on its website, the center offers one-on-one and group consultations and trainings to help instructors recognize their own implicit biases and understand how diverse perspectives can affect student learning.
Instructors interested in finding a community of passionate teachers and innovative ideas for reinvigorating courses can find more information about the Center for Innovative Teaching and Learning by filling out a consultation request form or calling 812-855-9023.