Most IU Bloomington students arriving today and Wednesday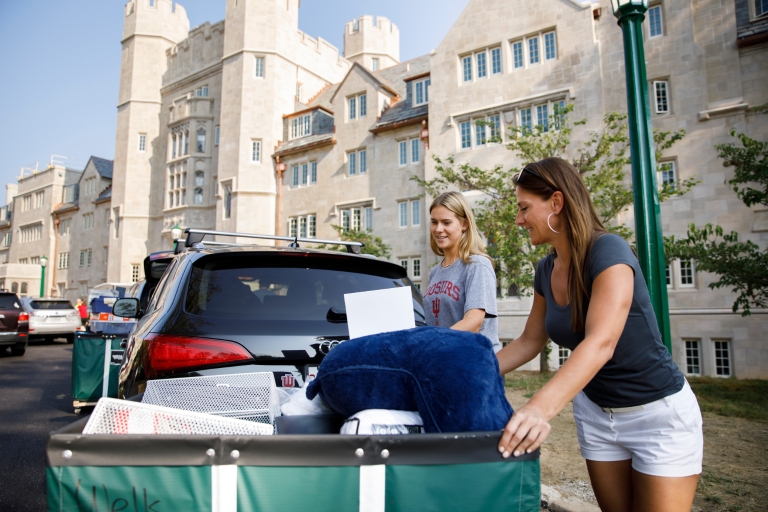 The Indiana University Bloomington campus is a little busier this week as students begin moving into residence halls for the 2018-19 academic year.
Undergraduates living in residence halls started moving in Sunday, Aug. 12. The majority of incoming first-year undergraduates are expected to arrive today and Wednesday, Aug. 15. Heavy campus traffic is expected through Wednesday.
Traffic patterns this year are only slightly different until Wednesday to accommodate traffic to and from residence halls. Changes in traffic patterns include:
Sunrise Drive and Campbell Street will be one way going south.
Woodlawn Avenue will be one way south between Ninth and 10th Streets only (directly in front of Collins Hall).
IU Police Department officers are stationed at several intersections, and signs redirect traffic.
Provost accepting nominations for Staff Merit Awards
Provost Lauren Robel is calling for nominations for Staff Merit Awards, a way for the IU community to recognize the contributions and celebrate the accomplishments and dedication of exceptional staff members.
Two awards are given annually in each of the following categories:
Service Staff, which includes all service staff.
Support Staff, which includes support staff, nurses and nursing assistants.
Professional staff, which includes Level 4 and below and general supervisors.
Full-time, appointed staff members working on the Bloomington campus are eligible, and nominations may come from anyone. A committee of faculty and staff will choose six recipients from these nominees for the 2018 awards. A reception honoring the recipients will take place at 3:30 p.m. Monday, Dec. 10, in the Frangipani Room of the Indiana Memorial Union.
Staff Merit Award nominations must be received by Sept. 12. The nomination form can be completed and submitted electronically along with the requested supporting documentation. Questions can be submitted to stmerit@iu.edu or at 812-855-8114.
New major equipment funding enhances science research across IU Bloomington campus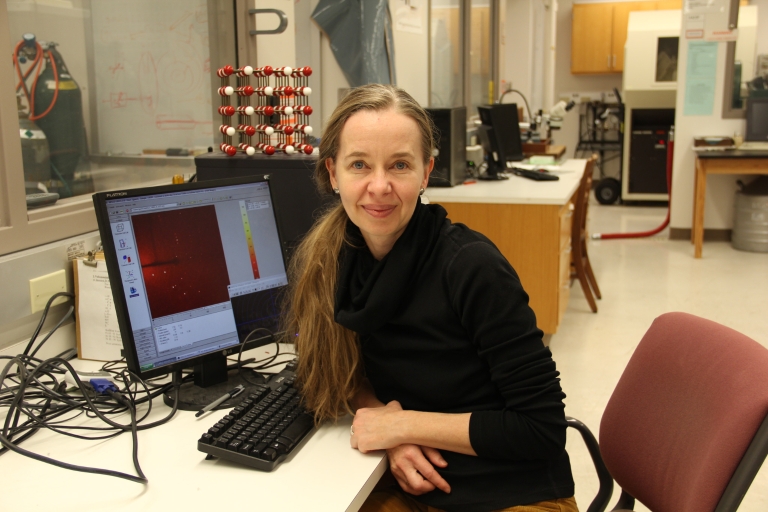 A new Major Scientific Equipment Fund is providing for the purchase and installation of major equipment that will enhance the scientific research infrastructure of the IU Bloomington campus.
Established by IU President Michael A. McRobbie, the fund supports strategic investments in equipment that is critical to scientific research addressing the needs of Hoosiers.
The fund's first commitment of $1.15 million supported the purchase of a cryo-electron microscope, or cryo-EM, in the spring. Cryo-electron microscopy was the subject of the 2017 Nobel Prize in Chemistry and allows for imaging and three-dimensional reconstruction of tiny objects, such as complicated proteins, at the level of individual atoms. This includes understanding protein-drug interactions, an essential tool in developing new therapies for disease.
Hoosier to Hoosier Community Sale is Saturday

The 2018 Hoosier to Hoosier Community Sale is Saturday, Aug. 18, at The Warehouse, 1525 Rogers St.
Hoosier to Hoosier is a reuse program that aims to divert reusable items from the landfill during student move-out, prevent additional resource consumption by selling collected items to students and community members, and raise funds for local charities and other organizations. It is a partnership between City of Bloomington Sustainability, the IU Office of Sustainability and Cutters Soccer Club.
Contact H2H@indiana.edu to get involved. Reuse ideas and updates on collection and volunteer days can be found on the Hoosier to Hoosier Facebook page or through @IUH2H on Twitter.
Staff, faculty, alumni honored
Read about recent IU staff, faculty and alumni honors and grants, including:
Gerardo Gonzalez, dean emeritus for the IU School of Education in Bloomington, whose book, "A Cuban Refugee's Journey to the American Dream: the Power of Education," was available Aug. 1. Faculty and staff can enter to win a copy of his book.
Lauren MacLean, the IU Bloomington Arthur F. Bentley Chair in political science, is part of a team that has received funding from the American Political Science Association's inaugural round of $25,000 Special Projects Fund awards.
Ka He, professor and chair of the Department of Epidemiology and Biostatistics at the School of Public Health-Bloomington, who received a $1.5 million grant from the National Institutes of Health for research into diabetes risks.
Two alumni, Ryan Murphy and Brian Stack, who were nominated for Emmy Awards.
IU president presides over IU Police Academy graduation, awards inaugural scholarship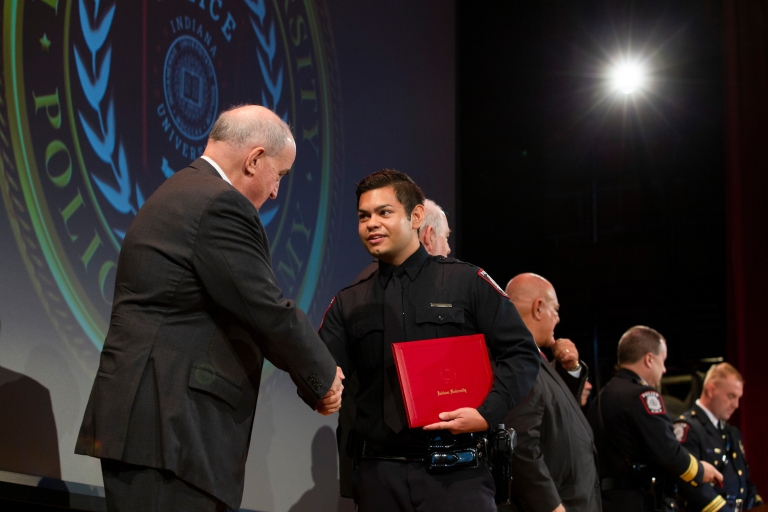 IU President Michael A. McRobbie presided over the graduation of the IU Police Academy's 45th class of new officers on Saturday. He also awarded the academy's first scholarship, the Randy Williamson Scholarship for Excellence. The Scholarship is a gift from McRobbie and his wife, Laurie Burns McRobbie, named in honor of McRobbie's driver and security officer who served for a decade before retiring last year. The inaugural recipient of the scholarship was Cadet Officer Mitchell Burelison.
Among the Class of 2018 were eight women and 34 men; 40 undergraduates and two graduate students; 13 21st Century Scholars and 11 first-generation college students. Dressed in blue uniforms and recognized in a formal ceremony before their family, friends and fellow law enforcement officials, they took an oath to become sworn police officers.
"Today, graduates, you join a distinctive tradition of service at Indiana University, one marked by personal integrity and courage," McRobbie told the cadets. "Members of the Class of 2018, you have already demonstrated the courage it takes to persevere through the rigorous training of the Indiana University Police Academy. A weighty but rewarding responsibility is now before you."
2018 Gill Symposium to honor five scientists for cutting-edge neuroscience research
Registration is open for the annual symposium of the Linda and Jack Gill Center for Biomolecular Science at IU.
The Gill Center was established in 1999 to advance the understanding of complex biological processes and train the next generation of scientists in biomolecular science, especially neuroscience. The 2018 Gill Symposium will take place from 8 a.m. to 5:30 p.m. Sept. 26 in the Whittenberger Auditorium of the Indiana Memorial Union. The event is free, but registration is required.
For more information about the 2018 Gill Symposium or the Gill Center, or to nominate an awardee, contact Trisha Turner at turner62@iu.edu.