After doing her first interview while working on a project for a student publications class, Evelyn Sanchez was hooked.
Thanks to the encouragement of her teacher, she quickly joined the newspaper staff as news editor and enrolled in her school's broadcasting class, too. After graduation, the Ben Davis High School alumna spent the summer translating documents, working with promotions and learning about the radio business as an intern at Radio Latino in Indianapolis.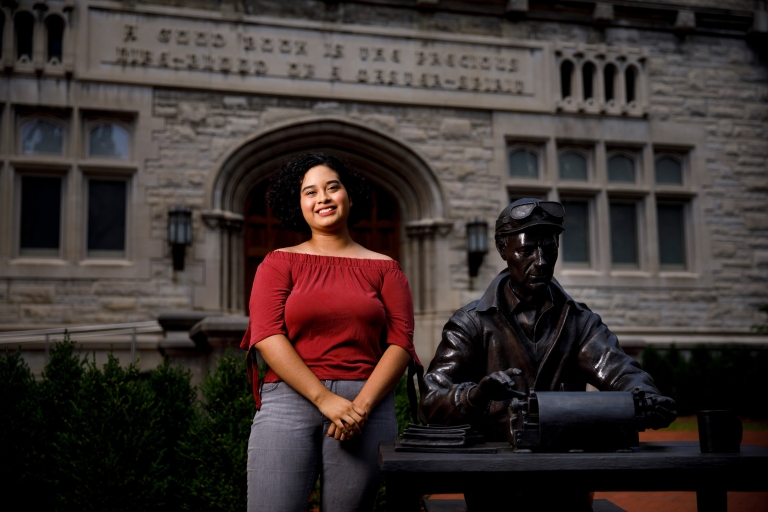 As she starts her freshman year at Indiana University Bloomington, Sanchez said she plans to continue to learn all she can about reporting for all mediums.
"So far, I've loved all of the forms of journalism I've tried," she said. "The intensity of the deadlines keeps me motivated, and I love staying busy and always having something to do."
Journalism isn't just something Sanchez likes to do; it's something she's good at. During her senior year of high school, she was named Student Journalist of the Year by Youth Journalism International and won the National Federation of Press Women's award for best Video News Story for her story about the Deferred Action for Childhood Arrivals program.
"I really wanted to do a good job and shine a light on the subject, because a lot of my peers didn't know many details," said Sanchez, who is a DACA recipient herself. "It's always my goal to make sure my classmates know the facts and not just what they read on Twitter."
But Sanchez wasn't always sure she would choose IU Bloomington. Even though she knew the campus had a strong journalism program where she could continue her pursuit of the truth, she was worried she'd feel overwhelmed at such a large school. But after visiting campus and learning about the Luis Davila Latinx Thematic Learning Community, a Living Learning Community in Forest Quadrangle, she started to see herself in Bloomington.
"The transition to college can be really hard, and being a minority doesn't make it easier. I've been the only minority in the class, and it can be very uncomfortable," she said. "I'm happy my friend convinced me to join the Latinx community, because it will allow me to improve my Spanish and be surrounded by people who have similar experiences as me but may be taking different paths."
Beyond being involved with the community in her residence hall, Sanchez said she plans to take advantage of every journalism-related extracurricular activity available. She's already applied to write for the Indiana Daily Student covering the diversity beat and plans to get involved with IU Student Television as well.
She also has her sights set on summer internships at local Indianapolis television stations and plans to one day own her own media company. Sanchez also said the support of her teachers has inspired her to consider passing on her passion for reporting and preserving the institution of journalism through teaching.
"Journalism is so important," she said. "It's such a selfless job. Journalists focus on providing everyone with the facts and giving a voice to the voiceless, and that's why I've chosen this profession."