When Indiana University produces groundbreaking research, the faculty members with their names on the papers receive the bulk of the accolades. But often, their research wouldn't have been possible without the help of unsung heroes like Jeff Sturgeon.
In a workshop hidden in the basement of the Psychological and Brain Sciences Building, Sturgeon and his team of electronics engineers create custom tools that allow big discoveries to be made about how the brain works.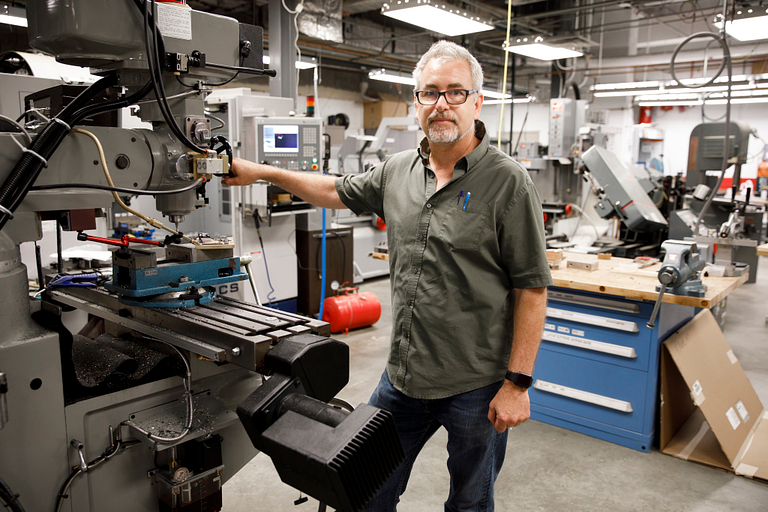 Whether designing 3D models, printing neurons and animal skull fibers with a liquid printer or building eye trackers customized for dogs, Sturgeon has been the go-to guy for research technology in the College of Arts and Sciences' Department of Psychological and Brain Sciences for decades. When research technology breaks or becomes obsolete, Sturgeon figures out how to fix it. When cutting-edge technology is too expensive for the department to purchase and too new for researchers to anticipate its application, Sturgeon builds makeshift models to demonstrate how it could be used. In fact, he built one of the first 3D printers on the Bloomington campus. The department now boasts four.
Sturgeon went to school to become an electronics engineer and always assumed he'd end up working on automated manufacturing at General Motors. His father had been a telephone man, and he'd spent his childhood riding in the back of his truck, taking things apart and figuring out how to put them back together. After a few years of running his own television repair shop, though, he found himself in a new exciting job at IU. The innovation and opportunity to help people and advance science have kept him at IU since, he said.
Over the years, Sturgeon has helped researchers who study autism spectrum disorders learn more about children's brain activity by creating glasses that record and analyze their gazes from an early age. He helped local school children get excited about neuroscience during IU Bloomington's annual Science Fest by designing an electric car track that is controlled by brain waves.
"There's always been a lot of encouragement from the department for researchers to do science outreach, but not as much pressure for the staff," Sturgeon said. "I wanted to change that and bridge that gap, and I think it worked out well."
Now, thanks to a recent patent, Sturgeon's proudest innovation will help researchers everywhere take a closer look at the effects of technology on the human brain. The digital tablet that could withstand the powerful magnetic force of an fMRI brain scanner, which he spent two years developing with fellow engineers and researchers, may help answer questions about how the brain interprets handwriting or the effectiveness of teaching with technology like tablets and laptops.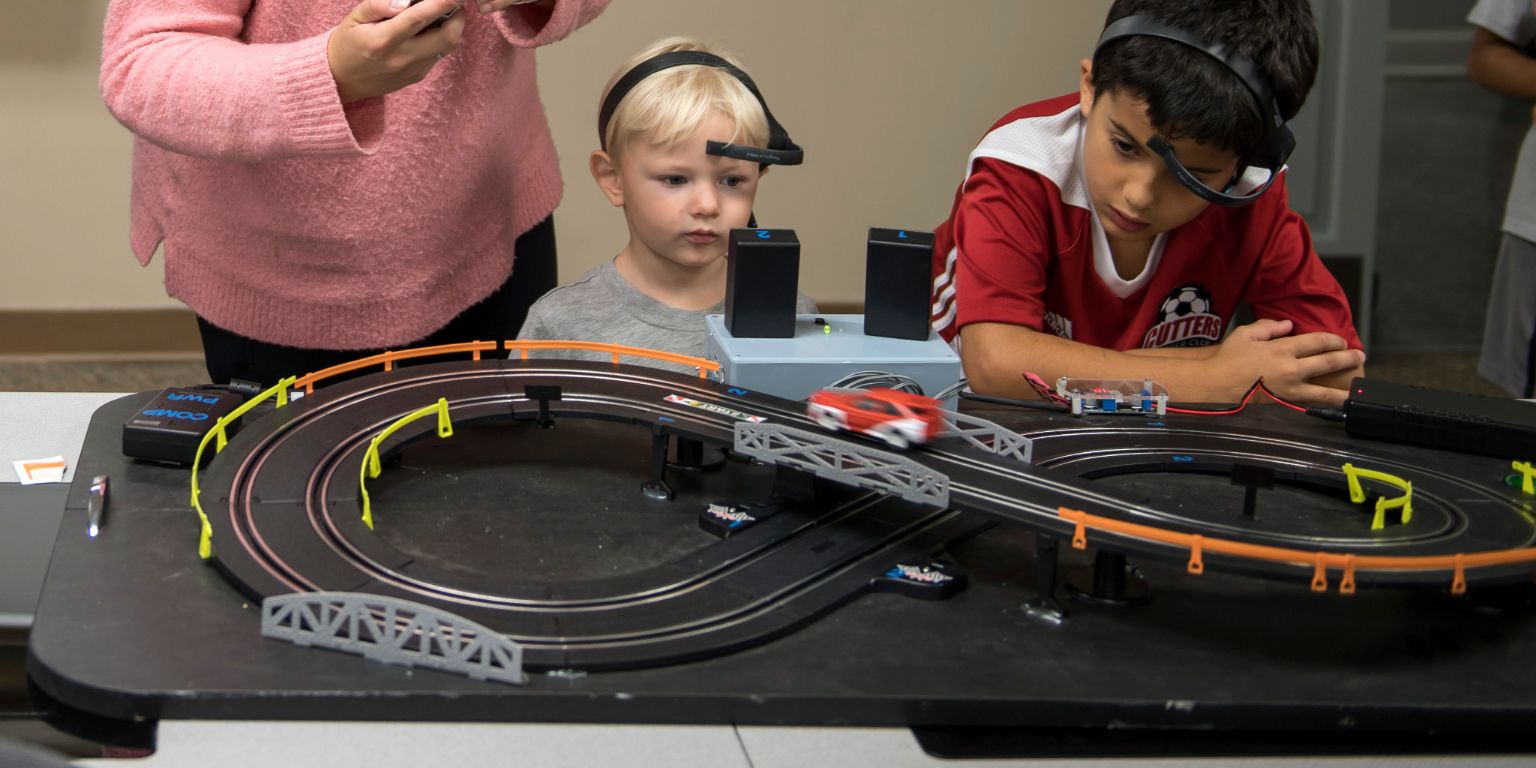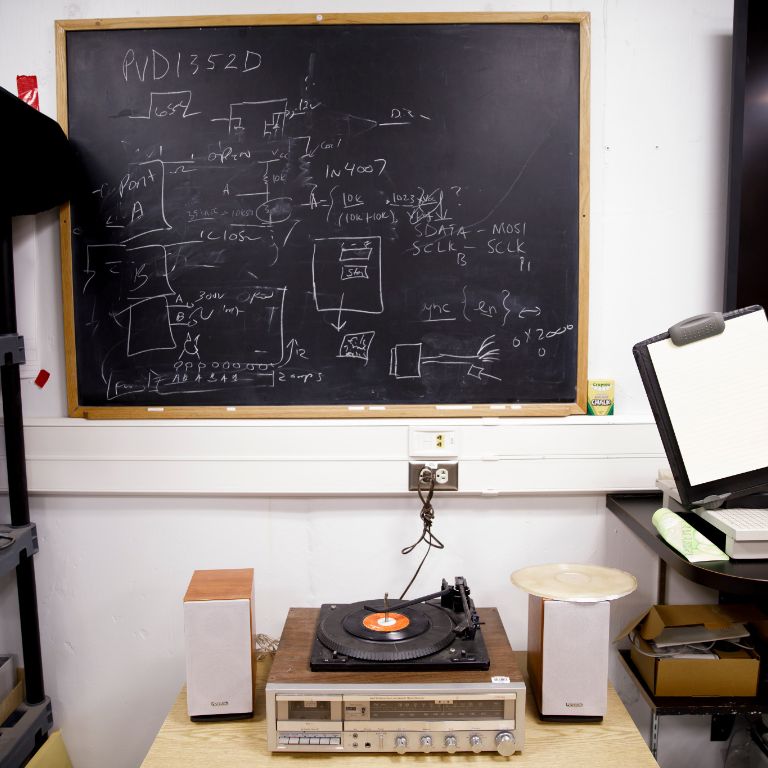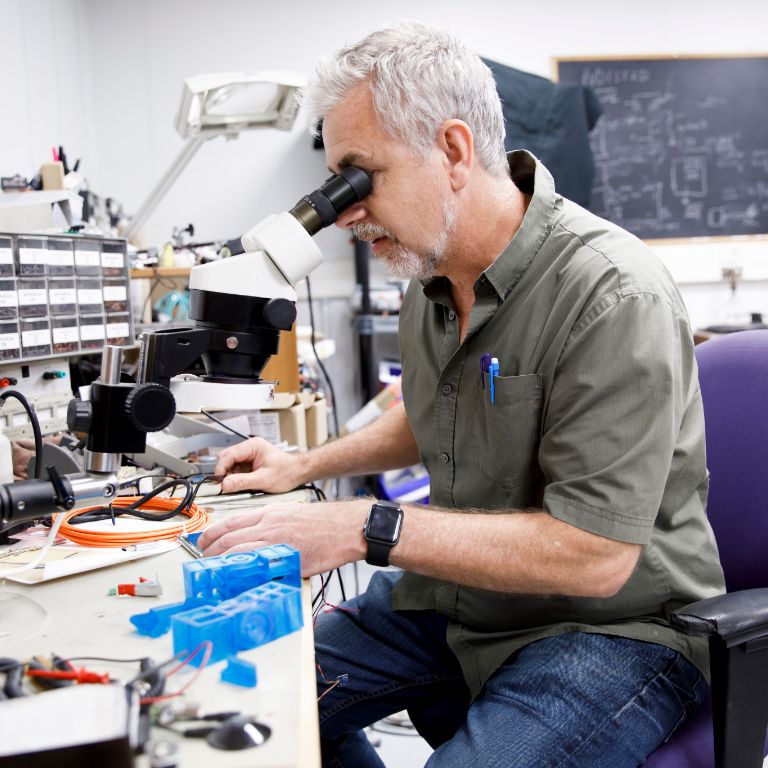 Photos by Marc Lebryk and James Brosher
The chance to work with researchers and be "part of the process" keeps Sturgeon enthusiastic about his work. When researchers come to him with an idea, he gets excited to dream up plans for new gadgets, look at what technology already exists, bring together these concepts and methodically test and adjust models until the problem is solved, drawing on his 30 years of experience.
Sturgeon said his job is as much of an art as it is a science, but for a while he was worried that it may be a dying art. When he started at IU, a group of seasoned electricians showed Sturgeon the ropes. He was the sole electronics engineer for the department for years after his mentors retired, and fewer researchers were asking for his services.
"For a while, the trend was to make all research automated. More researchers were having subjects look at pictures on screens and using computer programs that were already written," Sturgeon said. "Now, younger researchers are going back to the basics and using the old-school methods that require more gadget building."
To accommodate the needs of those researchers, the department hired two more engineers to add to Sturgeon's team. As he looks toward retirement, his new mentorship role keeps Sturgeon on his toes. He said he's trying to passing on his knowledge, just like his mentors shared theirs.
"If I didn't take this job, I might have just been a drone in a factory pushing a button," Sturgeon said. "Working here has allowed me to leave my little contribution to the world."