Deciding what to get for lunch is difficult enough, but faculty, staff and students with food allergies or other special dietary needs have additional challenges to overcome when trying to find a bite to eat. Luckily, IU Dining on the Indiana University Bloomington campus has procedures and resources in place to ensure everyone can enjoy a meal on campus.
Diners with special dietary needs can use these four tips to find a delicious lunch without leaving campus.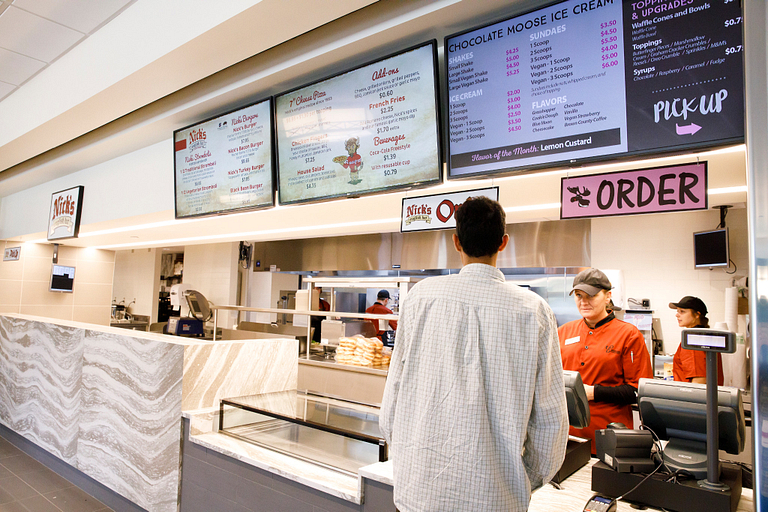 Familiarize yourself with the allergen icons
Menu boards and line cards at all IU Dining locations display allergen icons to indicate food that includes the nine most common allergens:
Wheat/gluten
Soy
Sesame
Tree nut
Peanut
Dairy
Egg
Fish
Shellfish
Icons also indicate vegan, vegetarian, healthier and local food options. These icons can remove the mystery in menu items without listing every single ingredient in fine print.
Plan ahead with the NetNutrition tool
Trying to navigate menus in a loud dining hall with a long line behind you can sometimes be stressful. Luckily, you can plan ahead using IU Dining's NetNutrition tool. Diners can choose the dining location closest to them from the left column, then select foods they are allergic to from a list on the right. The tool will display the menu items that fall within that diner's dietary needs.
NetNutrition also provides nutrition information on specific menu items, including calories per serving and a list of ingredients. Using this tool ahead of time will help diners with special dietary needs order quickly and with confidence.
Chat with a chef
If you still have questions or concerns about ingredients or preparation practices, ask to speak with a dining hall manager or chef. IU Dining has made accommodations for diners with allergies no matter how common or rare, and even keeps separate oil for frying meat.
More than 100 of IU Dining's management-level staff members and chefs have completed an AllerTrain certification in food allergies and celiac disease.
Drill the dietitian
To learn more about dining options across campus, reach out to IU Dining's registered dietitian, Rachel Noirot. She can connect diners with chefs to make them feel at ease about food options or point diners to options they may not know exist.
For example, Noirot said many diners aren't aware that gluten-free buns and breads as well as toasters reserved for gluten-free items are available at every location, or that the Traveler restaurants at Goodbody Hall and Bookmarket Eatery have vegan menu days once a week.
Noirot is a certified Master Trainer in AllerTrain food allergy and celiac disease management. She's focused on increasing plant-based options at dining halls, and she loves to hear from students, faculty and staff across campus. Diners with inquiries can reach Noirot at 812-856-5851 or nutrinfo@indiana.edu.