Crispy kale. Juicy tomatoes. Fragrant fennel.
Husband and wife Lino Mioni and Patrícia Amaral harvested these veggies and more from their garden plot at Indiana University's Hilltop Garden and Nature Center.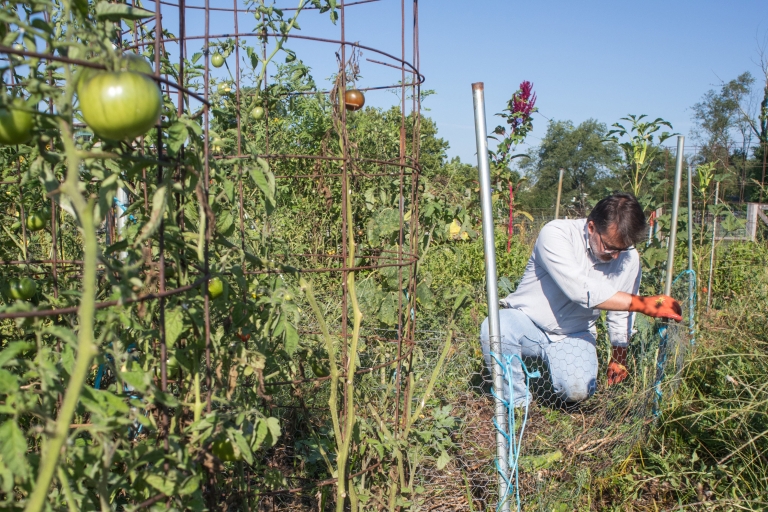 Mioni, a Ph.D candidate, and Amaral, associate professor of Spanish and Portuguese, have been actively involved with the garden since 2015. The pair started as volunteers for the campus garden initiative, a program that began as a partnership with the IU Office of Sustainability to encourage campus community members to get involved with gardening at Hilltop. Classes and volunteers helped with garden upkeep, and food was donated or taken home by volunteer gardeners.
With the establishment of the IU Campus Farm at Hinkle-Garton, much of the volunteer opportunities shifted away from the campus garden initiative. This allowed the campus garden at Hilltop to be partially converted into individual plots of various sizes that IU students, faculty and staff could adopt and use to grow their own vegetables and herbs, according to Hilltop Garden coordinator Lea Woodard.
More than 30 people, including Mioni and Amaral, signed up for a plot in spring 2017, which was the first semester they were available to the IU community. Mioni said their garden plot has cut their produce expenses in half yet takes little effort to maintain.
"It can be so rewarding to watch the food grow," Mioni said. "When I harvest sometimes I think, 'I've done nothing compared to what nature has done.'"
Get gardening at Hilltop
Amaral said Hilltop has helped them develop a deeper connection to the food they eat.
"Gardening gives you a sense of respect for your food, because you realize how much time it takes to grow a cabbage or have peppers that are big enough to eat," Amaral said. "It teaches you to respect the cycle of nature and wait for things."
The couple has also formed connections with fellow gardeners. Amaral said that trading tips for protecting plants from rabbits and insects and sharing the bountiful harvests creates a unique sense of community at Hilltop.
But spending time in solitude interacting with the earth and enjoying nature can be therapeutic as well, according to Mioni.
"It's not too far away – in fact, it's on the IU campus – but it really feels like you are out in nature when you spend time at Hilltop," he said. "When you're out there planting, cleaning and weeding, you aren't thinking about the papers you're writing or the courses you're taking."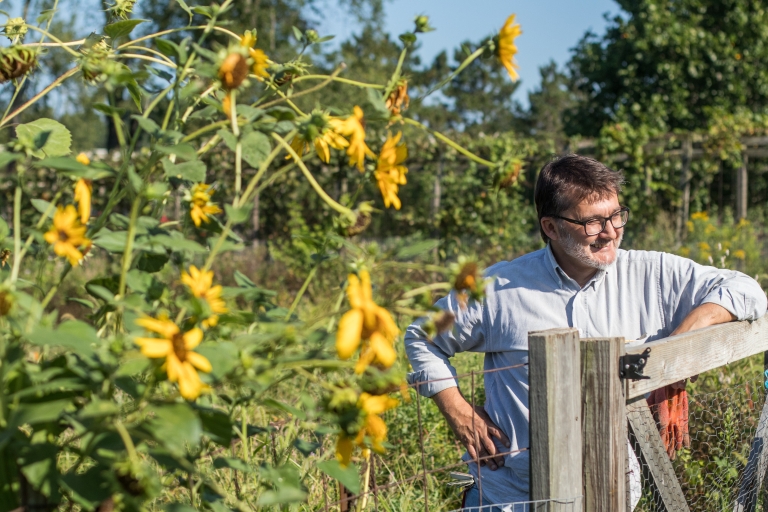 Mental wellness isn't the only benefit of the program; it also aims to improve physical health of students, faculty and staff. This part of the center's missions is what drew senior Emilie Kostecka to become a volunteer.
"Food insecurity is a much larger problem among college students and graduate students than most people realize," she said. "A lot of times people think they can only afford to eat things with no nutrients like ramen, so having access to healthier options at Hilltop and being able to benefit from being outside is so important."
Spending time at the center made Kostecka more aware of the sustainability efforts happening around campus. It even inspired her to become sustainability chair for her sorority and establish a garden plot for her sorority sisters at Hilltop.
IU students, faculty and staff who are interested in reserving a plot at Hilltop Garden and Nature Center should reach out the center directly at hilltop@indiana.edu. The space is managed organically, so those maintaining plots should also use organic practices. A limited number of plots are still available for the fall, but more are open for the spring.